Ohtsu FP8000 Tire Review & Rating
The Ohtsu FP8000 is basically the Falken 452 reborn. The tire has been rebranded by Ohtsu as the FP8000 and it sports the same tread pattern as the FK452. Nothing really changed except for the price, which is dramatically lower, making it very affordable for the value-conscious driver looking for high performance summer tires.
The FP8000 uses a dual tread compound and unique 3-D rounded tread blocks coupled to a directional tread pattern. The result is a tire that delivers more than capable handling and cornering grip along with solid traction on dry road surfaces.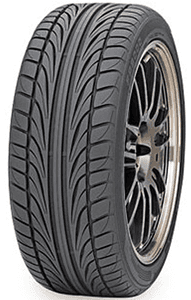 A continuous center rib and five linear responsive ribs quicken steering response and provide good handling feel throughout the speed range. For a low-cost tire it does a very good job in this area.
Four circumferential grooves help channel away water on wet pavement and reduce the risk of hydroplaning. Noise is greatly reduced by the phase shifted random pitch variation, something that is another plus for this tire on all but the roughest pavement.
Ohtsu offers sizes ranging from 19-22 inches on the FP8000, and the tire carries a 300 AA-A UTQG rating to go with a W-speed rating.
Pros
Excellent dry traction

Handling and cornering grip are very good

Smooth ride for a UHP tire
Cons
Rough pavement creates added noise

Shortened treadlife for spirited drivers
Overall Thoughts
Rebranding the old Falken 452 was a good idea for Ohtsu. They have a tire that delivers solid performance when it comes to handling and cornering, and the greatly reduced price is appealing to smaller budgets. In fact, when it comes to summer high performance tires, you'd be hard-pressed to find a lower costing tire than the FP8000
On the other hand it's not a perfect tire by any means. Expect to find some added road noise on rougher road surfaces. It's not something that would deter us from buying the tire, but we want to mention it. The other issue is the shorter treadlife. The more aggressive driving you do, the shorter the lifespan of course. Although to be fair we have heard some drivers state they have had upwards of 40K miles from the tread.
Overall, this is an ideal tire if you're on a smaller budget and want a high performance tire that looks good and performs well above its price. While it's certainly not on the line of the Michelin Pilot Super Sport or other high-end performers, it will satisfy the needs of most drivers while saving you a lot of money in the process.
Tire Sizes
19″
225/35R19 88W BSW
235/35R19 91W BSW
245/35R19 93W BSW
245/40R19 98W BSW
245/45R19 98W BSW
255/35ZR19 XL 96W BSW
255/40R19 100W BSW
265/30R19 93W BSW
275/30R19 96W BSW
275/40R19 101W BSW
285/35R19 99W BSW
20″
225/35R20 90W BSW
235/30R20 88W BSW
245/30R20 90W BSW
245/35R20 95W BSW
245/40R20 99W BSW
245/45R20 99W BSW
255/30R20 92W BSW
255/35R20 97W BSW
255/45R20 105W BSW
275/30R20 97W BSW
275/35R20 102W BSW
285/30R20 99W BSW
305/25ZR20 XL 97W BSW
22″
245/30R22 92W BSW
255/30R22 95W BSW
Price Range
Ohtsu FP8000 prices range from approximately $84 and up. You may also find occasional rebates, discount prices, coupons and special offers on this tire.
Warranty
The FP8000 has a first 2/32 inch of wear guarantee on the tire's uniformity.
Materials and workmanship are warranted for the life of the tire or down to the final 2/32 inch of tread depth.
---