Nokian ZLine A/S Tire Review & Rating
The Nokian ZLine A/S is a new addition to the growing range of high quality, Ultra High Performance all-season tires that are currently on the market. Designed with performance and safety in mind, the ZLine A/S is built to provide exceptional grip, traction, while also providing a smoother and more comfortable ride quality.
Nokian uses a new advanced Dynamic Traction Boost Tread Compound to go along with a Comfort Base Compound. Together, these twin compounds help the tire deliver increased high speed performance, as well as softening the impacts of road imperfections and potholes.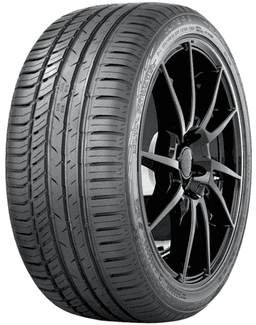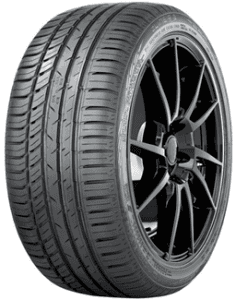 Handling, cornering and steering in dry and hot conditions is improved thanks to the Cooling Edge technology that cools down any areas of this tire that start to overheat.
Nokian has concentrated on providing safety and comfort with a range of innovative features including a unique tread design, a stiffer outer shoulder and wider grooves on the inner shoulder, so that drivers have more grip in wet conditions and avoid hydroplaning on wet surfaces. When there is slush or snow on the road, this tires 3-D sipes add even more traction and grip.
Comfort and noise reduction are further enhanced by the ZLine A/S's 'Silent Groove' design that is located on this tire's longitudinal rib's walls. Air flow is controlled and the amount of sound these tires produce is reduced, so that you have a much quieter ride.
Nokian offers 16 to 20 inch sizes, with a W-speed rating on all sizes. A 50K treadwear warranty is included with all tires.
Pros
Good grip, handling and traction on dry and wet surfaces
Smooth, comfortable ride
Steering is quick and responsive
Cons
Nothing that stands out at this time
Overall Thoughts
The Nokian ZLine A/S tire is the company's first UHP all-season tire built for the U.S. market. Since it was just released in early 2017, we haven't heard much in the way of feedback from other drivers. But based on what we've seen, this is going to be one of the better tires in this class.
Nokian's engineers obviously put a lot into this new tire with its wide range of innovative technologies you'll find built into this model. The ZLine A/S delivers the traction and grip required by high performance vehicle owners whether driving in dry or wet conditions.
While legendary in their line of winter tires, the company has begun to create high performance all-season tires that are designed to compete with the best models available today. To that end we feel they've succeeded with the new ZLine A/S.
Overall, the ZLine A/S compares favorably against the likes of the Continental DWS06, Michelin Pilot Sport A/S3 Plus and other top tires. It simply ticks the right boxes in what you expect from a UHP AS tire. Highly recommended.
What Vehicles Will The Nokian ZLine A/S Fit?
(This is not a complete list of ALL vehicles this tire will fit)
Acura TSX, TL
BMW 328i, X5, XI, 528i, Z4, M3, 750i
Chevrolet Camaro, HHR, Cobalt, Impala SS, Corvette
Dodge Challenger, Charger, Stratus, Avenger
Ford Mustang, Fusion, Fiesta, Focus
Infiniti G37, G35X
Lexus ES350, IS 350C, GS300
Mercedes C Class, E320, S63 AMG, CLK500
Pontiac Grand Prix, Firebird, Bonneville
Porsche 911, Cayenne
Scion tC
Subaru Legacy, Impreza WRX
Toyota Camry, Prius, Avalon, Corolla S
Volkswagen Jetta, GTi, CC, Tiguan SEL
Volvo S80, V50, S60, V70
Tire Sizes
16″
205/55R16 91W BSW
17″
205/45R17 88W XL BSW
205/50R17 93W XL BSW
215/45R17 91W XL BSW
215/50R17 95W XL BSW
225/45R17 94W XL BSW
225/50R17 98W XL BSW
225/55R17 101W XL BSW
235/45R17 97W XL BSW
235/55R17 103W XL BSW
245/40R17 91W BSW
245/45R17 99W XL BSW
18″
215/45R18 93W XL BSW
225/40R18 92W XL BSW
225/45R18 95W XL BSW
225/50R18 99W XL BSW
235/40R18 95W XL BSW
235/45R18 98W XL BSW
235/50R18 101W XL BSW
245/40R18 97W XL BSW
245/45R18 100W XL BSW
255/35R18 94W XL BSW
19″
235/35R19 91W XL BSW
245/40R19 98W XL BSW
245/45R19 102W XL BSW
255/35R19 96W XL BSW
255/40R19 100W XL BSW
20″
255/35R20 97W XL BSW
Price Range
Nokian ZLine A/S prices range from approximately $95 and up. You may also find occasional rebates, discount prices, coupons and special offers on this tire.
Warranty
Nokian provides a 50,000 mile tread warranty on the ZLine AS. Materials and workmanship are backed for 5 years.
---