Nokian Rotiiva AT Tire Review & Rating
The Nokian Rotiiva AT tire is billed as offering optimal performance and no compromises when it comes to safety and driving comfort. Geared more towards driving in light duty off road conditions, the Nokian AT is designed for drivers of pickups, SUVs, and other 4×4's.
Featuring a cut-resistant tread all-season compound, the tread features an aggressive pattern that looks pretty good on any truck/SUV. Nokian has added unique center rib stabilizers that aid in delivering quicker and more responsive steering, while also helping maintain increased cornering stability and handling on the road. We've heard many drivers mention in reviews that this model has better than average road manners.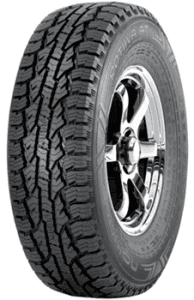 The tire's wide polished grooves and the addition of 3-D sipes give the Rotiiva AT excellent wet pavement traction and better resistance to hydroplaning. The aggressive design and 3-D sipes further assist with traction and grip on snow and ice.
Nokian is well-known for their winter tires as being among the best in the business, so we expected good ratings on winter performance and we were not disappointed in our findings. It's worth noting that the Nokian AT sports the mountain/snowflake emblem, indicating it meets severe snow service standards. There are not that many all-terrain tires that carry this designation.
Naturally, the aggressive tread provides for the type of traction you expect when driving off-road. Stone ejector ribs at the bottom of the tread grooves remove the unwanted rocks and debris for added puncture resistance.
Nokian offers sizes ranging from 15-20 inches, and all models come with a 50K mile tread wear warranty.
Pros
Off-road performance in light terrain is very good
Comfortable and well-mannered on the street
Winter performance among best in class
Treadlife is good on this tire
Cons
Not the best in rugged off road terrain or serious rock climbing
Overall Thoughts
We didn't really know what to expect when we first looked at the Nokian Rotiiva AT. What we found though is an all-terrain tire that performs as well as most of the better models in this class. In fact, its winter traction and grip is among the best in class. We've heard the same things from driver after driver as well.
Off the beaten path you'll find more than adequate traction in all types of lighter terrain. It makes a solid choice for anyone who drives on gravel or dirt roads, or those who drive to the lake or to their favorite hunting grounds.
On the highway this model is comfortable for the most part, and road noise is not as pronounced as you might find on several other AT tires.
Overall, we like this tire quite a bit for its performance on the road, which is where the vast majority of everyday driving takes place. If a light-duty AT tire is what you need, the Rotiiva AT is very good option.
Click Here To Find Current Prices
What Vehicles Will The Nokian Rotiiva AT Fit?
(This is not a complete list of ALL vehicles this tire will fit)
Chevrolet Silverado, Avalanche, Suburban, Tahoe, TrailBlazer, Colorado
Dodge Ram, Dakota
Ford F-150, Escape, Explorer, Expedition, Ranger
GMC Canyon, Sierra, Yukon, Canyon
Honda Pilot, Ridgeline
Jeep Grand Cherokee, Wrangler
Land Rover Range Rover
Mercury Mountaineer
Mitsubishi Montero
Nissan Titan, Frontier, Armada, Pathfinder
Ram 1500
Toyota FJ Cruiser, Highlander, 4Runner, Sequoia, Tundra, Tacoma, Land Cruiser
Tire Sizes
15″
235/75R15 109T XL BSW
LT235/75R15 116/113S BSW
LT31X10.50R15 109S BSW
16″
215/65R16 102T XL BSW
215/70R16 100T BSW
225/70R16 107T XL BSW
235/70R16 109T XL BSW
245/70R16 111T XL BSW
245/75R16 111S BSW
255/70R16 111T BSW
265/70R16 112T BSW
265/75R16 116S BSW
LT215/85R16 115/112S BSW
LT225/75R16 115/112S BSW
LT235/85R16 120/116R BSW
LT245/75R16 120/116S BSW
LT265/75R16 123/120S BSW
LT285/75R16 122/119S BSW
17″
235/65R17 108T XL BSW
235/70R17 111T XL BSW
245/65R17 111T XL BSW
245/70R17 110T BSW
255/70R17 112T BSW
265/65R17 116T XL BSW
265/70R17 115T BSW
LT235/80R17 120/117R BSW
LT245/70R17 119/116S BSW
LT245/75R17 121/118S BSW
LT265/70R17 121/118S BSW
LT275/70R17 114/110S BSW
LT285/70R17 121/118S BSW
18″
265/60R18 114T XL BSW
275/65R18 116T BSW
LT265/70R18 124/121S BSW
LT275/65R18 123/120S BSW
20″
275/55R20 117T XL BSW
275/60R20 115H BSW
Price Range
Nokian Rotiiva AT ATV prices range from approximately $96 and up. You may also find occasional rebates, discount prices, coupons and special offers on this tire.
Click Here To Find The Current Prices On All Nokian Rotiiva AT Sizes
Warranty
Nokian provides a 50,000 mile tread warranty on the Rotiiva AT. Materials and workmanship are backed for 5 years.
---