Nokian Rotiiva AT Plus Tire Review & Rating
As the newest tire in their light truck lineup, the Nokian Rotiiva AT Plus is specially designed for all-terrain performance. Billed as an all-terrain summer tire, the Rotiiva AT Plus also sports the Severe Service Emblem which means it is rated for use rough winter weather and road conditions.
Nokian uses a special cut-resistant tread compound that is formulated for on-road and light off-road driving. It's designed to enhance treadlife and provide added durability as well. The tread pattern features an attractive yet aggressive look that works well on this tire. The tread has been optimized to increase stability and performance both on or off-road.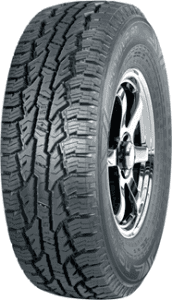 Nokian is well-known for their excellent line of winter tires and they use some of the same technology in the Rotiiva AT Plus. 3-D sipes are strategically placed around the tread to provide superior traction and handling on wet or snow covered road surfaces. We've heard drivers mention excellent traction in deep snow and ice in reviews of this tire.
The addition of Rock Removers, which sit at the bottom of the tread grooves, help eliminate rocks and gravel from building up in the grooves. This helps in preventing much of the damage that you often find with penetrating sharp or jagged edges from rocks. This is a nice addition for those who drive gravel roads much of the time.
A feature that Nokian has added to make it much easier to see how well the tread is wearing are what they call Driving Safety Indicators. Around the outside tread surface are numbers that show the percentage of useable tread left on the tire. It's a quick and easy way to immediately see how much tread is left and whether it's getting time to replace the tires.
Nokian AT Plus tires are available in a range of 16-20 inch LT sizes. All sizes are backed by a 50K mile tread warranty.
Pros
Dry and wet grip
Dependable light off-road performance
Excellent snow and ice traction
Quiet and comfortable ride
Cons
Not the best on rough off-road terrain
Overall Thoughts
These Nokian Rotiiva AT Plus tires may surprise you with their performance. For on-road driving, as well as light off-road use, they rank up there with the better models in this class.
Dry and wet traction/handling/braking and acceleration are very good on this tire. The ride is not loud and ride comfort is better than many other AT tires we've driven on. What is even more impressive is the grip in winter weather conditions. This tire plows right through deep snow. The traction is comparable to a winter tire and easily among the best in class.
Our only real area of concern to point out on this tire is that it is not designed for rugged off-road use. By that we mean rock climbing, deep thick mud, etc. It handles lighter terrain with relative ease. If you're looking for a more rugged AT tire you might want to check out the BFG T/A KO2 or Cooper AT3 among others.
Overall, Nokian has a winner with the Rotiiva AT Plus. It also comes at a lower than expected price that will fit most any budget.
What Vehicles Will The Nokian AT Plus Fit?
(This is not a complete list of ALL vehicles this tire will fit)
Chevrolet Silverado, Avalanche, Suburban, Tahoe, TrailBlazer, Colorado
Dodge Ram, Dakota
Ford F-150, Escape, Explorer, Expedition, Ranger
GMC Canyon, Sierra, Yukon, Canyon
Honda Pilot, Ridgeline
Jeep Grand Cherokee, Wrangler
Land Rover Range Rover
Mercury Mountaineer
Mitsubishi Montero
Nissan Titan, Frontier, Armada, Pathfinder
Ram 1500
Toyota FJ Cruiser, Highlander, 4Runner, Sequoia, Tundra, Tacoma
Tire Sizes
16″
LT225/75R16 115/112S BLK
LT245/75R16 120/116S BLK
LT265/75R16 123/120S BLK
17″
LT245/70R17 119/116S BLK
LT265/70R17 121/118S BLK
LT275/70R17 114/110S BLK
LT285/70R17 121/118S BLK
LT315/70R17 121/118S BLK
18″
LT265/70R18 124/121S BLK
LT275/65R18 123/120S BLK
LT275/70R18 125/122S BLK
20″
LT275/65R20 126/123S BLK
Price Range
Nokian Rotiiva AT Plus prices range from approximately $125 and up. You may also find occasional rebates, discount prices, coupons and special offers on this tire.
Warranty
Nokian provides a 50,000 mile tread warranty on the Rotiiva AT Plus. Materials and workmanship are backed for 5 years.
---