Nokian Hakkapeliitta 9 Tire Review & Rating
The Nokian Hakkapeliitta 9 is the company's latest multi-award winning studded winter tire. Built for use on a wide range of passenger vehicles, the Hakkapeliitta 9 is designed to provide you with the grip, traction, handling and braking that is needed for navigating the most difficult winter road conditions.
Recently, Popular Science magazine named this model a winner in the 2017 Best of What's New Award. This award honors new innovations that shape the future. You can read more on that here.
Its eco-friendly rubber compound, along with its Green Elasto Proof bio-material, and the application of Canola oils, make these tires stronger and more pliable, especially in sub-zero temperatures. An ultra-strong tensile steel belt construction further strengthens these winter tires and increases their durability.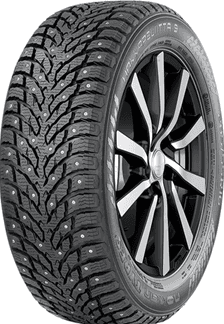 Sporting two different stud types, these winter tires are optimized to give you the grip you need when you're cornering, braking or accelerating. This new stud placement technology works well on this model.
This tire's strong sidewall, ensures that these are sturdy tires you can rely on and are less likely to cut or to be affected by any impact while you are driving. Braking and accelerating are enhanced thanks to these studs too.
All Nokian Hakkapeliitta 9's sport the three-peak mountain/snowflake emblem for use in severe winter conditions. Further features, such as its snow grip booster, deep snow grooves, self-locking 3-D sipes, and elastic rubber tread compound all combine together to create a winter tire that handles exceptionally well and offers the braking performance and traction needed to get through deep snow, hard-pack, ice and slush.
Nokian offers 14 to 20-inch sizes, and all sizes feature a T-speed rating. A limited tread warranty is also included. Please note that the Hakkapeliitta 9 is for coupes, sedans and minivans, while the Hakkapeliitta 9 SUV is for crossovers and SUV's.
Pros
Snow and ice traction, handling, braking and cornering
Slush handling
Strong, durable tread
Cons
Overall Thoughts
Results of tests carried out on the Nokian Hakkapeliitta 9 have found that it performs to an extremely high standard on snow and ice, giving drivers the traction, grip, cornering ability and braking ability they need. The Nokian Hakkapeliitta 9 is a solid, durable tire that is designed to last longer than many of its competitors.
On the negative side, the Nokian Hakkapeliitta 9 can be noisy, but this is to be expected from a studded winter tire. On wet and dry surfaces, it's not quite as effective as it is on snow and ice when it comes to braking. That said, it still performs well.
Overall, the Nokian Hakkapeliitta 9 is a high-quality winter tire that has been a test winner or been among the top 3 winter tires in tests carried out on this type of winter tire. If you are looking for one of the best studded tires available today, this model doesn't disappoint.
What Vehicles Will The Nokian Hakkapeliitta 9 Fit?
(Please note that this is not a complete list of all vehicles this tire will fit.)
Acura ILX, CL, CSX, TL, RSX
Audi A4, A6, TT, A8, RS
BMW 3-Series, Z4, 5-Series, Z3
Buick Verano, Regal, Lacrosse, Park Avenue, LeSabre
Chevrolet Cobalt, Sonic, Aveo, Impala, Monte Carlo, Cruze, Volt, Malibu
Chrysler 300, PT Cruiser, Sebring, Town and Country, 200
Dodge Avenger, Challenger, Dart, Stratus, Intrepid, Grand Caravan, Magnum
Ford Focus, Taurus, Crown Victoria, Fusion
Honda Civic, Accord, Prelude, Insight, Odyssey
Hyundai Genesis, Azera, Sonata, Elantra
Kia Amanti, Optima, Soul
Mazda 626, Mazda5, Mazda6, Mazda3
Nissan Altima, Sentra, Leaf, Maxima
Scion xA, xB, xD, FR-S
Subaru Impreza, Forester, Outback, Legacy
Toyota Corolla, Camry, Solara, Avalon, Sienna, Prius
Volkswagen Jetta, Beetle, Passat, Touareg
Volvo S40, S70, V40, V70, C70, XC70
Tire Sizes
14″
175/65R14 86T XL
15″
185/60R15 88T XL
185/65R15 92T XL
195/65R15 95T XL
16″
195/55R16 87T
195/60R16 93T XL
205/55R16 91T RF
205/55R16 94T XL
205/60R16 92T RF
205/60R16 96T XL
205/60R16 96T XL RF
215/55R16 97T XL
215/60R16 99T XL
225/55R16 99T XL
225/60R16 102T XL
17″
205/50R17 93T RF
205/50R17 93T XL
205/55R17 95T XL
205/55R17 95T XL RF
215/40R17 87T XL
215/50R17 95T XL
215/55R17 98T XL
225/45R17 91T RF
225/45R17 94T XL
225/50R17 94T RF
225/50R17 98T XL
225/55R17 101T XL
225/55R17 97T RF
235/45R17 97T XL
235/50R17 100T XL
235/55R17 103T XL
245/45R17 99T XL
18″
225/40R18 92T XL
225/45R18 95T XL
225/45R18 95T XL RF
225/50R18 95T RF
225/50R18 99T XL
235/40R18 95T XL
235/45R18 98T XL
245/40R18 97T XL
245/45R18 100T XL
245/45R18 100T XL RF
245/50R18 100T RF
245/50R18 104T XL
265/35R18 97T XL
19″
245/40R19 98T XL
245/45R19 102T XL
255/35R19 96T XL
255/40R19 100T XL
255/45R19 104T XL
20″
245/40R20 99T XL
255/35R20 97T XL
275/35R20 102T XL
Price Range
Nokian Hakkapeliitta 9 prices range from approximately $130 and up. You may also find occasional rebates, discount prices, coupons and special offers on this tire.
Warranty
Nokian provides a limited tread warranty on the Hakkapeliitta 9. Materials and workmanship are backed for 5 years.
---