Nitto Trail Grappler M/T Tire Review & Rating
The Nitto Trail Grappler M/T is engineered to combine some of the performance of its off-road Mud Grappler tire with the on-road comfort of the Terra Grappler. This combination is meant to give drivers the ability to take their trucks on any terrain, while also providing a quiet ride when going down the highway.
The Trail Grappler sports a thick all-season and all-terrain tread compound that provides added cushion on rough surfaces, as well as better overall puncture resistance when taking things off-road. Nitto has designed the tread blocks in a way that adds more biting edges and increases lateral stability.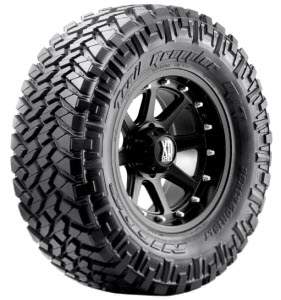 What is immediately noticeable when driving on this tire at higher speeds is how quiet it is. It can often be hard to believe that you are actually driving on an off-road tire. Nitto has utilized the latest in sound analysis equipment and technology to eliminate the road noise both on and off road. We've heard other tire owners continually praising this tire for its quietness.
Inside the tire you will find two wider steel belts that provide added strength and stability, as well as enhanced tire uniformity and better overall treadwear. A 3-ply high turn-up construction in the sidewall also improves strength and durability.
Pros
Excellent balance of off-road performance and on-road comfort

Tires easily handle deep mud, snow, gravel, dirt and anything else you can drive through

Tire is quiet going down the highway

Treadlife is among the best in class
Cons
Let us know if you find anything negative on this tire
Overall Thoughts
Simply stated…the Trail Grappler M/T is one of the best tires on the market today that provides a combination of both on and off road use. It's off-road performance is superb. The tire goes just about anywhere you would ever want to go. Hard to ask for much more from any tire.
On-road comfort is amazing for a tire like this. Travelling down the Interstate at 70 mph, you can't hear much road noise. Carrying on a conversation with those in your vehicle is not an issue. Treadlife is excellent, which is backed up by many reviews from other tire owners.
Overall, Nitto has hit a home run with this tire. It certainly rates among the top 10 models in this class.
Click Here For Current Nitto Coupons
Click Here To Find Current Prices
What Vehicles Will The Trail Grappler MT Fit?
(This is not a complete list of ALL vehicles this tire will fit)
Chevrolet Silverado

Dodge Ram, Dakota

Ford F-150, F-250, F-350

GMC Sierra

Hummer H3

Jeep Wrangler

Nissan Armada, Titan

Toyota Tacoma
Tire Sizes
15″
33X12.50R15C2 108Q B
16″
LT265/75R16 E 123P B
LT285/70R16 E 125/122P B
LT285/75R16 E 126/123Q B
LT315/75R16 E 127/124Q B
17″
LT255/75R17 C 111/108Q B
LT265/70R17 E 121Q B
LT285/70R17 C 116/113Q B
LT285/70R17 E 121/118Q B
LT285/75R17 E 121/118Q B
LT295/70R17 E 121/118P B
LT315/70R17 D 121/118Q B
35×12.50R17LT E 121Q B
37×12.50R17LT D 124Q B
40×13.50R17LT C 121P B
18″
LT275/70R18 E 125/122Q B
LT285/65R18 E 125/122Q B
LT285/75R18 E 129Q B
LT295/70R18 E 129/126Q B
35×12.50R18LT E 123Q B
37×12.50R18LT E 128Q B
20″
LT275/65R20 E 126Q B
LT285/55R20 E 122Q B
LT295/55R20 E 123/120Q B
LT295/60R20 E 126/123Q B
LT295/65R20 E 129/126Q B
LT305/55R20 E 121/118Q B
35×11.50R20LT E 124Q B
35×12.50R20LT E 121Q B
37×12.50R20LT E 126Q B
37×13.50R20LT E 127Q B
38×13.50R20LT E 128Q B
38×15.50R20LT D 125Q B
40×15.50R20LT D 128Q B
22″
LT285/55R22 E 124Q B
LT325/50R22 E 122Q B
LT355/40R22 F 122Q B
37×13.50R22LT E 123Q B
LT375/45R22 F 128Q B
40×15.50R22LT E 128Q B
24″
LT375/40R24 F 126Q B
38×13.50R24LT E 123Q B
40×15.50R24LT E 128P B
Price Range
Prices on the Trail Grappler range from approximately $236 and up. You may also find occasional rebates, discounts, coupons and special offers on this tire.
Click Here To Find The Current Prices On All Nitto Trail Grappler M/T Sizes
Warranty
There is no mileage treadlife warranty with this tire, however you will have a 6-months or first 2/32 inch of wear guarantee on the tire's uniformity.
Materials and workmanship are warranted for 6-years and include a first year or first 2/32 inch of wear free tire replacement. Nitto prorates the amount for the remaining time period or down to the last 2/32 inch of tread depth.
---