Nitto NT555 Extreme ZR Tire Review & Rating
The NT555 Extreme ZR is Nitto's latest ultra-high performance summer tire designed for drivers of today's hottest sport trucks and SUV's. Engineered to provide maximum traction and handling to go with outstanding cornering performance.
An advanced high-tech tread compound is made to increase dry and wet traction, while also providing extended treadwear. Larger shoulder tread blocks and optimized tread pattern that features a wider contact patch, enhance dry handling and cornering performance. The tire's directional tread pattern andstiffer sidewall increase stability and steering response throughout the speed range.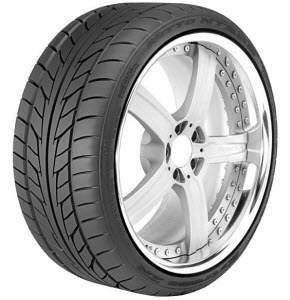 Three circumferential grooves and angled lateral grooves channel away water on rain soaked roads. This also reduces the risk of hydroplaning at higher speeds. Note that this is a summer driving tire and not intended to be driven in winter weather conditions.
Nitto has incorporated tread block diversity which disperses pitch variations that result in minimizing outside road noise and making for an increased ride quality.
Inside the tire you will find two wide steel belts to go with jointless edge ply caps that add strength and stability at higher speeds. It helps keep you in complete control whether it is driving straight down the road or hitting the corners. Nitto offers sizes ranging from 17-22 inches to go along with a Z-speed rating.
Pros
Excellent dry and wet traction

Impressive cornering grip

Steering is crisp and quick

Low road noise
Cons
Treadlife may be shorter depending on driving habits

Ride comfort due to stiffer sidewalls
Overall Thoughts
This latest Nitto high performance truck/SUV tire offers some impressive performance. While not for everyone, especially if a soft, smooth ride is what you're after, the NT555 ZR provides outstanding dry traction and superb cornering grip.
Grip on wet pavement is ok, but dry is where this tire performs to its highest capabilities. Steering response is crisp and allows you to be in complete control. A nice surprise is how much more quiet this tire rides than many other models in this class. It's simply a lot of fun driving on this tire.
Treadlife is pretty good for the most part, but can be shorter than expected if you're like us and like to give the tire all it can handle much of the time. Overall, this version of the NT555 does a solid job and we rank it in the upper half of this class.
Click Here For Current Nitto Coupons
What Vehicles Will The Nitto NT 555 ZR Fit?
(This is not a complete list of ALL vehicles this tire will fit)
Acura MDX

Buick Enclave

Cadillac Escalade

Chevrolet Tahoe, Silverado, Trailblazer, Avalanche

Dodge Ram, Durango, Dakota

Ford Explorer, F-150, Expedition

GMC Yukon, Sierra

Hyundai Santa Fe

Infiniti FX35, FX45

Jeep Grand Cherokee

Mazda CX-7

Mercedes Benz R350, ML350

Mercury Mountaineer

Nissan Titan, Murano, Armada, Pathfinder, 4Runner

Porsche Cayenne

Toyota Sequoia, Tundra, Sienna
Tire Sizes
17″
235/45ZR17 93W BSW
245/45ZR17 95W BSW
255/40ZR17 94W BSW
P255/45ZR17 92W BSW
255/50ZR17 101W BSW
P275/40ZR17 98W BSW
P285/40ZR17 95W BSW
315/35ZR17 102W BSW
18″
225/40ZR18 XL 92W BSW
225/45R18 XL 95W BSW
235/40ZR18 91W BSW
235/50ZR18 XL 101W BSW
245/40ZR18 93W BSW
245/45ZR18 XL 100W BSW
255/35ZR18 90W BSW
255/45ZR18 XL 103W BSW
265/35ZR18 93W BSW
265/50ZR18 103W BSW
275/35ZR18 95W BSW
275/40ZR18 XL 103W BSW
285/35ZR18 97W BSW
285/40ZR18 101W BSW
295/45ZR18 XL 112W BSW
19″
225/35ZR19 XL 88W BSW
235/35ZR19 XL 91W BSW
245/35ZR19 XL 93W BSW
265/30ZR19 XL 93W BSW
275/30ZR19 XL 96W BSW
275/35ZR19 XL 100W BSW
20″
225/35ZR20 XL 90W BSW
235/35ZR20 XL 92W BSW
245/30ZR20 XL 90W BSW
245/35ZR20 XL 95W BSW
245/40ZR20 XL 99W BSW
255/35ZR20 XL 97W BSW
255/45ZR20 101W BSW
265/35ZR20 XL 99W BSW
275/30ZR20 XL 97W BSW
275/35ZR20 XL 102W BSW
285/30ZR20 XL 99W BSW
22″
255/30ZR22 XL 95W BSW
265/40ZR22 XL 106W BSW
285/35R22 XL 106W BSW
295/25ZR22 XL 97W BSW
Price Range
Nitto NT 555 Extreme ZR prices range from approximately $193 and up. You may also find occasional rebates, discount prices, coupons and special offers on this tire.
Warranty
Nitto provides a limited tread warranty on the NT555 Extreme ZR. Tire uniformity is guaranteed for the first 1/32 inch of wear. Materials and workmanship are backed for 5-years and include free replacement within the first 25% of wear. The amount is prorated for the remaining time period or until the tire reaches its final 2/32 inch of tread depth.
---