Nitto NT421Q Tire Review & Rating
The all-new NT421Q from Nitto is the company's latest ultra-high performance tire that is built specifically as a replacement model for owners of crossovers and sport utility vehicles. Sporting all-season traction, the NT 421Q is also all about delivering exceptional handling to go with a more smooth and comfortable ride quality.
It all begins with the all-season tread compound that not only features silica for added grip and treadwear, but a unique high-grip polymer and wear-oriented polymer. Combined, they provide increased handling performance and enhanced overall stability and safety.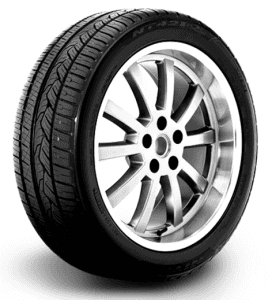 Dry traction and cornering grip are increased from the addition of rubber inserts in the shoulders that give the sidewalls added strength and allow the tire to stand up to higher cornering forces. It does this without sacrificing ride comfort, which is something that plagues many other tires with stiffer sidewalls.
Wet and winter traction is another strong point on the NT421Q. Wider and deeper circumferential grooves channel away water from under the tread and reduce the risk of hydroplaning. It adds up to a more confident feeling behind the wheel in even the heaviest of rains.
For winter traction and grip, Nitto utilizes an advanced siping technology that is normally only found on dedicated winter tires. The result is a tire that stands up quite well in all types of winter weather.
When it comes to ride comfort tread noise, Nitto has used what they call Quiet Serration Technology in the tire grooves that works to lower road noise. It breaks up the reverberation and repetition that you often experience on the road to quiet the sounds and make the ride more enjoyable. Add in the variable pitch tread block elements and you have a tire that is ultimately one of the quietest in this class.
Inside the tire you'll find two steel belts with nylon reinforcement for added strength and durability. A polyester cord body further enhances ride comfort. Nitto has also added Intelligent Maintenance Indicators on the tire that is designed to show you how the tires are wearing at all times. It gives you the opportunity to see any irregular wear that may indicate problems with the tire or possible alignment issues with your vehicle.
Nitto offers a wide array of sizes ranging from 17-22 inches, and speed ratings of H, V and W. There is also a 75,000 or 60,000 mile tread warranty included as part of the package.
Pros
Dry, wet and winter traction is among best in class

Excellent handling and cornering grip

Comfortable and quiet ride
Cons
Overall Thoughts
Nitto has produced an excellent performance all-season tire in the NT421Q. We were wondering how much longer it would be before they came out with a model for this tire segment, and they certainly have not disappointed. Not only is this tire aggressively attractive, but its performance characteristics measure up to other tires like the Firestone Destination ST or Pirelli Scorpion Zero among others in this class.
Perhaps even more impressive is how much effort has been put into making this model as quiet and comfortable as it is. It looks to have paid off very well.
Overall, if you're looking for a high-performance tire for your crossover or SUV, this is one that would be hard to beat. Highly recommended.

What Vehicles Will The NT421Q Fit?
(This is not a complete list of ALL vehicles this tire will fit)
Acura MDX

Buick Enclave

Cadillac Escalade

Chevrolet Tahoe, Trailblazer

Dodge Durango

Ford Explorer, Expedition

GMC Yukon

Hyundai Santa Fe

Infiniti FX35, FX45

Jeep Grand Cherokee

Mazda CX-7, CX-9

Mercedes Benz R350, ML350

Mercury Mountaineer

Nissan Murano, Armada, Pathfinder

Porsche Cayenne

Toyota Sequoia, 4Runner
Tire Sizes
17″
225/60R17 103V BLK
225/65R17 106H BLK
235/60R17 106H BLK
235/65R17 108H BLK
245/65R17 111H BLK
255/60R17 110V BLK
275/55R17 109V BLK
18″
225/55R18 102V BLK
235/55R18 104V BLK
235/60R18 107W BLK
235/65R18 110H BLK
245/60R18 109H BLK
255/55R18 109V BLK
255/65R18 115H BLK
265/60R18 114V BLK
265/65R18 114H BLK
19″
235/50R19 103V BLK
235/55R19 105W BLK
245/55R19 107H BLK
255/50R19 107V BLK
255/55R19 111V BLK
255/60R19 113H BLK
265/50R19 110V BLK
20″
235/55R20 105W BLK
245/50R20 105V BLK
255/45R20 105W BLK
255/50R20 109V BLK
255/55R20 110H BLK
265/50R20 111V BLK
275/40R20 106W BLK
275/45R20 110W BLK
275/55R20 117V BLK
275/60R20 115H BLK
22″
285/45R22 114V BLK
Price Range
Nitto NT421Q prices range from approximately $123 and up. You may also find occasional rebates, discount prices, coupons and special offers on this tire.
Warranty
Nitto provides a 75,000 mile tread warranty on H and V-speed rated sizes, and 60,000 miles on W-speed rated sizes. Tire uniformity is guaranteed for the first 1/32 inch of wear.
Materials and workmanship are backed for 5-years and include free replacement within the first 25% of wear. The amount is prorated for the remaining time period or until the tire reaches its final 2/32 inch of tread depth.
---