Nitto NT05 Tire Review & Rating
The NT05 maximum performance tire from Nitto is developed for serious driving enthusiasts and those who are looking for the ultimate in street performance, as well as at the track. Designed for sports cars, coupes and sedans, the NT05 uses the latest in tire technology and computer modeling to provide the highest level of performance possible.
A specially formulated race tread compound is matched to a symmetric tread pattern that is not only attractive and aggressive, but engineered to provide increased traction, steering response and glue-like grip.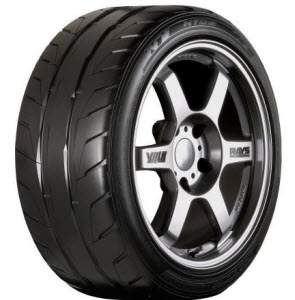 The tire's massive outside shoulder blocks and continuous center rib enhance dry traction and steering feel at all speeds. The tire is very stable and under control whether on the street or on the track. Though not designed for wet racing, this tire has more than competent wet handling capabilities.
Inside the tire you'll find two steel belts for added strength and stability. Nitto offers sizes ranging from 17-20 inches on the NT05.
Pros
Dry traction and cornering grip are outstanding

Quick steering response

Treadlife is very good

Among lowest priced tires in its class
Cons
Overall Thoughts
Driving on the street or track with these NT05's is about as much fun as it gets. The cornering grip you'll find is outstanding. Strap in and hang on is all we can say. You're not going to be breaking these loose in the corners once they've heated up. Braking and acceleration is equally as impressive.
Wet handling is more than competent on this model, but you can see from the design that Nitto did not create this tire for heavy rain. We've heard from other drivers that wet grip is not all that bad as well.
Though not designed to provide luxurious comfort, this tire is more comfortable than you might think. We would definitely say that it rides more comfortably than most all run-flat tires on the market. Noise is not all that loud when driving down the street as well. But let's be real here, buyers of this tire are not overly concerned about comfort or a little road noise.
Finally, treadlife is pretty good with the NT05. Obviously, if you one who likes to hammer the accelerator at every light and smoke the tires, treadlife will be much shorter. Overall, Nitto has produced an exceptional max performance tire that costs less than most any tire in this class. Highly recommended.
Click Here For Current Nitto Coupons
Click Here To Find Current Price
What Vehicles Will The Nitto NT05 Fit?
(This is not a complete list of ALL vehicles this tire will fit)
Acura RSX, TL

Audi A4, A6 Quattro, TT, S4

BMW 525i, 135i, 535i, M5, 740i, M3, Z4

Chevrolet Camaro, Corvette, HHR

Dodge Viper, Avenger, Stealth

Ford Mustang, Focus

Jaguar S-Type

Lexus GS350, GS430, IS250, SC400

Maserati Coupe

Mazda 6

Mercedes-Benz C230, C63 AMG, CLK320, E320, SL500

Nissan 350Z, 370Z, Maxima

Pontiac Trans Am, GTO, Grand Am

Porsche 911, Boxster

Saab 9-5

Volkswagen Passat
Tire Sizes
17″
235/40ZR17 90W BLK
255/40ZR17 XL 98W BLK
275/40ZR17 98W BLK
315/35ZR17 102W BLK
18″
225/40R18 XL 92W BLK
235/40R18 XL 95W BLK
245/40R18 XL 97W BLK
265/35ZR18 XL 97W BLK
275/35ZR18 XL 99W BLK
275/40ZR18 99W BLK
285/35ZR18 XL 101W BLK
295/35ZR18 99W BLK
295/45ZR18 XL 112W BLK
19″
225/40ZR19 XL 93W BLK
235/35ZR19 91W BLK
245/35R19 XL 93W BLK
245/40ZR19 XL 98W BLK
275/30R19 XL 96W BLK
275/35ZR19 XL 100W BLK
335/30ZR19 XL 103W BLK
20″
255/35ZR20 XL 97W BLK
255/45ZR20 XL 101W BLK
275/35ZR20 XL 102W BLK
275/40R20 XL 106W BLK
315/35ZR20 XL 110W BLK
Price Range
Nitto NT05 prices range from approximately $144 and up. You may also find occasional rebates, discount prices, coupons and special offers on this tire.
Click Here To Find The Current Prices On All Nitto NT05 Tire Sizes
Warranty
Nitto provides a limited tread warranty on the NT05. Tire uniformity is guaranteed for the first 1/32 inch of wear. Materials and workmanship are backed for 5-years and include free replacement within the first 25% of wear. The amount is prorated for the remaining time period or until the tire reaches its final 2/32 inch of tread depth.
---