Nitto NT 555 Extreme Performance Tire Review & Rating
The NT 555 Extreme Performance tire from Nitto utilizes racing concepts increating one of their most popular high performance summer models. Built for drivers of performance sports cars, coupes and sedans, the NT 555 features a high grip tread compound that is concentrated on providing maximum traction and handling.
The tread contact patch is optimized for stronger cornering and increased stability at higher speeds, as well as quicker braking performance. You will quickly notice that the steering response is precise on this tire. That's due in part to a high density bead filler that works to stiffen the sidewall when hitting the corners or on wide sweeping turns.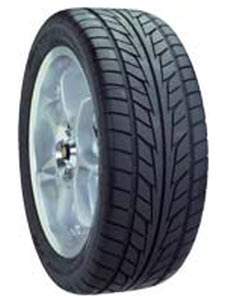 Wet performance is enhanced by the circumferential grooves and unique V groove tread design. They combine to evacuate water from under the footprint and reduce the risk of hydroplaning.
You'll also notice how quiet this tire is when driving on the highway. The treadblocks are designed in such a way as to disperse pitch variations, which reduce the road noise and increase ride quality.
Inside the tread there are two full width steel belts that are reinforced with jointless edge and ply caps that provide added stability and control at higher speeds. They also enhance overall tread life. This model is Z-speed rated and available in a wide range of sizes from 17-22 inches.
Pros
Grip on dry and wet road surfaces is very good

Steering is precise and tire is very stable and sure

Excellent treadlife

Incredible value for the performance and cost
Cons
Tires may get some extra road noise as they wear out
Overall Thoughts
We really like this tire for its traction and steering response. It holds the pavement well, whether the surface is dry or wet. Steering is precise, leaving you with the feeling of being in complete control. Treadlife is surprisingly good, with many reports of drivers getting upwards of 40,000 miles out of the tread. All in all they provide an excellent value for the money and are highly recommended.
Click Here For Current Nitto Coupons
Click Here To Find Current Price
What Vehicles Will The NT 555 Fit?
(This is not a complete list of ALL vehicles this tire will fit)
BMW 740i, 545i, 530i

Chevrolet Camaro, Corvette, Cobalt, Malibu

Dodge Charger, Dakota

Ford Mustang, Taurus

Honda Prelude, Civic, Accord

Infiniti G35

Mazda RX-8

Mitsubishi 3000GT, Eclipse

Nissan 350Z

Pontiac GTO, Firebird Trans Am, Grand Am

Toyota Camry

Volkswagen Passat, Jetta
Tire Sizes
17″
235/45ZR-17 93W
245/45ZR-17 89W
255/40ZR-17 94W
255/50ZR-17 101W BLK
P275/40ZR-17 98W
P285/40ZR-17 95W
315/35ZR-17 102W BLK
18″
225/40ZR-18 92W
225/45ZR-18 XL 95W B
235/40ZR-18 91W
235/50ZR18 101W XL B
245/40ZR-18 93W
245/45ZR-18 XL 100W
255/35ZR-18 90W B
P255/45ZR-18 XL 103W
265/35ZR-18 93W B
265/50ZR-18 103W BLK
275/35ZR-18 95W B
275/40ZR-18 103W
285/35ZR-18 97W B
295/45ZR-18 XL 112W
19″
225/35ZR-19 XL 88W
235/35ZR-19 XL 91W
245/35ZR-19 XL 93W
265/30ZR-19 XL 93W
275/30ZR-19 XL 96W
275/35ZR19 XL 100W B
20″
225/35ZR-20 XL 90W
235/35ZR-20 XL 92W B
245/30ZR-20 XL 90W B
245/35ZR-20 XL 95W
245/40ZR-20 99W XL B
255/35ZR-20 XL 97W
265/35ZR-20 XL 99W B
275/30ZR-20 XL 97W B
275/35ZR-20 XL 102WB
285/30ZR-20 XL 99W B
22″
255/30ZR-22 XL 95W B
295/25ZR-22 XL 97W B
Price Range
Prices on the Nitto 555 range from approximately $127 and up. You may also find occasional rebates, discounts, coupons and special offers on this tire.
Click Here To Find The Current Prices On All Nitto NT 555 Extreme Performance Tire Sizes
Warranty
Nitto does not have a mileage treadlife warranty as you would expect with tires in this class. There is a first 1/32 inch of wear guarantee on the tire's uniformity.
Materials and workmanship are backed for 5-years and include free replacement within the first 25% of wear. The amount is prorated for the remaining time period or until the tire reaches its final 2/32 inch of tread depth.
---