Nitto Invo Tire Review & Rating
Nitto has been making high performance tires for years, and the Invo is one of their best yet. With the latest in tread design technology, the Nitto Invo offers a balance of performance and comfort to owners of sport coupes and sedans to make driving as enjoyable as possible.
The tread sports a silica-enhanced compound and an asymmetrical pattern that is designed to increase cornering traction while reducing tread flex. Dry surface grip and handling are further increased through the outside shoulder tread blocks and slanted 3-D grooves that are made to maximize the tire's contact patch. It also adds more steering response and control.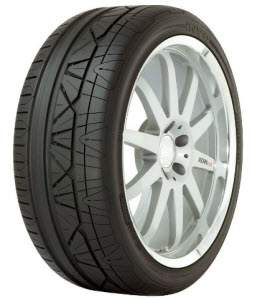 Twin water dispersion grooves provide more surface to tire contact when the roads turn wet, which increase handling and add confidence behind the wheel. Nitto has also added lateral slits in the tread along with a continuous inner shoulder tread to provide hydroplane resistance and a safer ride.
One thing you'll notice when driving on this tire is the quieter ride compared to other high performance summer tires. Nitto uses variable pitch blocks to eliminate most of the road noise. Inside the tread you will find twin steel belts that are nylon cap reinforced for more strength and stability at higher speeds, as well as more even treadwear.
Click Here For Current Nitto Coupons
Click Here To Find Current Prices
Pros
Grip and traction on dry surfaces is among best in this class

Wet handling is very good

Surprisingly quiet ride
Cons
Sidewalls could be just a little stiffer for harder cornering
Overall Thoughts
The Invo is certainly an immediate eye-catcher. Beyond the aggressive looks, this tire flat-out performs. Wet or dry performance is top notch, and Nitto didn't leave out ride quality because this tire is as quiet as any model in this class. We've heard from many owners of the C6 Corvettes that this tire blows away the OE Goodyear F1 Supercar. It's little wonder why this tire is becoming increasingly popular.
What Vehicles Will The Invo Fit?
(This is not a complete list of ALL vehicles this tire will fit)
Audi A4, S4

Chevrolet Corvette, Camaro, Cobalt

Chrysler 300, Crossfire

Dodge Viper, Caliber SRT, Charger, Magnum SRT

Ford Mustang

Honda Civic

Infiniti G35, G37X, M35

Mazda 6

Mercedes Benz C Class, SLK320

Nissan 350Z, 370Z, Maxima, Altima

Pontiac Trans Am, GTO

Porsche Cayman, 911

Scion TC

Subaru Impreza WRX, Forester
Tire Sizes
17″
225/45ZR-17 91W BLK
235/45ZR-17 94W BLK
245/40ZR-17 91W B
245/45ZR-17 95W BLK
255/50ZR-17 100W BLK
18″
225/40ZR-18 92W XL B
225/45R-18 91W BLK
235/40ZR-18 91W BLK
245/45R-18 96W BLK
245/50ZR18 XL 104W B
255/35R-18XL 94W BLK
255/40R-18XL 99W BLK
255/45ZR-18 99W BLK
265/35ZR18 XL 97W B
275/35ZR-18 99W XL B
275/40ZR-18 99W B
295/35ZR-18 99W B
19″
225/40ZR19 XL 93Y B
225/45ZR19 XL 96W B
235/35ZR-19 91Y XL B
235/35ZR-19 91W XL B
245/35ZR-19 93W XL B
245/40ZR-19 98W XL B
255/35ZR-19 96Y XL B
265/30ZR19XL 93W BLK
275/30ZR-19 96Y XL B
275/35ZR19 XL 100W B
285/30R-19XL 98W BLK
285/35R-19 99W BLK
305/30R-19XL 102Y BW
315/25ZR19XL 98Y BLK
325/30R19XL 105Y BLK
345/30R-19 105Y BLK
20″
235/30ZR-20 88Y XL B
245/30R-20XL 90W BLK
245/35ZR-20 95W XL B
245/40ZR-20 99W XL B
245/45R-20 99W BLK
255/30R-20XL 92Y BLK
255/35ZR-20 97W XL B
255/45ZR-20 101W B
275/30ZR-20 97W XL B
275/35ZR20 102W XL B
275/40R-20 106W XL B
285/30R-20 99W XL B
295/25ZR20XL 95W BLK
295/35ZR-20 101W B
305/25R20XL 97Y BLK
315/35ZR-20 106W BLK
345/25ZR-20 100Y B
21″
245/35ZR21 XL 96W B
255/30ZR21 XL 93Y B
285/30ZR21 XL 100W B
295/25ZR21 XL 96Y B
22″
245/30R-22 XL 92W B
255/30R-22 95W XL B
255/35ZR-22 99W XL B
265/30R-22XL 97W BLK
275/30ZR22 99W XL B
285/30R-22 101W XL B
295/25R-22XL 97W BLK
Price Range
Prices on the Invo range from approximately $137 and up. You may also find occasional rebates, discounts, coupons and special offers on this tire.
Click Here To Find The Current Prices On All Nitto Invo Sizes
Warranty
Nitto does not have a mileage treadlife warranty as you would expect on a tire in this class. There is a first 1/32 inch of wear guarantee on tire uniformity.
Materials and workmanship are warranted for 5-years and includes first 1/32 inch of wear free replacement. This is followed with a prorated amount for remaining time period or down to the final 2/32 inch of tread depth.
---