Nitto Exo Grappler AWT Tire Review & Rating
The Nitto Exo Grappler AWT is the company's latest model that is designed to deliver all-weather performance, even in the most severe of winter conditions. Featuring the 3-Peak Mountain Snowflake rating for winter driving, the Exo Grappler sports the latest in advanced tire technology. Although geared more towards commercial and service grade use, this model is built for drivers of all types of trucks and SUV's who need a tire that can stand up to all types of off-road terrain, yet still provide a comfortable ride on the highway.
An all-new cut and chip resistant tread compound utilizes natural rubber along with a mix of high strength polymers and wear resistant materials. Together with its 3-ply sidewall and load range E rating, the Nitto Exo is built tough to say the least. There's also thick sidewall lugs that enhance puncture resistance, which you can see just from looking at it that they offer solid protection.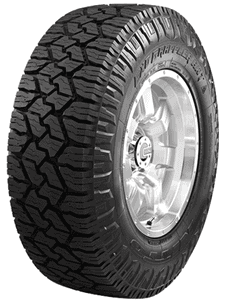 Nitto has formed gear shaped block edges on this tire that are created to provide a more stable contact patch. There is also spiral shaped stone ejectors that work to eliminate stone retention and drilling, which you'll immediately notice on gravel roads. In addition, variable tread pitch technology helps give this model a quiet ride on the highway.
It's obvious that the engineers at Nitto spent a lot of time on making this tire perform well in winter road conditions. They have added specially designed high-density sipes that create increased biting edges for improved traction on wet, snow or icy surfaces, while larger lateral grooves around the tread expel water and slush. You'll even find the Exo is pinned for TSMI #15 studs if you live in an area that needs extra traction in rough winter conditions.
Currently, Nitto has eight sizes available in the new Exo AWT ranging from 17 to 20 inches, with more coming later on. The company also lets you have your choice of sidewall pattern on this model. One side features three-dimensional butresses while the other side sports Y-shaped butresses.
Pros
Excellent design technology

Tread is built tough to handle any kind of terrain

Ride is comfortable on the highway

Snow and ice performance
Cons
Overall Thoughts
Nitto has put together an excellent commercial grade all-terrain tire in the new Exo Grappler AWT (All Weather Tire) that matches up well against the likes of the Goodyear Duratrac, Cooper ST Maxx and others. It's hard not to like the attractive design and tough tread on this tire.
Traction and handling is what you would expect from looking at it… impressive. Performance on snow and ice is among the best in this class, and the ride is much more comfortable than you might first expect. Sure, there is a little extra noise on this tire, but nothing that would deter us from running on it.
Although this is a load range E tire, don't let that stop you. The ride is not as stiff as you find on other similar tires. The attention to ride quality is evident in that regard. Our biggest beef with this new tire is the lack of more sizes being available. Hopefully, Nitto will roll out additional sizes sooner rather than later.
Overall, if you need a heavy-duty tire that handles dirt, gravel, rock and other tough terrain, while also delivering a refined ride quality on the highway, the Exo Grappler makes a great choice. Highly recommended.
Click Here For Current XXXX Coupons
Click Here To Find Current Prices
Tire Sizes
17″
LT235/80R17 E 120/117Q
LT245/75R17 E 121Q
LT265/70R17 E 121/118Q
LT285/70R17 E 121/118Q
35×12.50R17LT E 121Q
37×13.50R17LT E 121Q
18″
LT265/65R18 E 122/119Q
LT275/65R18 E 123/120Q
LT275/70R18 E 125Q
LT285/65R18 E 125/122Q
LT285/70R18 E 127/124Q
35×12.50R18LT E 123Q
20″
LT275/55R20 E 120/117Q
LT275/60R20 E 123/120Q
LT275/65R20 E 126Q
LT285/55R20 E 122/119Q
LT285/60R20 E 125/122Q
LT285/65R20 E 127/124Q
LT305/55R20 E 121Q
LT325/60R20 E 126/123Q
35×12.50R20LT E 121Q
37×13.50R20LT E 127Q
Price Range
Nitto Exo Grappler AWT prices range from approximately $223 and up. You may also find occasional rebates, discount prices, coupons and special offers on this tire.
Click Here To Find The Current Prices On All Nitto Exo Grappler AWT Sizes
Warranty
Nitto provides a limited tread warranty on the Exo Grappler.
---