Nitto Dura Grappler Tire Review & Rating
For drivers needing a tire for hauling heavy loads or towing a trailer, the Dura Grappler from Nitto is designed to fit your needs. Engineered for drivers of pickups and SUV's, this model provides both durability and toughness to handle any situation.
The all-season tread compound is molded into a tread design that offers drivers a choice in sidewall designs. You can choose either a smooth sidewall or one with a little sculpting on it. Traction on both dry and wet road surfaces is one of this tire's strengths. Whether it is rain, snow or ice, the Grappler is built to take you through it.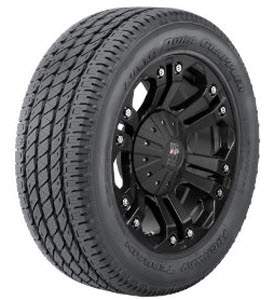 Hauling heavy loads in your truck or pulling a trailer to your favorite campsite is ideal for this tire. With the availability of E load range capabilities and heavy duty LT sizes, you have a wide range of options with this model.
Inside the tire are twin steel belts that are reinforced with spirally wrapped nylon for added durability and strength. (Dura-Belt technology is available on select LT sizes that provide 3 steel belts) Nitto includes a 65,000 mile tread guarantee on P-metric sizes.
Click Here For Current Nitto Coupons
Click Here To Find Current Price
Pros
Excellent traction on dry, rain, snow or ice

Good tire for hauling heavy loads or towing

Tires are surprisingly quiet for such an aggressive tread design

Treadlife is above average for tires in this class
Cons
Tire has limited off-road capabilities
Overall Thoughts
When you take one look at this tire you would first think it has to ride rough and be as noisy as any neighbor you've ever lived next door to. Well, the truth is just the opposite. This tire is extremely quiet in town or on the highway, and the ride is equally as impressive. Traction and handling on dry, wet or snow covered roads is excellent.
Traction off-road can be a different story, this is a highway terrain tire by definition. That said, it still holds its own on grass, gravel and dirt. The treadlife is good and this tire is suited perfectly for hauling or pulling heavy loads, especially with the E load sizes. Overall, Nitto has another outstanding truck/suv tire in the Dura Grappler.
What Vehicles Will The Dura Grappler Fit?
(This is not a complete list of ALL vehicles this tire will fit)
Chevrolet Suburban, Silverado, Avalanche, Tahoe

Dodge Ram, Dakota, Durango

Ford F-150, F-250, F-350, Explorer, Expedition, Bronco

GMC Sierra, K2500, Yukon

Hummer H3

Jeep Wrangler, Grand Cherokee

Land Rover Discovery, Range Rover

Lexus GX

Nissan Titan

Toyota Landcruiser, Tacoma, 4Runner, Tundra
Tire Sizes
16″
LT235/85R-16/E1 120R
LT245/75R-16/E1 120R
LT265/75R16E1 123Q B
LT285/75R-16/E1 126R
LT305/70R-16/E2 124R
17″
LT235/80R17E1 120R B
P245/65R-17 105S BLK
LT245/70R17E1 119R B
LT245/75R17E1 121Q B
265/65R-17 112T BLK
LT265/70R-17/E1 121Q
P265/70R-17 113S BLK
LT285/70R-17/E1 126R
LT285/75R17E1 128R B
18″
255/70R-18 XL 117S B
265/60R-18 110H BLK
LT275/70R18E1 125R B
LT305/70R18E2 126R B
LT325/60R18E2 124R B
20″
275/55R-20 117H XL B
LT275/60R20E1 122R B
LT275/65R20E1 126R B
LT305/55R20E2 121R B
22″
LT285/50R22E1 121R B
Price Range
Prices on the Dura Grappler range from approximately $154 and up. You may also find occasional rebates, discounts, coupons and special offers on this tire.
Click Here To Find The Current Prices On All Nitto Dura Grappler Sizes
Warranty
Nitto includes a 65,000 mile treadlife warranty on P-metric sizes. There is also a first 1/32 inch of wear guarantee on the tire's uniformity for all tire sizes.
Materials and workmanship are backed for 5 years and include first year or first 2/32 inch of wear free replacement. A prorated amount is given for the remaining period or to the last 2/32 inch of tread depth.
---