Nitto Crosstek 2: The All-Weather Tire You Need Now!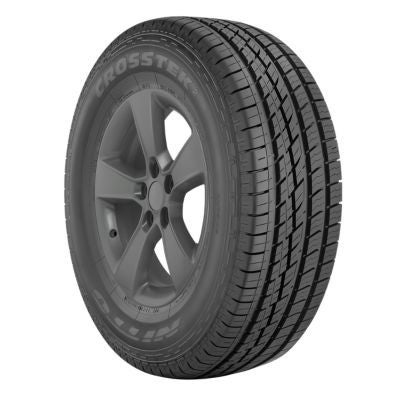 The Nitto Crosstek 2 is an all-weather tire designed by the Nitto Tires especially for vehicles such as light trucks, SUVs, and crossovers.
It provides reliable control on wet and dry pavement, with enhanced winter traction, reduced noise, and better quality drive even on bumpy surfaces.
It is, perhaps, one of the best all-season highway tires available in the market.
The tire's compound is an all-rounder; it works in both summer and winter temperatures equally and provides all sound traction, braking, and safe control all year round.
Let's begin the review with the most prominent feature that makes the Nitto Crosstek 2 a win-win tire: its excellent traction. It has an amazing asymmetrical tread pattern designed specially to lift your car's performance on wet and snowy surfaces.
The Nitto Crosstek 2 features three deep circumferential grooves that help draining out water completely from tires; with amazing overall hydroplaning resistance, especially under heavy rain.
One important thing to consider here is that the Crosstek 2 provides an amazing combination of pattern design and tread block, which works as a two-edge sword against wet pavements. For instance, it increases your vehicle's hydroplaning resistance and offers a contact patch, even with heavy braking.
Furthermore, the 3D multi-wave interlocking sipes of the tire provides them with some extra biting edges. These interlocking sipes will provide the much-needed stability and traction your car needs at higher speeds, while also reducing the tread flex.
On the comfort level, Nitto has done some extra homework on the tires and left no stone unturned to give customers a quiet, luxurious ride. The company designed the tire's tread pattern a way that it doesn't make any extra noise when you drive on the highway.
The circumferential grooves with deep serrations on the tire walls help in reducing the pipe resonance noise, making your ride peaceful, calm, and comfortable.
Pros
3 circumferential grooves backed with dense serrations
Amazing treadwear warranty of 60000 miles
The 3D Multi-Wave sipes enhance its traction on wet surfaces
Minimal noise
Service indicators help improves monitoring quality of the tire


Cons
A tad bit expensive
Light snow traction could have been better
Overview
Good all-weather tires are famous for their traction capabilities on various surfaces such as wet, snowy, slippery, and dry, for a comfortable and safe driving experience year-round — and the Nitto Crosstek 2 is the perfect all-season option.
Its impressive traction keeps you and your family safe on the highway and urban roads. The three circumferential grooves help channel the water away from the tires and assist the tread in maintaining road contact.
You can see the tires' work their magic in heavy rains when they evacuate all the water effortlessly with the help of its unique tread block and pattern designs. The blocks have 3D Multi-Wave sipes that enhance the extra biting of tires for wet traction.
Another key feature is its visible tread indicators that keep you informed. With these service indicators, you can monitor treadwear, alignment, maintenance, and rotation issues quite indefinable.
The biggest takeaway of this tire is that it provides a quiet comfortable ride, by minimizing the pipe resonance noise.
Additionally, the price range of the Crosstek 2 is incredibly low compared to its rival tires, so go on and buy this amazing all-season tire.
What Vehicles Does Nitto Crosstek 2 Fit?
Here is a list of the cars that'll accommodate the Nitto Crosstek 2 (bear in mind, it's not a complete list)
Acura – SLX
Cadillac – Eldorado
Chevrolet – Colorado, D-Max, S10, Trailblazer
Daewoo – Musso
Dodge – Dakota
Dongfeng – Oting, Rich Pickup, Rich SUV
Ford – Endeavour, Everest, Explorer, Ranger
Honda – Horizon, Jazz, Passport
Nissan – NP300, NP300 Hardbody, Navara, Paladin, Pathfinder, Terrano, Terran 2, Terrano Regulus
Toyota – 4Runner, Tundra, Sequoia
Volkswagen – Amarok
Tire Size
16″
215/70R16 104T XL
225/70R16 107T XL
P225/75R16 106S XL
P235/70R16 107T XL
P235/75R16 109T XL
P245/70R16 106T
P245/75R16 112S XL
P255/65R16 106T
P255/70R16 112T XL
265/70R16 112T
P265/75R16 114T
17″
225/60R17 103H XL
225/65R17 106H XL
235/55R17 103H XL
235/65R17 108T XL
P235/70R17 108T XL
P235/75R17 108T
LT235/80R17 E 120/117R
P245/65R17 105S
P245/70R17 108T
LT245/75R17 E 121/118R
255/65R17 114T XL
P265/65R17 110T
265/70R17 115T
LT265/70R17 E 121/118R
LT285/70R17 E 121/118R
18″
235/55R18 104V XL
235/60R18 107H XL
235/65R18 110T XL
245/60R18 105H
255/55R18 109H XL
P255/65R18 109S
P255/70R18 112T
265/60R18 114T XL
P265/65R18 112T
P265/70R18 114T
275/65R18 116T
LT275/65R18 E 123/120R
LT275/70R18 E 125/122R
19″
P235/50R19 99H
235/55R19 105V XL
P245/55R19 103T
255/50R19 107H XL
255/55R19 111V XL
P255/60R19 108S
20″
P235/55R20 102H
P245/50R20 102H
255/50R20 109H XL
255/55R20 110H XL
265/50R20 111T XL
275/45R20 110H XL
275/55R20 117T XL
P275/60R20 114T
LT275/65R20 E 126/123R
22″
Price Range
When in the market to buy Nitto Crosstek 2, expect to get charged anywhere from $84.00 to $146.00 for a single tire. If you're looking for a good bargain, then explore online stores or a used variant.
Warranty
It's a fact that new tires are an important investment that can last long, even decades if you take good care of them. This is why you need to invest wisely in quality tires from the outset.
The Nitto Crosstek 2 provides a limited treadwear warranty that you can avail. For instance, owners with all types of tire sizes can avail their mileage warranty. For Non-Lt metric sizes with a T and S speed rating, they are eligible to avail the 60,000 miles limited treadwear warranty. Also, Non-Lt metric sizes with an H and V speed rating are backed with a 50,000 miles limited warranty.
If you are still confused, look into the size lineup chart to know for sure, which limited warranty applies to your size.
Shop now at Tirescanner.com