Nexen Roadian A/T Pro RA8 Tire Review & Rating
The Nexen Roadian A/T Pro RA8 all-terrain tire is designed for driving on even the roughest of off-road terrain, while being mild-mannered enough for regular highway use. For drivers who want total freedom-regardless of the weather or where they're headed-the Roadian A/T Pro RA8 is marketed as a heavy duty all-terrain tire with a focus on dependability, long tread life, and performance.
Crafted with Nexen's proprietary tread compound, the tread pattern on this model has been molded into a symmetric design with a staggered center rib. Further design elements include dual treadblocks to shovel dirt, mud, and gravel out of the way, micro-grooves, and biting edges to improve traction on wet and snowy roads or difficult terrain.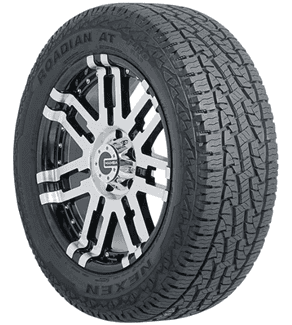 Additionally, wide shoulder blocks are created to increase handling when driving off road. Despite this long list of design features, this Nexen tire also promises a quiet, smooth ride.
Internally, twin steel belts which are reinforced by dual layers of nylon that help add more strength and durability. A polyester casing aids in ride comfort throughout the speed range on the highway.
The Roadian A/T Pro RA8 is available in various 15-20 inch sizes with LT and non-LT models as well. Nexen offers drivers a 40K mile warranty for LT sizes, and a 50K mile warranty with non-LT sizes.
Pros
Good performance in light terrain

Dependable wet and dry traction, including use in light snow

Ride and noise comfort is not bad

Reasonable price
Cons
Increase heavy duty all-terrain performance

Fuel efficiency could be slightly better
Overall Thoughts
Nexen has really found its way with this latest all-terrain model. You can expect to find some of the same performance characteristics as tires from the bigger names, but at a cost that is likely going to be much less.
The Roadian A/T Pro RA8 is available in a slew of different sizes, so finding one that fits your LT or non-LT requirements shouldn't prove difficult. Compared to similar tires in its class, this tire brings a lot to the table. It delivers solid performance on or off road, although very rough off-road terrain is not its strong suit. Dirt, gravel, light to moderate mud, grass and other terrain is where it feels at home on.
Like most all-terrain tires, the Roadian RA8 can offer some degree of traction in winter driving conditions-in fact, grip in light snow and ice is likely better than many other A/T tires in a similar price range-but of course this performance cannot match what you get from a dedicated winter tire.
Additionally, fuel efficiency tends to drop with more robust all-terrain tires, so you might notice a slight decrease in fuel economy.
Overall, the Nexen A/T RA8 is a good option that can help get you and your vehicle to wherever you need to go-on or off the road.
What Vehicles Will The Nexen A/T Pro RA8 Fit?
(This is not a complete list of ALL vehicles this tire will fit)
Chevrolet Trailblazer, Silverado, Avalanche, Tahoe

Dodge Durango, Ram, Dakota

Ford Escape, Explorer, Sport Trac, Edge

GMC Envoy, Sierra

Honda CR-V, Pilot

Isuzu Trooper

Jeep Grand Cherokee, Liberty, Commander

Mercury Mariner, Mountaineer

Mitsubishi Montero

Nissan Murano, Titan, Frontier

Toyota 4Runner, Highlander, Sequoia, Tundra
Tire Sizes
15″
LT 235/75R15 104/101R RWL
235/75R15 105S RWL
LT 30X9.50R15 104S RWL
LT 31X10.50R15 109S RWL
16″
255/65R16 109T BSW
235/70R16 106S RWL
245/70R16 107S BSW
255/70R16 111S RWL
265/70R16 112S RWL
LT 225/75R16 115/112R BSW
LT 245/75R16 120/116R RWL
245/75R16 111S RWL
LT 265/75R16 123/120R RWL
265/75R16 116S RWL
LT 215/85R16 115/112R RWL
LT 235/85R16 120/116R BSW
17″
235/65R17 104S BSW
245/65R17 107S BSW
255/65R17 110S RWL
265/65R17 112T RWL
275/65R17 115T BSW
285/65R17 116S BSW
LT 245/70R17 119/116S RWL
245/70R17 110S RWL
LT 265/70R17 121/118S BSW
265/70R17 115S RWL
LT 245/75R17 121/118S BSW
LT 235/80R17 120/117R RWL
18″
265/60R18 110T BSW
285/60R18 116S BSW
265/65R18 114S BSW
275/65R18 116T BSW
20″
275/55R20 XL 117T BSW
275/60R20 115S BSW
Price Range
Nexen Roadian A/T Pro RA8 prices range from approximately $97 and up. You may also find occasional rebates, discount prices, coupons and special offers on this tire.
Warranty
Nexen provides a 50,000 mile tread warranty on non-LT sizes and a 40,000 mile warranty on LT sizes of the Roadian AT Pro RA8. Tire uniformity is guaranteed for the first 2/32 inch of wear.
Materials and workmanship are warranted for 4-years and includes free replacement during the first 6-months or 2/32 inch of wear. A prorated amount is given for the remaining time period or down to the final 2/32 inch of tread depth.
---