Nexen N7000 Tire Review & Rating
The ultra-high performance Nexen N7000 features advanced tire technology that is designed to increase traction and overall performance in a variety of year-round conditions. Built for drivers of high performance sport coupes and sedans, the N7000 is also value priced for those on a tighter budget.
A silica tread compound combines with the tire's kerf design to maximize traction and handling on wet road surfaces. There's also four circumferential grooves that expel water away from the tire and reduce the risk of hydroplaning.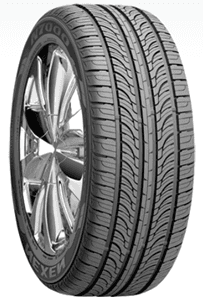 The rigid shoulder block design on this Nexen model is created to enhance steering response and add more cornering grip, an area this tire does fairly well. A continuous center rib further increases stability at higher speeds.
Inside the tire are two steel belts with a polyester cord body that provide added strength and durability. The N7000 is available in a wide variety of 16-24 inch sizes, and can be found with a V, W or Y-speed rating.
Pros
Very good dry and wet traction

Cornering grip

Treadlife
Cons
Overall Thoughts
The Nexen N7000 ranks in the middle of the ultra-high performance all-season class. We like how the tire handles and corners on both dry and wet pavement. Steering is quick and responsive, while braking is about average among UHP tires.
When it comes to traction in winter road conditions, forget about it. Although advertised as an AS tire, it lacks the grip to handle anything other than a light dusting of snow. As to ride comfort, the N7000 is actually fairly comfortable for a tire like this. Road noise is not excessive as well.
There is no mileage warranty on this tire, but we've found the treadlife is better than you might expect, especially with its lower price point. Overall, while you won't mistake this model for the likes of a Michelin Pilot Sport AS3 or Continental DWS among others, it does offer more than adequate performance for the money.
What Vehicles Will The N7000 Fit?
(This is not a complete list of ALL vehicles this tire will fit)
Acura RSX, TL, Integra

BMW 740i, M3, 540iA, 325Ci, 550i

Cadillac Deville DTS

Chevrolet Camaro, Cobalt, Impala

Ford Mustang, Focus

Honda Prelude, Civic, Fit, Accord

Kia Spectra

Mazda5, Mazda3, Miata, Protégé

Mercedes-Benz E430, C230, C43, E55

Nissan Maxima, Altima, 300ZX

Pontiac GTO, Trans Am, Grand Prix

Scion xB

Subaru Legacy, Impreza WRX

Toyota MR2, Celica GTS

Volkswagen Rabbit, Jetta, GTi, Passat

Volvo S60, S40, C70
Tire Sizes
16″
205/55ZR16 XL 94W BSW
215/55R16 XL 97W BSW
17″
205/40ZR17 XL 84W BSW
215/40ZR17 XL 87W BSW
215/45ZR17 XL 91W BSW
215/50R17 91W BSW
215/55R17 94W BSW
225/45ZR17 91W BSW
235/40ZR17 90W BSW
235/45R17 XL 97W BSW
235/55R17 99W BSW
245/40ZR17 91W BSW
245/45ZR17 95W BSW
245/50ZR17 99V BSW
255/40ZR17 94W BSW
275/40ZR17 97W BSW
18″
215/35ZR18 XL 84W BSW
225/40ZR18 XL 92W BSW
225/45ZR18 XL 95W BSW
235/40ZR18 XL 95W BSW
245/40ZR18 XL 97W BSW
245/45ZR18 XL 100W BSW
245/50ZR18 XL 104W BSW
255/45R18 XL 103W BSW
265/35ZR18 XL 97W BSW
275/35ZR18 95W BSW
19″
225/35ZR19 XL 88Y BSW
235/35ZR19 XL 91W BSW
245/35ZR19 XL 93W BSW
245/40ZR19 XL 98W BSW
255/45ZR19 XL 102Y BSW
265/35ZR19 94Y BSW
275/35ZR19 96Y BSW
275/40ZR19 XL 105Y BSW
275/45ZR19 XL 108Y BSW
20″
225/30R20 XL 85W BSW
225/35ZR20 XL 90W BSW
245/35ZR20 XL 95W BSW
255/35ZR20 XL 97W BSW
275/30ZR20 XL 97Y BSW
275/35ZR20 XL 102Y BSW
24″
255/30ZR24 XL 97W
Price Range
Nexen N7000 prices range from approximately $70 and up. You may also find occasional rebates, discount prices, coupons and special offers on this tire.
Warranty
Nexen provides a limited tread warranty on the N7000. Tire uniformity is guaranteed for the first 2/32 inch of tread wear. Materials and workmanship are warranted for 6-years and include free replacement during the first 2/32 inch of wear. A prorated amount is given for the remaining time period or down to the final 2/32 inch of tread depth.
---