Nexen N7000 Plus Tire Review & Rating
New in 2016, the Nexen N7000 Plus is the company's latest addition to their high-performance all-season line of tires. Designed to improve on the original N7000, this new model sports a much higher UTQG rating that should boost durability and overall treadlife for drivers of sport coupes, luxury sedans and other vehicles.
Nexen starts with a silica enhanced tread compound that is matched up to a symmetric tread pattern that provides for added dry and wet traction. Rounded shoulder edges and a continuous center rib increase cornering performance and delivers quicker steering response, which is particularly appealing to more spirited drivers.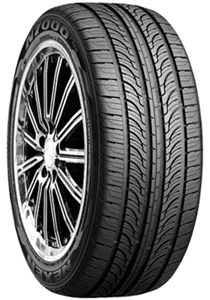 Four straight circumferential grooves and the addition of sipes around the tread help with grip on wet pavement. It also aids in reducing hydroplane risks and gives added confidence behind the wheel. Another benefit with the sipes is the extra bite they have on snow covered road surfaces. While nowhere near the grip of a winter tire, they do help in light amounts of snow.
The Nexen N7000 Plus is currently available in a range of 16-20 inch sizes and with V, W or Y-speed ratings. Due in part to its 560 UTQG rating, Nexen backs this new tire with a 50K mile tread warranty.
Pros
Dry cornering and handling
Comfortable ride
Treadlife
Very good warranty coverage
Cons
Average wet and winter performance
Overall Thoughts
Nexen has bumped up the performance level with their latest N7000 Plus offering. While we liked the cornering and handling of the previous N7000, this new model gives it an added boost that allows it to stand out. In addition, the ride is comfortable for a second-tier UHP tire, and treadlife has shown to be quite good at this early stage.
Traction on wet pavement is more adequate, but only average compared to some of the higher rated tires in this class. The same can be said for grip on snow, hard-pack and ice. It may get you around in light to moderate amounts of snow, but obviously, heavy snow, freezing rain and ice may be problematic.
We like how Nexen has increased the warranty coverage on many of their tires, the N7000 Plus being one of them. 50K miles on a UHP tire is very good. Add in road hazard and road service coverage and you have an excellent warranty.
Overall, Nexen has a solid addition to the UHP all-season category with its N7000 Plus. We rank it in the mid to upper half of this class. For the lower price versus top name brands it is a good option for budget-minded drivers looking to up the performance levels on their vehicle.
What Vehicles Will The Nexen N7000 Plus Fit?
(This is not a complete list of ALL vehicles this tire will fit)
Acura ILX, CL, CSX, TL, RSX
Audi A4, A6, TT, A8, RS
BMW 3-Series, Z4, 5-Series, Z3
Buick Verano, Regal, Lacrosse
Chevrolet Cobalt, Sonic, Aveo, Camaro, Impala, Monte Carlo, Cruze, Malibu
Chrysler 300, PT Cruiser, Sebring, 200
Dodge Avenger, Challenger, Dart, Stratus, Magnum
Ford Focus, Taurus, Crown Victoria, Mustang
Honda Civic, Accord, Prelude
Hyundai Genesis, Azera
Kia Amanti
Mazda 626, Mazda5, Mazda6, Mazda3
Nissan Altima, Sentra, Leaf, Maxima, 350Z
Scion xA, xB, xD, FR-S
Subaru Impreza, Forester, Outback, Legacy
Toyota Corolla
Volkswagen Jetta, Beetle, Passat
Volvo S80, S70, V40, V70, C70, XC70
Tire Sizes
16″
205/50ZR16 87W Black
205/55ZR16 XL 94W Black
17″
205/45ZR17 XL 88W Black
215/45ZR17 XL 91W Black
215/50ZR17 91W Black
215/55ZR17 94W Black
225/45ZR17 91W Black
225/50ZR17 XL 98W Black
225/55ZR17 XL 101W Black
235/45ZR17 XL 97W Black
235/55ZR17 99W Black
245/40ZR17 91W Black
245/45ZR17 95W Black
245/50R17 99V Black
18″
225/40ZR18 XL 92W Black
225/45ZR18 XL 95W Black
235/50ZR18 XL 101W Black
245/40ZR18 XL 97W Black
245/45ZR18 XL 100W Black
265/35ZR18 XL 97W Black
275/35ZR18 95W Black
19″
245/40ZR19 XL 98W Black
245/45ZR19 XL 102W Black
275/35ZR19 96Y Black
275/40ZR19 XL 105Y Black
20″
245/35ZR20 XL 95W Black
255/35ZR20 XL 97W Black
275/30ZR20 XL 97W Black
275/35ZR20 XL 102W Black
Price Range
Nexen N7000 Plus prices range from approximately $111 and up. You may also find occasional rebates, discount prices, coupons and special offers on this tire.
Warranty
Nexen provides a 50,000 mile tread warranty on the N7000 Plus. Tire uniformity is guaranteed for the first year or first 2/32 inch of wear.
Materials and workmanship are warranted for 6-years and include free replacement during the first year or first 2/32 inch of wear. A prorated amount is given for the remaining time period or down to the final 2/32 inch of tread depth.
Nexen also includes a 2-year road hazard guarantee and 3-years of roadside assistance.
---