Nexen N5000 Plus Tire Review & Rating
Built for drivers looking for a high performance all-season tire at a lower cost, the Nexen N5000 Plus offers more than just a lower price. It has a number of new features that build off the original N5000 tire that has been popular in its segment.
The N5000 Plus has an all-season tread compound with unique dimples that serve to better distribute heat more evenly across the tread. This helps not only to strengthen the tire, but is designed to enhance overall treadlife.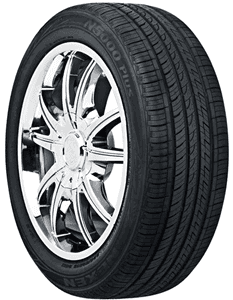 Nexen has added tread groove serration around the tire to deliver increased stability both in the corners and during straight line acceleration, while stiffness blocks give it the type of cornering grip you would expect from an HP all-season tire. This combination further gives the N5000 Plus a bit quicker steering response as well.
Ride and noise comfort levels are addressed through the tire's lateral tread grooves that help reduce noise levels and smooth out the ride.
Inside the tire are twin steel belts with a polyester cord body. Nexen offers H and V-speed rated sizes in numerous 15-19 inch fitments. It carries a 500 UTQG rating and is backed by a 65,000 mile tread warranty.
Pros
Good dry and wet traction

Smooth ride

Quiet tire on the highway

Budget price
Cons
Up the winter performance a bit

Treadwear is poor
Overall Thoughts
The Nexen N5000 Plus is a surprise sleeper in its class. For a cheaper tire you might not be expecting the type of everyday driving performance it delivers. We've heard the same thing out of other owners of this tire as well.
Aside from the winter performance, which is a bit lacking in rougher conditions among tires in this class, treadwear has been a real issue for many drivers. Getting only 20K miles out of the tread, when it's warranted for 65K miles, is not good, even for a budget-priced tire.
Overall, the N5000 Plus is an upgrade over original equipment tires, but not by much. It does deliver dependable year round performance and comes in at a lower price than many of the bigger name brands which can be appealing for budget-minded drivers. However, due to its poor treadwear we feel there are better options available.

What Vehicles Will The N5000 Plus Fit?
(This is not a complete list of ALL vehicles this tire will fit)
Acura TL, Integra, TSX

Audi A4, A6, TT

BMW 328i, Z4, 330xi, 528i, M3

Cadillac CTS

Chevrolet Cruze, Camaro, Aveo, S10

Ford Mustang, Focus, Fusion, Taurus, Ranger

Honda Civic, Accord, Fit

Hyundai Sonata, Genesis

Kia Optima

Mazda3, Mazda6, Miata, Protégé

Mini Cooper S

Nissan Maxima, Altima

Subaru Impreza WRX, Outback

Toyota Solara, RAV4, Avalon, Celica GTS

Volkswagen Passat, Jetta, CC Sport, Golf, GTi

Volvo S60, 850, S40
Tire Sizes
15″
185/60 R15 84H BSW
195/60 R15 88H BSW
185/65 R15 88H BSW
195/65 R15 91H BSW
205/65 R15 94H BSW
16″
195/50 R16 84V BSW
195/55 R16 87V BSW
205/50 R16 87H BSW
205/55 R16 91H BSW
215/55 R16 XL 97H BSW
225/55 R16 95H BSW
205/60 R16 92H BSW
215/60 R16 95H BSW
225/60 R16 98H BSW
235/60 R16 100H BSW
205/65 R16 95H BSW
215/65 R16 98H BSW
225/65 R16 100H BSW
235/65 R16 103H BSW
17″
205/40 R17 80H BSW
205/45 R17 XL 88V BSW
215/45 R17 87H BSW
225/45 R17 91H BSW
235/45 R17 94H BSW
245/45 R17 95H BSW
205/50 R17 XL 93V BSW
215/50 R17 XL 95V BSW
225/50 R17 94H BSW
235/50 R17 96H BSW
215/55 R17 94V BSW
225/55 R17 XL 101V BSW
235/55 R17 99H BSW
215/60 R17 96H BSW
225/60 R17 99H BSW
235/60 R17 102H BSW
215/65 R17 99H BSW
18″
225/40 R18 88H BSW
235/40 R18 XL 95H BSW
245/40 R18 XL 97H BSW
215/45 R18 XL 93V BSW
235/45 R18 94V BSW
245/45 R18 XL 100V BSW
225/50 R18 95H BSW
235/50 R18 97V BSW
245/50 R18 XL 104V BSW
215/55 R18 95H BSW
225/55 R18 98H BSW
225/60 R18 100H BSW
235/60 R18 103H BSW
19″
235/55 R19 101H BSW
Price Range
Nexen N5000 Plus prices range from approximately $67 and up. You may also find occasional rebates, discount prices, coupons and special offers on this tire.
Warranty
Nexen provides a 65,000 mile tread warranty on the N5000 Plus. Tire uniformity is guaranteed for the first year or first 2/32 inch of wear.
Materials and workmanship are warranted for 6-years and include free replacement during the first year or first 2/32 inch of wear. A prorated amount is given for the remaining time period or down to the final 2/32 inch of tread depth.
Nexen Tires also provides a 3-yr tire changing and towing warranty on this model as well.
---