Nexen N5000 Platinum Tire Review & Rating
The Nexen N5000 Platinum tires is a grand-touring tire targeted at premium buyers but at a lower price point than similar rubber. It suits mid- and larger-size passenger vehicles including sedans and SUVs. This is an all-weather tire, not an all-season tire. The tricky nuance here is that the Nexen N5000 Platinum sports the M+S, meaning it can be used year around even in light snow.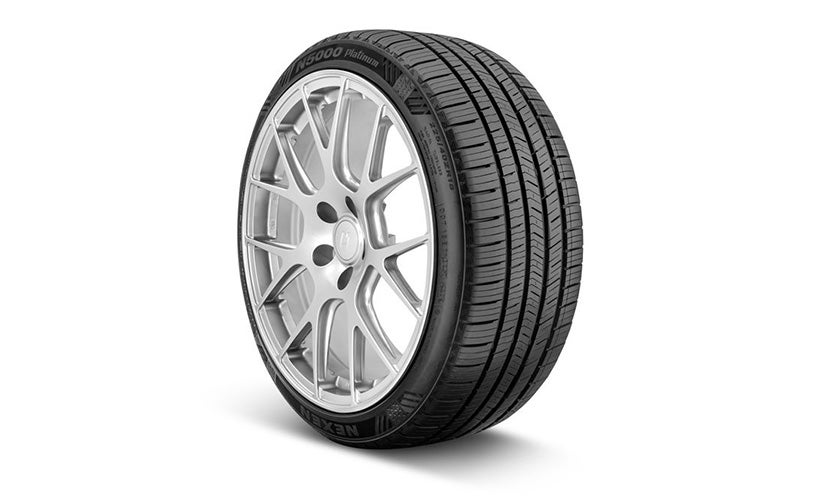 Users like this tire for its low profile and compliant road manners, though aggressive siping and the four thick center grooves contribute to a fair amount of road noise for the class. This tire is designed to spread the divide between longevity and grand touring performance typical on higher end SUVs and sedans without breaking the bank.
Those center grooves and deep angled cuts out to the shoulder of the tire help evacuate ice, snow, and water with ease, and that coupled with a cold-weather-compliant compound give the tire year-round performance over and above all-season tires.
Depending on size, these tires have speed ratings of H, V, or W. That means either 149 mph or 169 mph max speed, well above highway. The load index ranges from 84, or 1,102 lb to 111, which represents a weight carrying capacity of 2,403 lb per tire, making them appropriate for a wide range of mid- to large-size sedans and SUVs. H- and V-rated tires carry a 70,000-mile treadwear warranty, W-rated tires are guaranteed for up to 55,000 miles.
Pros:
M+S rated for year-round performance
Great tread life
Grand touring looks
Cons:
Slightly noisy
Tread design is utilitarian
Overall Thoughts
The N5000 Platinum tire from Nexen is a great alternative to OEM-fitted rubber on higher trim levels of most higher end SUVs and sedans. It offers a sporty stance and road compliance, as well as longevity, and year-round confidence in all conditions thanks to that M+S rating. They even feature a small amount of rim protection with a thick layer of rubber near the bead.
Nexen has compromised on looks slightly with its utilitarian tread pattern, but the sheer volume of multi-directional cuts and sipes are what gives this tire its genuine all-weather grip and confidence. If you live in an area that has moderate winters with occasional snow and not a lot of ice, than a four-season tire makes sense. We should point out that a dedicated winter tire is always the best option for heavier winter conditions, but the Nexen N5000 is a convenient alternative to swapping your tires twice a year.
Tire Sizes
16" Rims
195/50R16
205/55R16
215/55R16
17" Rims
205/50R17
215/45R17
215/50R17
215/55R17
215/60R17
215/65R17
225/45R17
225/50R17
225/55R17
225/60R17
225/65R17
235/45R17
235/50R17
235/55R17
235/60R17
235/65R17
245/40R17
245/45R17
245/65R17
245/70R17
265/65R17
18" Rims
215/45R18
215/55R18
225/40R18
225/45R18
225/50R18
225/55R18
225/60R18
235/40R18
235/45R18
235/50R18
235/55R18
235/60R18
235/65R18
245/40R18
245/45R18
245/50R18
245/60R18
255/35R18
255/55R18
255/65R18
265/35R18
265/60R18
19" Rims
225/45R19
225/55R19
235/40R19
235/45R19
235/50R19
235/55R19
245/40R19
245/45R19
245/55R19
255/40R19
255/45R19
255/50R19
255/60R19
275/35R19
275/40R19
20" Rims
245/35R20
245/40R20
245/45R20
245/50R20
235/55R20
255/35R20
255/45R20
255/50R20
255/55R20
265/45R20
265/50R20
275/40R20
275/45R20
Competitors & Alternatives
While there are many grand touring tires on the market, the selection of four-season tires is much smaller. Alternatives include the Michelin CrossClimate2 tire, which comes with the three-peak mountain and snowflake symbol that some prefer over the M+S rating. Michelin's variant is around 40 percent more expensive though. Hankook's Kinergy 4s2 is another 3PMSF tire for grand touring use and is slightly less expensive than Nexen's option, but has a shorter treadwear warranty.
Price Range
With a starting price a little over $100 per tire and climbing to a little under $400 per tire for the larger sizes, the N5000 Platinum is in the lower- to mid-price range of genuine four-season tires.
You may also find occasional rebates, discounts, coupons, and special offers on this tire.
Warranty
There is a 45-day satisfaction guarantee on the Nexen N5000 Platinum tire. It takes the form of the company's "Free Trial" program, which allows you to claim a refund within 45 days or 500 miles.
Nexen Tires are also covered by warranty against problems with materials or workmanship for six years from manufacture. The company will replace tires completely free of charge for up to 12 months and for the first 2/32" of wear.
The company also offers a two-year road hazard warranty and up to a 70,000-mile treadwear warranty on the N5000 Platinum tire.