Nexen N Priz AH8 Tire Review & Rating
Released in 2016 and used as original equipment on vehicles like the Kia Optima, the Nexen N Priz AH8 touring all-season tire is billed as providing "true" year-round performance in all four seasons.
Built for all types of coupes, sedans, minivans and crossovers, the AH8 is a big step-up over the Nexen CP672 model in areas of treadlife and winter traction.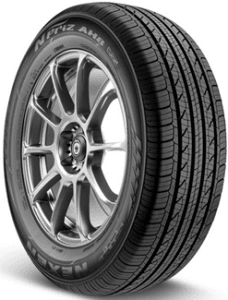 Nexen uses an all-season tread compound and symmetric tread pattern for optimal handling and ride comfort. The tire's uniform block positioning and more rigid shoulders increase braking and acceleration for better overall safety.
Numerous lateral grooves and added sipes around the tread add to handling stability and a longer lasting treadlife, while also delivering increased traction on wet or snow covered road surfaces. These unique wave sipes really do their job in the snow, making this one of the better all-season tires for driving on snow, slush and other winter conditions.
Twin steel belts and spirally wrapped nylon provide extra strength and longer durability, which is a strong point for this tire. Nexen offers a range of 14-19 inch sizes with T, H, V or W-speed ratings on the AH8. All sizes include a 70K mile tread warranty as well.
Pros
Dependable dry and wet traction
Comfortable and quiet ride quality
Very good winter traction
Treadlife has shown to be better than average
Value for the money
Cons
Overall Thoughts
Although you may not have heard much about Nexen's AH8, we find this tire to be a pleasant surprise in the touring all-season class. Delivering better performance than the older CP672, this new model provides reliable traction and handling in most all types of road conditions.
Ride comfort is particularly a stronger area for this tire, and excessive road noise is not a factor as well. As mentioned above, traction on snow is on par with other top all-season tires, and treadwear is better than average. The only issue you might find is traction on icy road surfaces, but that is common for any all-season tire.
Overall, the Nexen AH8 provides very good value for the lower cost.
What Vehicles Will The Nexen AH8 Fit?
(This is not a complete list of ALL vehicles this tire will fit)
Buick LeSabre, Park Avenue, Verano
Chevy Cobalt, Sonic, Cavalier, Impala, Cruze, Malibu, Monte Carlo, Aveo
Chrysler PT Cruiser, LeBaron, Sebring, Cirrus, Town & Country
Dodge Avenger, Dart, Neon, Grand Caravan, Stratus
Ford Focus, Taurus, Thunderbird
Honda Civic, Accord, Prelude
Hyundai Elantra, Accent, Verna, Matrix, Sonata
Kia Soul, Forte, Optima
Mazda 323, Mazda3, Mazda5, 626, MPV, Mazda6
Mercury Grand Marquis, Cougar, Tracer, Mystique
Mitsubishi Galant, Eclipse, Lancer, Mirage
Nissan Sentra, Leaf, Altima, Maxima, 200SX
Pontiac Bonneville, Grand Prix, Sunfire, Vibe, Grand Am
Saturn L200, Ion
Scion xB
Subaru Legacy, Outback
Toyota Corolla, Matrix, Camry, Prius
Volkswagen Beetle, Jetta, Golf, Passat
Tire Sizes
14″
185/65R14 86H Black
15″
185/60R15 84H Black
195/60R15 88H Black
195/65R15 91H Black
195/65R15 91T Black
195/65R15 91T Black
205/65R15 94H Black
16″
185/55R16 83H Black
195/50R16 84V Black
195/55R16 87V Black
205/50R16 87V Black
205/55R16 91V Black
205/55R16 91H Black
205/60R16 92H Black
205/65R16 95H Black
205/70R16 96H Black
215/55R16 XL 97H Black
215/60R16 95V Black
215/65R16 98V Black
225/50R16 92H Black
225/55R16 95V Black
225/60R16 98V Black
225/65R16 100H Black
235/60R16 100H Black
235/65R16 103H Black
17″
205/45R17 84H Black
205/50R17 XL 93V Black
215/50R17 91V Black
215/55R17 94V Black
215/60R17 96V Black
225/45R17 91W Black
225/50R17 94V Black
225/55R17 97V Black
225/60R17 99H Black
235/45R17 94V Black
235/50R17 96H Black
235/55R17 99V Black
245/45R17 95V Black
245/50R17 98V Black
18″
215/45R18 89V Black
215/55R18 95H Black
225/45R18 91H Black
225/50R18 95V Black
225/55R18 98V Black
225/60R18 100H Black
235/40R18 91H Black
235/45R18 94H Black
235/50R18 97H Black
235/55R18 100H Black
245/40R18 93V Black
245/45R18 96H Black
245/50R18 100H Black
245/55R18 102H Black
19″
225/55R19 99H Black
Price Range
Nexen N Priz AH8 prices range from approximately $73 and up. You may also find occasional rebates, discount prices, coupons and special offers on this tire.
Warranty
Nexen provides a 70,000 mile tread warranty on the N Priz AH8. Tire uniformity is guaranteed for the first year or first 2/32 inch of wear.
Materials and workmanship are warranted for 6-years and include free replacement during the first year or first 2/32 inch of wear. A prorated amount is given for the remaining time period or down to the final 2/32 inch of tread depth.
Nexen also includes a 2-year road hazard guarantee and 3-years of roadside assistance.
---