Nexen N'Priz AH5 Tire Review & Rating
The Nexen N Priz AH5 all season tire is designed to provide dependable traction in all weather conditions, as well as a smooth and comfortable ride. Built for use on all types of coupes, sedans, minivans and crossovers, the AH5 is low-priced to fit most any budget.
An all-season tread compound and symmetric tread pattern combine to deliver reliable dry traction and cornering stability. Rigid outside shoulder blocks and the tire's continuous center rib increase steering response and give the tire added cornering grip throughout the speed range.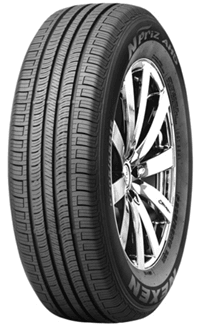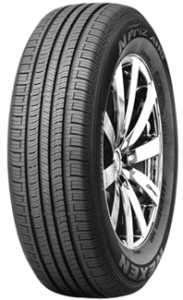 Four large circumferential grooves evacuate water on wet pavement and reduce the risk of hydroplaning, which is an area this model does an adequate job in. The tire's tread design effectively reduces unwanted outside road noise and enhances overall ride quality.
Nexen offers a range of 14-17 inch sizes in the N Priz AH5, with speed ratings of T, H and V. A 50K mile tread warranty is also part of the package.
Pros
Dependable dry and wet traction
Dry handling
Comfortable ride
Treadlife
Low entry-level price
Cons
Traction in deeper snow and on ice
Overall Thoughts
The Nexen AH5 delivers the type of dependable performance you look for in a budget-priced everyday driving tire. It works well for anyone looking for a set of tires to use in traveling to work every day. You'll find a comfortable ride and lower than expected road noise for a budget tire.
On the other hand, if you do any amount of driving in winter road conditions, you may encounter traction issues. This is especially the case in deep snow, hard-packed ice and other severe conditions. It's really not that much different than other all-season tires in that regard, it simply lacks the traction you need in heavy winter conditions.
Overall, for those drivers on a budget who put on a lot of miles around town or on the highway and want to save themselves a substantial amount of money, this is a good budget brand tire. However, if you do quite a bit of winter driving, you might want to look at other options such as the Continental TrueContact or Nokian Entyre 2.0 among several other top models.
Click Here To Find Current Prices
What Vehicles Will The Nexen N'Priz AH5 Fit?
(This is not a complete list of ALL vehicles this tire will fit)
Buick Enclave, Roadmaster
Chevrolet Cruze, Malibu, Astro, Cavalier
Dodge Avenger, Caravan, Intrepid
Ford Fusion, Taurus
GMC Acadia
Honda Accord, Civic, Odyssey
Hyundai Sonata
Nissan Altima, Sentra
Saturn Vue, Outlook
Toyota Camry, Corolla, Sienna
Volkswagen Jetta
Tire Sizes
14″
P185/65R14 85T BW
195/60R14 85H BW
15″
185/65R15 88H BW
P195/65R15 89T BW
205/60R15 90H BW
P205/65R15 92T BW
205/70R15 96T BW
P215/65R15 95T BW
215/70R15 98T BW
16″
P205/55R16 89T BW
P205/60R16 91T BW
215/60R16 95T BW
215/65R16 98T BW
235/65R16 103T BW
17″
215/70R17 91H BW
215/55R17 94H BW
225/50R17 94T BW
225/55R17 97T BW
235/55R17 99H BW
Price Range
Nexen N'Priz AH5 prices range from approximately $53 and up. You may also find occasional rebates, discount prices, coupons and special offers on this tire.
Click Here To Find The Current Prices On All
Warranty
Nexen provides a 50,000 mile tread warranty on AH5. Tire uniformity is guaranteed for the first 2/32 inch of wear. Materials and workmanship are warranted for 4-years and includes free replacement during the first 6-months or 2/32 inch of wear. A prorated amount is given for the remaining time period or down to the final 2/32 inch of tread depth.
---