Nexen Roadian HTX RH5 Tire Review & Rating
The recipient of a U.S. Good Design Award, the Nexen Roadian HTX RH5 by Nexen Tire is a Load Range E tire built for use with all types of SUVs and trucks. This all-season tire features of a combination of attributes which make it an ideal choice for drivers who take their vehicles on and off the highway.
This is a well-rounded tire, intended for a variety of usage scenarios and weather conditions. While not a strictly on-road tire, it does perform well in light duty off road use, and offers reliable traction in light snow. This is thanks to its all-season tread compound, zig-zig sipe pattern, circumferential grooves, and lateral grooves.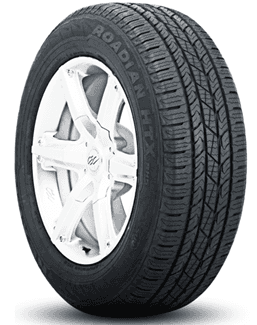 For off road use, the tire's open shoulder and 3-D edge design helps keep mud and gravel out of the treads and can improve braking distances. On wet roads, the risk of hydroplaning is substantially reduced.
The Nexen HTX RH5 has also been built with a 2-ply polyester casing in an effort to improve ride comfort. On the highway, noise levels are quite low due to the multi-sequence tread pattern, which is something we've heard about from countless other drivers of this tire. It's an area that is better than many tires with similar design objectives.
The tire is available in a range of LT and non-LT sizes from 225/70R15 to 275/60R20, with speed ratings of Q, R, S, T, H and V. Nexen offers either a 40K or 65K mile warranty on tread life depending on model chosen.
Pros
Versatile, good for many different uses

Excellent traction on dry and wet pavement

Smooth and quiet on the highway
Cons
Heavy snow and ice traction
Overall Thoughts
If you get a lot of work out of your vehicle-and not all of it takes place on the highway, the Nexen Roadian HTX RH5 is an excellent choice for versatility and reliability. The tire offers excellent traction and handling on and off the road. While it doesn't have an array of features matching more expensive tires in its class, Nexen's offering has an excellent price versus performance ratio.
The primary shortcoming of the HTX RH5 is its performance in harsh winter weather driving conditions. While perfectly capable of pulling you out of light snowfall, the tire can't compete with a dedicated winter tire in heavy snowfall or thick ice.
Overall, we believe Nexen has engineered a very well balanced tire that delivers dependable performance.
What Vehicles Will The Nexen HTX RH5 Fit?
(This is not a complete list of ALL vehicles this tire will fit)
Chevrolet Silverado, Tahoe, Avalanche, S10, Suburban, K2500,

Colorado, Blazer

Dodge Ram, Durango, Dakota

Ford Expedition, Escape, Ranger, Bronco, F-150, Excursion, Explorer

GMC Yukon, Sierra, Canyon

Honda Element, CR-V

Hummer H3, H2

Isuzu Trooper

Jeep Wrangler, Grand Cherokee, Liberty

Land Rover Discovery

Lexus GX470

Mazda B4000

Mercury Mountaineer

Mitsubishi Montero

Nissan Titan, Xterra, Frontier, Armada, Pathfinder

Toyota Tacoma, Tundra, FJ Cruiser, Sequoia, 4Runner, Land Cruiser, Highlander
Tire Sizes
15″
225/70R15 100S RWL
235/70R15 103S RWL
LT 255/70R15 113/110S BSW
265/70R15 112S RWL
235/75R15 XL 109S RWL
LT 31X10.50R15 109S BSW
16″
235/65R16 103T BSW
255/65R16 109H RWL
225/70R16 103T RWL
235/70R16 106T RWL
245/70R16 107T RWL
255/70R16 111S RWL
265/70R16 112S RWL
275/70R16 114S BSW
LT 225/75R16 115/112Q BSW
225/75R16 XL 108S RWL
235/75R16 108T RWL
LT 245/75R16 120/116Q BSW
245/75R16 111S RWL
LT 265/75R16 123/120Q RWL
265/75R16 116T RWL
LT 215/85R16 115/112Q BSW
LT 235/85R16 120/116Q BSW
17″
225/65R17 102H BSW
235/65R17 104H BSW
245/65R17 107H RWL
255/65R17 110S RWL
265/65R17 112H BSW
275/65R17 115T BSW
285/65R17 116S BSW
235/70R17 XL 111T RWL
245/70R17 110T RWL
255/70R17 112T RWL
LT 265/70R17 121/118R RWL
265/70R17 115T RWL
LT 245/75R17 121/118S BSW
LT 235/80R17 120/117R BSW
18″
225/60R18 100H BSW
235/60R18 103V BSW
245/60R18 105H BSW
265/60R18 110H BSW
275/60R18 113H BSW
285/60R18 116V BSW
235/65R18 106H BSW
255/65R18 111T BSW
265/65R18 114S BSW
275/65R18 116T BSW
255/70R18 113T BSW
265/70R18 116S BSW
19″
245/55R19 103T BSW
255/60R19 109H BSW
20″
265/50R20 107V BSW
275/55R20 113T BSW
275/60R20 115S BSW
Price Range
Nexen Roadian HTX RH5 prices range from approximately $90 and up. You may also find occasional rebates, discount prices, coupons and special offers on this tire.
Warranty
Nexen provides a 65,000 mile tread warranty on non-LT sizes and a 40,000 mile warranty on LT sizes of the HTX RH5. Tire uniformity is guaranteed for the first 2/32 inch of wear.
Materials and workmanship are warranted for 4-years and includes free replacement during the first 6-months or 2/32 inch of wear. A prorated amount is given for the remaining time period or down to the final 2/32 inch of tread depth.
---