Nankang XR611 Tire Review & Rating
The Nankang XR611 is built to provide owners of all types of coupes, sedans and minivans a low cost option in a touring all-season tire. Designed to perform well in all-season conditions, the XR611 sports a number of features normally found only in more expensive tires.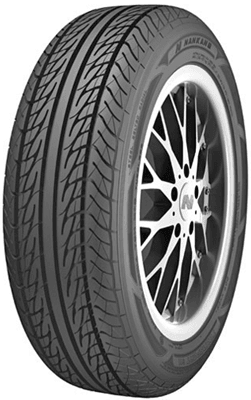 Nankang XR611 Toursport Features
* Angled Tread Blocks – Nankang has added angled tread blocks to go along with four circumferential grooves that help with maintaining traction on wet road surfaces and delivering increased resistance to hydroplaning.
* Next Generation Siping Design – Adds multiple biting edges for increased grip and improved brake performance on dry, wet and snow covered pavement.
* Variable Pitch Tread – Outside road noise is reduced through a computer enhanced variable pitch tread sequence that aids in quieting the ride and adding to overall ride comfort.
What Is There To Like About The Nankang XR611?
Dry Traction and Handling Performance

 – One of the better aspects with this model is in its dry traction and handling capabilities. Its tread compound, symmetric tread pattern and special block design give it better grip and cornering stability on all types of pavement, as well as a lower rolling resistance for increased fuel efficiency.
Comfortable Ride

 – For a low cost tire, you may be surprised with ride comfort. No, it will not be confused with higher-priced tires like the Goodyear ComforTred Touring or Michelin MXV4, but the ride is more comfortable than you might think.
Treadlife

 – Nankang backs up this model with a 50K mile tread warranty, which considering the price is a very good warranty. We've heard from drivers getting upwards of 30-40,000 miles out of the tread without issue.
Value for the Money

 – Among touring all-season tires, the XR611 sports a lower price that will definitely appeal to budget-conscious drivers. Prices start at approximately $47 and depending on your tire size you can get a set of four tires for less than $200.
What Could Be Better?
Increase the Wet Traction

 – Perhaps the biggest knock on this tire is in its wet traction. While the siping around the tread and circumferential grooves do help, we've heard many drivers mention having traction and hydroplane issues on wet pavement, especially at higher speeds or in harder cornering.
Lower the Road Noise Slightly

 – While this is not a huge complaint by any means, we would like to see road noise reduced just a bit. Despite the variable tread pitch it is still a little more pronounced at highway speeds than with many other touring tires.
Who Should Buy This Tire
Drivers who are simply looking for an everyday type of tire that will provide predictable traction and handling should be pleased for the most part with the XR611.
In addition, this is a good choice in new tires if you are someone who is on a tighter budget and needing to replace your current tires. They also provide an option for someone who is going to be selling their vehicle and need to replace the tires before doing so.
Who Should Not Buy This Tire
If you drive quite a bit on wet streets and highways, then this tire may not be your best choice. While not terrible, there are many other tires in the touring all-season class that provide better wet grip and braking performance that you might want to check out.
Bottom Line
The XR611 certainly fills a need for anyone looking for a cheap tire that offers pretty good performance. It's priced to fit virtually any budget. The tire itself does provide more than adequate dry traction and handling. Ride comfort is good for a low cost touring tire, and Nankang warrants the tire for 50,000 miles. With its UTQG rating of 520, that's about what you can expect to get out of the tread.
On the flipside, wet traction, as well as winter handling is below average. We've heard other drivers state the same thing. You'll want to use a little extra caution when driving on wet streets and highways or on snow and ice. Road noise is another area that could see a bit of an improvement, but you certainly can't expect a cheaper tire like this to give you the type of noise comfort that you'll find on a Michelin touring tire.
Overall, if you find yourself in a tight squeeze and needing new tires, this tire is not a bad choice. You'll save a substantial amount of money and still get dependable everyday performance. It also gives older vehicle owners with 13 and 14 inch wheel sizes a cheaper option for basic driving needs.
Click Here To Find Current Prices
UTQG
Treadwear – 520

Traction – A

Temperature – A
Tire Sizes
13″
165/65R13 77H BSW
175/60R13 77H BSW
185/60R13 80H BSW
205/60R13 86H BSW
14″
165/65R14 79H BSW
175/65R14 82H BSW
185/65R14 86H BSW
195/65R14 89H BSW
185/60R14 82H BSW
195/60R14 86H BSW
205/60R14 88H BSW
15″
175/65R15 88H BSW
185/65R15 92H BSW
195/65R15 91H BSW
205/65R15 95H BSW
215/65R15 96H BSW
185/60R15 88H BSW
195/60R15 88H BSW
205/60R15 91H BSW
215/60R15 94H BSW
225/60R15 96V BSW
205/50R15 86V BSW
16″
205/60R16 96V BSW
205/60R16 96H BSW
215/60R16 99H BSW
225/60R16 98V BSW
235/60R16 100V BSW
225/50R16 92V BSW
17″
215/55R17 94V BSW
215/50R17 91V BSW
225/50R17 94V BSW
18″
215/50R18 92V BSW
215/45R18 93V BSW
Fits All Of These Vehicles And Many Others
(This is not a complete list of ALL vehicles this tire will fit)
Audi A4, S4

BMW 525i, 530i, 740i

Buick Century, LeSabre, Encore, Park Avenue, Regal, Lucerne

Cadillac Seville, Eldorado, XLR

Chevrolet Malibu, Astro, Blazer, Impala, Monte Carlo, Cobalt

Chrysler Town & Country, Concorde, Voyager

Dodge Grand Caravan, Caliber, Charger

Ford Taurus, Freestar, Windstar, Focus, Fusion

Honda Accord, CR-V, Civic

Hyundai Tucson

Kia Amanti, Sportage

Lexus ES300, LS430

Lincoln Town Car

Mazda MPV, Tribute, 3, Cx-7

Mercury Grand Marquis, Monterey, Villager

Mitsubishi Diamante

Nissan Leaf, Altima, Sentra

Pontiac Bonneville

Saab 9-5

Suzuki Grand Vitara, XL-7

Toyota Camry, Avalon, Solara, Tacoma, RAV4, Sienna, Corolla, Celica

Volkswagen Golf

Volvo S70, V70
Tire  Warranty
Mileage Warranty – 5-years or 50,000 miles
Uniformity – First 2/32 inch of treadwear
Materials and Workmanship – 5 years with free tire replacement during first 2/32 inch of wear, followed by a prorated amount until the tire reaches 2/32 inch of tread depth.
Click Here To Find The Current Prices On All Nankang XR611 Sizes
---