Nankang Noble Sport NS-20 Tire Review & Rating
The Nankang Noble Sport NS-20 features all-season performance and an H or V-speed rating for drivers of sport coupes and sedans. Nankang has utilized the latest in tire technology to give this model a smoother ride, while also maintaining high speed stability.
The all-season tread compound is M+S rated for increased traction and handling in all weather conditions. The tire's dry tread zone is built for added grip and cornering on dry road surfaces. At the same time, a continuous center rib increases steering response and adds more stability throughout the speed range, which is a big plus on this particular tire.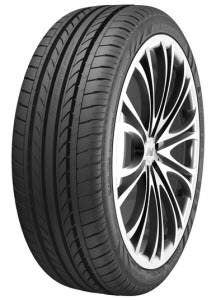 Nankang's wet zone on this model features four circumferential grooves and a unique tread block siping design which enhance wet road surface grip and handling. It also reduces the risk of hydroplaning and increases driving confidence behind the wheel, something that has been noted by many drivers in reviews of this tire.
Inside the tire you will find steel belted construction for added strength and durability, while also providing more even treadwear. Nankang offers a wide variety of 15-22 inch sizes, and it comes with either an H, V, W or Y-speed rating. A 30K or 40K mile tread warranty is also part of the package.

Pros
Dry and wet traction is good

Tire rides comfortably

Steering response

Low price
Cons
Cornering performance could be improved

Would like to see better treadlife
Overall Thoughts
The NS-20 is a tire that has some good things going for it, but it also has areas that could be improved upon. First off is the lower price. It works well for anyone on a tighter budget. Beyond the cheaper cost is the fact that this tire also delivers some nice performance as well. Dry and wet traction is predictable and solid. Steering is responsive and provides you with a good feel for the most part.
Cornering stability is good, although we would like to see a bit more grip at the limits. More spirited drivers may find the sidewalls a bit soft, which makes for a little more understeer. Other top models like the Pirelli P Zero All Season Plus, Yokohama YK580 and Michelin Pilot Sport 3 Plus among others all provide much better cornering performance. That said, you'll have to pay more than you will on this model.
Another area we want to point out is treadlife. We would like to see it improved a bit, which is also an area mentioned in several online reviews as well. To be fair, we've heard from drivers who have not had an issue with tread wear. Again, for the low price it likely won't be an issue for most drivers.
Overall, the value and performance for the lower cost of the NS-20 makes it a good buy if budget is your number one concern. That said, if your budget is higher, you may want to opt for one of the better models in this class.
Click Here To Find Current Prices
What Vehicles Will The NS-20 Fit?
(This is not a complete list of ALL vehicles this tire will fit)

Acura Legend, TSX

Chevrolet Cavalier, Malibu

Dodge Stratus R/T, Neon

Ford Escort, Focus, Fusion, Taurus

Honda Civic, Accord

Kia Optima

Mazda 3

Nissan 200SX

Pontiac Grand Am

Subaru Forester

Suzuki Aerio
Tire Sizes
15″
195/55R15 85V BSW
205/55R15 88V BSW
16″
225/55R16 95V BSW
195/50R16 88V BSW
205/50R16 87V BSW
205/45R16 87V BSW
17″
215/55R17 94V BSW
205/50R17 93V BSW
215/50R17 95V BSW
225/50R17 94V BSW
205/45R17 88V BSW
215/45R17 91V BSW
225/45R17 94V BSW
235/45R17 97V BSW
245/45R17 95H BSW
205/40R17 84H BSW
215/40R17 87V BSW
235/40R17 90V BSW
245/40R17 91V BSW
255/40R17 94V BSW
18″
225/45R18 95H BSW
245/45R18 100H BSW
215/40R18 89H BSW
225/40R18 92H BSW
235/40R18 95H BSW
245/40R18 97H BSW
215/35R18 84H BSW
225/35R18 87H BSW
255/35R18 94H BSW
265/35R18 93H BSW
275/35R18 95H BSW
19″
245/45ZR19 98Y BSW
225/40ZR19 93Y BSW
245/40ZR19 98Y BSW
275/40ZR19 101Y BSW
215/35ZR19 85Y BSW
225/35ZR19 88Y BSW
235/35ZR19 91Y BSW
245/35ZR19 93Y BSW
255/35ZR19 96Y BSW
265/35ZR19 98Y BSW
275/35ZR19 96Y BSW
255/30ZR19 91Y BSW
265/30ZR19 93Y BSW
275/30ZR19 96Y BSW
285/30ZR19 98Y BSW
20″
245/40ZR20 95Y BSW
225/35ZR20 93Y BSW
235/35ZR20 92W BSW
245/35ZR20 95Y BSW
255/35ZR20 97Y BSW
275/35ZR20 102Y BSW
215/30ZR20 82W BSW
225/30ZR20 85W BSW
245/30ZR20 95Y BSW
255/30ZR20 92Y BSW
275/30ZR20 97Y BSW
22″
285/30ZR20 99Y BSW
245/30ZR22 95W BSW
Price Range
Prices on the Nankang NS-20 range from approximately $57 and up. You may also find occasional rebates, discounts, coupons and special offers on this tire.
Click Here To Find The Current Prices On All Nankang Noble Sport NS-20 Sizes
Warranty
Nankang provides a 40,000 mile tread warranty on H & V-speed rated sizes, and 30,000 miles on W & Y-speed rated models. Tire uniformity is guaranteed for the first 10% of treadwear. Materials and workmanship are warranted for a prorated amount down to the final 2/32 inch of tread depth.
---