Nankang Conqueror AT-5 Tire Review & Rating
The Nankang Conqueror AT-5 is designed to tackle most any off-road terrain while maintaining respectable road manners on the street. Built for drivers of pickups, SUV's, crossovers and other 4×4's, the Conqueror A/T is also one of the lowest priced all-terrain tires on the market.
Nankang uses a unique cut and chip resistant high-tech silica tread compound in LT sizes that increases dry, wet and winter traction and handling. It also helps with durability for enhanced treadwear.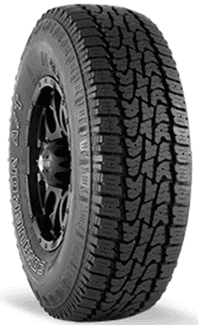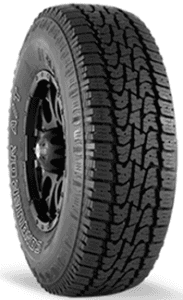 The tires' serrated sidewall and aggressive shoulder design gives it a boost in performance when driving through dirt, sand, light mud and other off-road terrain. LT sizes with load range E ratings feature a 3-ply sidewall for increased protection against cuts and punctures, which is a welcome addition to be sure.
Nankang has engineered larger tread voids that help the tire clean itself of dirt, smaller rocks and other debris for better overall traction. While arguably not up to the levels of some of the top performing AT tires, it doesn't do a bad job here.
A big plus for the Nankang Conqueror AT is its winter traction and handling. It sports the severe winter service mountain snowflake emblem and is also pinned for adding studs if you need them. This is not something you find on most cheap all-terrain tires. We've heard other drivers speak highly of its winter performance in their reviews as well.
You'll find the Conqueror AT-5 available in a number of 15-20 inch sizes in both LT and non-LT models. (Nankang has announced that it will be adding many additional sizes in late 2016) The AT-5 is backed with a 50K mile tread warranty.
Pros
Performance in light off-road terrain
On-road dry/wet grip
Winter traction in deep snow and ice
50K mile warranty
Value-priced
Cons
Not the best in extremely rugged terrain
Overall Thoughts
As one of the lower priced all-terrain tires, the Nankang Conqueror AT may surprise you with its overall performance. It's ideal for those living in rural areas that drive on gravel, sand, dirt and light muddy roads. Although not the best for climbing rock or driving in thick, deep mud, it holds its own on other types of terrain.
One of the better aspects of this tire is driving on snow and ice. Its rating for severe winter service is a nice plus. In addition, it's rare to find a cheaper tire like this that carries any kind of mileage warranty, let alone one that runs 50K miles.
Overall, the Nankang AT-5 is one of the better lower priced AT tires around. Sure, it doesn't match the performance of other top models like the BFGoodrich T/A KO2, Cooper A/T3 and several others, it remains a nice option for those looking to save a good amount on everyday driving all-terrain tires.
What Vehicles Will The Nankang Conqueror AT-5 Fit?
(This is not a complete list of ALL vehicles this tire will fit)
Chevrolet Silverado, Tahoe, Avalanche, S10, Suburban, K2500, Colorado, Blazer
Dodge Ram, Durango, Dakota
Ford Expedition, Escape, Ranger, Bronco, F-150, Explorer
GMC Yukon, Sierra, Canyon
Honda Element, CR-V, Ridgeline
Isuzu Trooper
Jeep Wrangler, Grand Cherokee, Liberty
Mazda B4000
Mercury Mountaineer
Mitsubishi Montero
Nissan Titan, Xterra, Frontier
Toyota Tacoma, Tundra, FJ Cruiser, Sequoia, 4Runner, Land Cruiser, Highlander
Tire Sizes
15″
235/75R15 109T OWL
265/70R15 112S OWL
16″
255/70R16 112S OWL
265/70R16 112T OWL
LT225/75R16 115/112S OWL
LT245/75R16 120/116S OWL
LT265/75R16 123/120S OWL
LT235/85R16 120/116R OWL
17″
245/70R17 112T OWL
265/70R17 115T OWL
245/65R17 111T OWL
LT235/80R17 120/117R OWL
LT245/75R17 121/118S OWL
LT245/70R17 119/116S OWL
LT265/70R17 121/118S OWL
LT285/70R17 121/118S OWL
LT265/65R17 120/117S OWL
18″
265/70R18 114S OWL
265/60R18 110T BSW
LT275/70R18 125/122R OWL
20″
275/55R20 117T BSW
LT275/65R20 126/123S OWL
Price Range
Nankang Conqueror AT-5 prices range from approximately $105 and up. You may also find occasional rebates, discount prices, coupons and special offers on this tire.
Warranty
Nankang provides a limited tread warranty on the Conqueror AT-5.
---