Nankang AS-1 Tire Review & Rating
The Nankang AS-1 sports a high performance all-season tread design for drivers of all makes and models of sport coupes, sedans and smaller SUV's. The advanced tread compound is molded into an asymmetric tread design that provides increased handling and traction in all types of weather conditions.
A curved shoulder design and larger outside shoulder blocks enhance cornering grip and provide added steering response and feel. It gives the tires more stability throughout the speed range.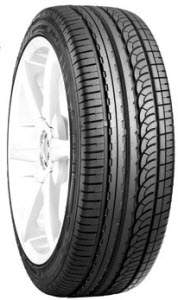 Two circumferential grooves and the addition of angled tread blocks combine with a silica enhanced tread compound to promote wet surface traction and handling, as well as evacuate water from under the tread and reduce the risk of hydroplaning. Unique sipe bars around the tread help promote better handling on wet or snow covered roads.
Road noise is reduced through the variable pitch tread sequence that Nankang uses. It also adds to the overall ride comfort that this model provides. Nankang offers a number of 13-21 inch sizes, and you'll find T, H, V, W and Y-speed ratings. A 40K mile tread warranty is included with all sizes.

Pros
Very good dry traction and cornering grip

Steering response

Ride is comfortable
Cons
Winter performance

Braking on wet pavement
Treadlife
Overall Thoughts
The AS-1 has the same similar high performance characteristics of the NS-II summer tire, but with an all-season tread design. Cornering grip, straight line acceleration, traction and handling are all very good on this tire. The ride is comfortable and road noise is not a huge issue, especially for a cheaper tire. We will say… Nankang has come a long way in upping their quality control. No, you won't confuse them with tire makers like Continental, Michelin and others, but they have managed to step up their game over the years.
The negatives with the AS1 would certainly be traction on snow and ice. Braking and acceleration in particular could be improved on ice and hard-pack. The other area where we find this tire lagging behind is with its wet braking. It seems to take it more time to come to a stop than many leading tires in its class.
Treadlife on this tire has proven to be quite good based on numerous reviews from other drivers, although we've also heard a few complaints in this area as well. Nankang now includes a 40K mile warranty on this model.
Overall, for the low price the AS-1 is a decent value in second-tier all-season tires. It's particularly appealing to drivers on a tight budget looking to get the most tire for the dollar.

Click Here To Find Current Prices
What Vehicles Will The AS-1 Fit?
(This is not a complete list of ALL vehicles this tire will fit)

Buick Lesabre

Chevrolet Cobalt, Malibu, Impala

Dodge Neon, Grand Caravan, Stratus

Ford Focus

Honda Civic, CR-Z, CRV, Insight, Accord, Fit

Kia Optima

Mazda 6

Mini Cooper

Nissan Altima, Maxima, Versa, Leaf, Cube

Pontiac Vibe, Grand Am

Saturn Aura, L200

Toyota Camry, Prius, RAV4, Avalon

Volkswagen Jetta, Passat
Tire Sizes
13″
175/50R13 72V BSW
15″
155/60R15 74V BSW
175/55R15 77V BSW
195/55R15 85V BSW
16″
205/65R16 95H BSW
215/65R16 98H BSW
195/60R16 89H BSW
195/55R16 87V BSW
205/55R16 91V BSW
17″
215/60R17 96H BSW
205/55R17 91V BSW
215/55R17 94V BSW
225/55R17 101V BSW
215/50R17 91V BSW
225/50R17 94V BSW
235/50R17 96V BSW
225/45ZR17 94W BSW
18″
225/60R18 100H BSW
265/60R18 110H BSW
225/50R18 95H BSW
235/50R18 97H BSW
245/50R18 104T BSW
215/45R18 93H BSW
225/45R18 95H BSW
235/45R18 98H BSW
245/45R18 100H BSW
255/45ZR18 103Y BSW
205/40R18 86H BSW
215/40R18 89H BSW
225/40R18 92V BSW
225/40R18 92V BSW
235/40R18 95H BSW
245/40R18 97H BSW
255/40R18 99H BSW
215/35R18 84H BSW
225/35R18 87H BSW
255/35R18 94H BSW
19″
225/45ZR19 96W BSW
235/40ZR19 96Y BSW
255/40ZR19 100Y BSW
20″
255/45ZR20 105W BSW
265/40ZR20 104Y BSW
315/35ZR20 110Y BSW
21″
245/35ZR21 96Y BSW
295/35ZR21 107Y BSW
255/30ZR21 93Y BSW
285/30ZR21 100Y BSW
Price Range
Prices on the AS 1 tire range from approximately $48 and up. You may also find occasional rebates, discounts, coupons and special offers on this tire.
Click Here To Find The Current Prices On All Nankang AS-1 Sizes
Warranty
Nankang provides a 40,000 mile tread warranty on the AS-1. Tire uniformity is guaranteed for the first 10% of treadwear. Materials and workmanship are warranted for a prorated amount down to the final 2/32 inch of tread depth.
---