Multi Mile Wild Trail All Terrain Tire Review & Rating
Released in 2015, the Multi Mile Wild Trail All Terrain tire is the company's latest AT model in their lineup. Designed to deliver competent on-road manners to go with dependable off-road traction, the Wild Trail AT is built for use on all types of pickups, SUV's and other 4×4's.
A tougher tread compound and aggressive tread block design combine with multi-sipes to deliver solid performance when it comes to traveling off-road. The biting edges help this tire dig in when driving on dirt, gravel, sand, grass and other types of rougher terrain.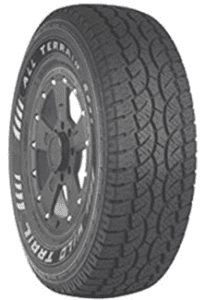 The tire's wider than average footprint and the uniquely designed tread pattern further provide enhanced grip on the road. You'll find that braking and acceleration are a positive for this tire.
Multi-Mile has addressed wet traction with the use of open shoulder grooves and cross tread channeling to evacuate water away from the tread and reduce the risk of hydroplaning on wet road surfaces.
Inside the tire are twin steel belts with a jointless nylon wrap that add increased strength and durability, as well as helping in preventing uneven tire wear. The Wild Trail All Terrain is available in a host of 15-20 inch diameters in both LT and non-LT sizes. LT models feature a load range E rating for hauling heavier loads. A limited tread warranty is also part of the package.
Pros
Dry and wet traction is as good as many bigger brand tires
Reliable off-road light terrain performance
Treadlife is good for a second tier model
Value priced to fit most any budget
Cons
Grip in deep mud
Deep snow and ice traction
Overall Thoughts
Multi-Mile has designed a solid performing cheap all-terrain tire in the Wild Trail All Terrain. We like the dry and wet traction on road, as well as tread life.
Off-road driving is quite good for the most part. Naturally, this is no rock-crawler or mud bogger, but that's not what this model was intended for. You don't have the sidewall protection or other top features to prevent punctures and other sidewall damage. In light terrain this tire stands up to the kind of grip you find with the bigger name tires in this category.
Other than a dropdown in serious off-road conditions, the only other area of concern may be grip in deep snow and ice. The sipes help in this area, but like many all-terrain tires, you may encounter traction issues in harsh winter conditions.
Overall, the Wild Trail A/T fits in nicely among other second-tier name brand tires. While it may not compare to the performance of tires like the BFG T/A KO2, Michelin AT2, Cooper AT3 and other top AT tires, it will save you a good amount of money on a new set of tires.
What Vehicles Will The Wild Trail A/T Fit?
(This is not a complete list of ALL vehicles this tire will fit)
Chevrolet Silverado, Equinox, Trailblazer, Tahoe
Dodge Ram, Durango, Dakota
Ford F-150, F-250, F-350, Expedition, Ranger
GMC Yukon, Sierra, Envoy, Suburban
Honda Pilot, Ridgeline
Hyundai Santa Fe
Hummer H2, H3
Jeep Grand Cherokee, Liberty, Wrangler
Mercury Mountaineer
Nissan Frontier, Titan
Saturn Vue
Suzuki Grand Vitara
Toyota 4Runner, Highlander, Tundra
Tire Sizes
15″
31X10.50R15 109S C/6 BLK
235/75R15 105T BLK
LT235/75R15 104/101S C/6 BLK
16″
235/70R16 106T BLK
245/70R16 111T XL BLK
255/70R16 111T BLK
265/70R16 112T BLK
LT215/85R16 115/112S E/10 BLK
LT235/85R16 120/116S E/10 BLK
LT225/75R16 115/112S E/10 BLK
LT245/75R16 120/116S E/10 BLK
LT265/75R16 123/120S E/10 BLK
17″
265/70R17 115T BLK
245/65R17 107T BLK
265/65R17 112T BLK
LT235/80R17 120/117S E/10 BLK
LT245/75R17 121/118S E/10 BLK
LT265/70R17 121/118S E/10 BLK
18″
265/70R18 116T BLK
20″
275/60R20 115T BLK
275/55R20 117T XL BLK
Price Range
Multi Mile Wild Trail A/T prices range from approximately $121 and up. You may also find occasional rebates, discount prices, coupons and special offers on this tire.
Warranty
Multi-Mile provides a limited tread warranty on the Wild Trail A/T.
---