Multi-Mile Wild Country Tire XTX Sport
If you are a proud owner of an SUV, Jeep, or a pickup truck, you'd want to use your vehicle to its full potential — on-road as well as off-road.
And that's why conventional tires won't work for your vehicle if you often drive on properly built roads as well as soft sandy dunes, mud, etc.
That's because traditional tires can only perform well in places where there is natural traction, such as paved roads, and traction suffers as the ground gets softer or uneven, making it difficult to drive on these surfaces.
This is why your best bet is to buy all-terrain tires for year-round performance, exceptional traction on all surfaces, and an overall comfortable, stable, and safe drive.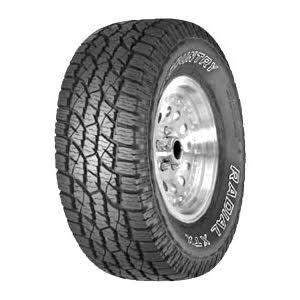 So, we scoured the all-terrain category to find the best tires, and the Multi-Mile Wild Country Tire XTX Sport tire caught our eyes.
Let's see what makes this tire so fantastic.
The Multi-Mile Wild Country Tire XTX Sport is manufactured by the TBC Wholesale Group for SUVs, pickup trucks, and jeeps. We tested it thoroughly, and our experts seem to agree with many users of the tire — it can power through all types of surfaces, be it on or off-road.
So if you love to drive on the shoreline, in the dessert to bash a few dunes or light snow, and you also drive on proper highway and city roads — this is the tire you need to buy.
The tire rocks a very unique tread compound — it is molded into a very detailed tread pattern that reduces wear and tear to ensure that the performance is always on-point.
The Multi-Mile Wild Country Tire XTX Sport has an asymmetric tread pattern with deep sipes across the tread. This combination allows for better traction and short braking distances on slippery roads, which in turn lead to a stable, safe, and enjoyable drive.
Moreover, the tire has wide open shoulder blocks that help the car sail through standing waters, with the assurance that hydroplaning won't be a concern as thanks to the open shoulders, all accumulated water in the contact patch is evacuated.
It goes without saying that driving over different terrains like rocks, soft sand, ice, and snow requires a car to have a significant amount of power, which is why only 4x4s attempt to drive in such diverse conditions. But it is also important to have the right set of wheels to reign in a powerful engine and get to do the driver's bidding.
That's why the Multi-Mile Wild Country Tire XTX Sport is built to be heavy-duty to shoulder the car's weight and help it dominate the streets.
The tire provides a vibration-free ride, but with a slight catch — the ride tends to be a little noisy, which you may not even notice. However, over time this noise may get annoying.
The best part is that the featured tires are all-terrain and all-season—so uncompromised driving experience across the seasons, without the need for shifting tires.
The Multi-Mile Wild Country Tire XTX Sport's snow and ice traction is outstanding and at par with industry-standards, which is why it is certified with the RMA severe snow symbol AKA Three Peak Mountain Snowflake Symbol.
Pros
Brilliant performance on and off-road

Adequate traction on ice and snow

Responsive steering and short braking distances on all surfaces

Resistance to hydroplaning

Slow treadwear, hence longer tread life
Cons
Some users seemed to notice the slight sound that the tires made. However, it is barely noticeable
Overview
Tire selection can be a tough call because there are many choices in the aftermarket. But the Multi-Mile Wild Country Tire XTX Sport ranks among the top all-terrain tires for its dedication to improving ride comfort and safety over any terrain.
This aggressive-looking tire is capable of powering through the open roads just as well as on hills, desserts, snow, ice, rain, etc.
And unlike most all-terrain, all-season tires, these tires also perform well in medium to deep snow, and light snow isn't even a problem.
To assure you of its all-weather capabilities, the tire is imprinted with the 3PMSF symbol, further proving that it'll offer adequate traction on snow and ice.
The shoulder blocks also ensure that all accumulated mud, slush, ice, and water is evacuated from the contact patch, which improves braking, traction, gripping, and control of your vehicle.
Though the ride is comfortable and safe, it can get a little noisy, which, but to be honest, the sound is hardly noticeable by most drivers.
The performance on regular (paved) roads is splendid, with a smooth ride. Above all, traction is quite good on snow and ice – it might not be at par with dedicated winter tires, but it is undoubtedly better than others in its category.
The Multi-Mile Wild Country Tire XTX Sport Tire Fits These Vehicles
These tires are meant to be fitted on pickup trucks, SUVs, minivans, etc. Here are some of the many cars that can install the Multi-Mile Wild Country Tire XTX Sport tire:
Buick — Rendezvous

Chevrolet — Astro, Captiva, Captiva Sport, Cheyenne, Colorado, S10, Silverado 1500, Silverado 3500, Silverado 3500 HD, Silverado 3500 HD

Ford — Escape, Maverick, Ranger, F-250, F-350

GMC — Canyon, Safari, Sierra 3500HD, Sierra 1500

Ram — 1500, 2500, 3500, 1500 Classic

Dodge — Ram 1500, Ram 2500, Ram 3500

Nissan — Titan, Armada, Patrol

Infiniti — QX56, QX80
Tire Size
The Multi-Mile Wild Country XTX Sport can fit cars with rims ranging from 15-inches to 20-inches; here are the options available within the ranges:
15 "
30/9.50R15

31/10.50R15

32/11.50R15

33/12.50R15

235/75R15
16 "
215/70R16

215/85R16

225/75R16

235/85R16

245/70R16

245/75R16

LT255/70R16

265/75R16

285/75R16
17 "
235/65R17

235/80R17

245/65R17

P245/70R17

265/65R17

265/70R17

285/70R17

315/70R17
18 "
20 "
275/55R20

275/60R20

275/65R20
Price Range
Looking for these tires in the aftermarket or with online sellers?
You can buy the Multi-Mile Wild Country XTX Sport for anywhere between $168 and $368.
Your best bet will be to buy online, as you can find various pocket-friendly deals with online sellers.
Warranty
The Multi-Mile Wild Country XTX Sport tire is backed with a 50,000-mile/48-month tread life warranty — so you have ample coverage at your hands to protect your investment.