Multi Mile Wild Country MTX Tire Review & Rating
The Multi-Mile Wild Country MTX sports an aggressive look with off-road drivability to match. Built by Cooper for Multi-Mile, the Wild Country MTX is budget-priced for drivers looking to save money on new MT tires without having to compromise on performance.
A cut and chip resistant tread compound and rugged tread pattern includes a deeper high-void design that helps this tire deliver solid traction and handling off-road, especially when it comes to driving in mud. The interlocking tread lugs self-clean as good as those found on more expensive MT tires.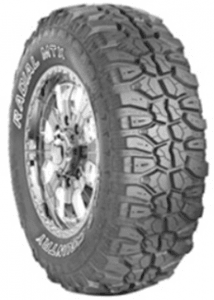 The tire's alternating lugs and staggered shoulder blocks further increase grip in sand, dirt, gravel and other terrain.
The MTX is pinned for adding studs for enhanced grip on snow and ice. Although not rated for severe winter service, you'll find this tire handled itself very well in the snow. Ride quality is good for the most part, although you will hear a hum going down the highway. Naturally, this is expected with any MT tire.
Wild Country MTX tires are available in a range of 15-20 inch LT sizes, as well as a number of flotation sizes being available. Multi-Mile provides a limited tread warranty on all sizes.
Pros
Good off-road traction in all types of terrain
Excellent performance in the mud
Traction in snow
Budget-priced
Cons
Not the best for rock climbing
Treadlife may be shorter than expected
Overall Thoughts
The Wild Country MTX may surprise you with how well they perform off-road. Unless your plans are using them for serious rock climbing, this tire goes through everything with relative ease. Mud performance is among the better MT tires, and the best we've found in the budget class.
Naturally, this tire is not without a downside. We've heard from a few drivers that treadlife may be shorter than expected. Some have mentioned getting 20-25K miles out of the tread. To be fair, we've also heard treadwear has not been an issue for many.
Overall the MTX ranks in the upper half of the second-tier MT class. It's ideal for those looking for dependable off-road driving or anyone living in rural areas that do not want to spend an arm and a leg on new MT tires. The budget-price is certainly appealing to anyone looking to save money as well.
What Vehicles Will The Wild Country MTX Fit?
(This is not a complete list of ALL vehicles this tire will fit)
Chevrolet Silverado, Trailblazer, Tahoe, S-10
Dodge Ram, Durango, Dakota
Ford F-150, F-250, F-350, Ranger
GMC Sierra, Suburban, Yukon
Honda Ridgeline
Jeep Grand Cherokee, Liberty, Wrangler
Nissan Frontier, Titan
Toyota Tundra
Multi Mile Wild Country MTX Tire Sizes
15″
LT235/75R15 104/101Q C OWL
33X12.50R15LT 108Q C OWL
35X12.50R15LT 113Q C OWL
32X11.50R15LT 113Q C OWL
31X10.50R15LT 109Q C OWL
30X9.50R15LT 104Q C OWL
16″
LT235/85R16 120/116N E BLK
LT245/75R16 120/116N E BLK
LT265/75R16 123/120N E OWL
LT265/75R16 112/109N C OWL
LT285/75R16 122/119N D OWL
LT315/75R16 121N D OWL
17″
LT235/80R17 120/117Q E OWL
LT245/75R17 121/118Q E OWL
LT265/70R17 121/118Q E OWL
LT285/70R17 121/118Q D OWL
LT295/70R17 121/118Q E OWL
LT315/70R17 121/118Q D OWL
LT305/65R17 121/118Q E OWL
33X12.50R17LT 114Q D OWL
35X12.50R17LT 119Q D OWL
37X12.50R17LT 124P D BLK
18″
LT275/70R18 125/122Q E OWL
LT305/70R18 126/123Q E OWL
LT275/65R18 123/120Q E OWL
20″
LT305/55R20 121/118Q E BLK
35X12.50R20LT 121Q E BLK
Price Range
Multi Mile Wild Country MTX prices range from approximately $150 and up. You may also find occasional rebates, discount prices, coupons and special offers on this tire.
Warranty
Multi Mile provides a limited tread warranty on the Wild Country MTX.
---