Multi Mile Grand Tour LS Tire Review & Rating
As one of the company's best-selling touring all-season tires, the Multi-Mile Grand Tour LS is specially designed for coupes, sedans, minivans and crossovers. Engineered with the latest in tire technology, the Grand Tour LS focuses on areas of traction, handling and ride comfort.
Multi-Mile utilizes a silica-enhanced tread compound to go with an asymmetrical tread pattern that helps this tire deliver solid traction on both dry and wet road surfaces. Ventless technology used in the molding process eliminates the micro-vents in the tread area and gives the tire a crisper, cleaner looking appearance.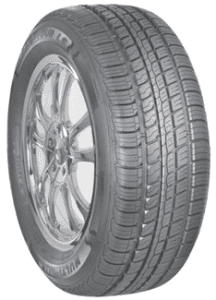 Four wide circumferential grooves and variable progressive siping around the tread increase grip on wet pavement and reduce the risk of hydroplaning. The VPS technology helps this model deliver the kind of performance on wet surfaces when worn as it does when new. In addition, the tires' silica, sipes and grooves are designed to aid in traction on snow covered road surfaces, although we feel this is an area that could be improved on.
Ride quality is another area that the Grand Tour LS focuses on due in part to the computer enhanced sound quality system that Multi-Mile has incorporated. It effectively reduces unwanted road noise and provides a much quieter ride on the highway.
The Grand Tour LS is available in a wide range of 15-19 inch sizes with speed ratings of T, H or V. Multi-Mile backs this model with either an 80K mile or 60K mile tread warranty depending on the tires speed rating.
Pros
Dry and wet traction and handling
Better than average ride quality
Value-priced fits most budgets
Cons
Not the best in deeper snow and ice
Overall Thoughts
The Multi-Mile Grand Tour LS offers somewhat surprisingly good performance for a lesser name brand tire. Dry and wet traction is similar to what you'll find on many of the bigger name brand tires. Better yet is the quiet ride that this model provides.
Our biggest concern with the Grand Tour LS is grip on deeper snow and ice. Like most every all-season tire, you may find traction/acceleration issues when driving in rough winter weather.
Overall, for a value-priced touring all-season tire, the Grand Tour LS is a nice option that performs well in most areas that drivers look for in a new tire.
What Vehicles Will The Multi Mile Grand Tour LS Fit?
(This is not a complete list of ALL vehicles this tire will fit)
Buick Park Avenue, Regal, LeSabre
Chevrolet HHR, Impala, Malibu, Cobalt, Cruze
Dodge Charger, Stratus, Magnum, Avenger, Grand Caravan
Ford Fusion, Taurus, Focus, Flex
Honda Accord, Civic, Insight, CR-V
Hyundai Sonata, Santa Fe, Elantra, Genesis
Kia Optima, Soul, Forte
Lexus ES330, ES350, LS430
Lincoln Town Car
Mazda 929, Mazda6, Mazda5 MPV
Nissan Altima, Quest, Maxima, Sentra, Cube, Versa
Pontiac Grand Prix, Grand Am, Vibe, Bonneville
Toyota Camry, Prius, Solara, Avalon, Corolla, Sienna
Volkswagen Jetta, Golf, Passat, Touareg
Tire Sizes
15″
205/70R15 96T BLK
215/70R15 98T BLK
185/65R15 88T BLK
185/65R15 88H BLK
195/65R15 91T BLK
195/65R15 91H BLK
205/65R15 94H BLK
205/65R15 94T BLK
185/60R15 84T BLK
195/60R15 88T BLK
195/60R15 88H BLK
205/60R15 91H BLK
215/60R15 94T BLK
16″
215/65R16 98T BLK
225/65R16 100T BLK
235/65R16 103T BLK
205/60R16 92T BLK
205/60R16 92V BLK
205/60R16 92H BLK
215/60R16 95V BLK
215/60R16 95T BLK
225/60R16 98T BLK
225/60R16 98H BLK
235/60R16 100T BLK
195/55R16 81V BLK
205/55R16 91H BLK
205/55R16 91T BLK
215/55R16 93H BLK
225/55R16 95H BLK
205/50R16 87H BLK
17″
215/65R17 99T BLK
225/65R17 102T BLK
235/65R17 104H BLK
215/60R17 96T BLK
225/60R17 99T BLK
235/60R17 102T BLK
215/55R17 94V BLK
225/55R17 97V BLK
225/55R17 97T BLK
235/55R17 99V BLK
235/55R17 99T BLK
215/50R17 91V BLK
225/50R17 94V BLK
18″
235/65R18 106T BLK
P255/65R18 109T BLK
225/60R18 100H BLK
225/55R18 98T BLK
225/50R18 95T BLK
245/45R18 96V BLK
19″
P255/60R19 108H BLK
235/55R19 105H XL BLK
Price Range
Multi Mile Grand Tour LS prices range from approximately $79 and up. You may also find occasional rebates, discount prices, coupons and special offers on this tire.
Warranty
Multi-Mile provides an 80,000 mile limited tread warranty on T-speed rated sizes, and a 60,000 mile limited tread warranty on H or V-speed rated sizes of the Grand Tour LS.
---