Milestar Streetsteel Tire Review & Rating
Sporting an eye-catching raised white letter design, the Milestar Streetsteel tire is designed to provide the performance, traction and handling required by hot rods, classic trucks, muscle cars and other classic American vehicles.
Milestar uses a symmetric tread pattern with an angled shoulder design and notched center rib that helps this tire deliver competent dry traction and handling. You'll find responsive steering and solid cornering stability on most all road surfaces.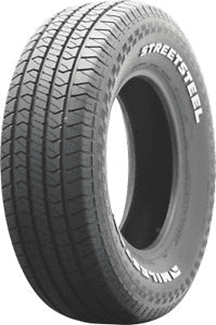 Four circumferential grooves and sipes around the tread aid with wet traction and reduce the risk of hydroplaning. While the Streetsteel is M+S rated, grip in deep snow and ice is not the best as you might expect.
The tires' solid raised white letters add to the classic styling of this model. Milestar offers a range of 14 and 15-inch sizes, with all sizes sporting a 440 AB UTQG rating. A 40k mile warranty is also provided.
Pros
Affordable vintage tires
Good wet and dry traction, handling and cornering
Treadlife
Smooth and comfortable ride on most pavement
Cons
Can struggle on snow and ice
Overall Thoughts
The Milestar Streetsteel tire is an affordable option for classic car and classic truck enthusiasts who want to add a vintage looking tire to their classic vehicle. It provides good wet and dry traction, and cornering stability is better than expected.
The majority of owners of the Streetsteel have reported a positive experience as well. One of the main areas of concern with this tire is its poor winter traction and handling. Naturally, this is not unexpected, but you will want to keep this in mind if you plan any winter use with this tire.
Overall, the Milestar Streetsteel tire is a good quality all-season tire that delivers on its promises. It's not only a stylish option for classic car and classic truck owners, but is surprisingly affordable too.
Click Here To Find Current Prices
What Vehicles Will The Fit?
Fits these vehicles and many others:
AMC Javelin
Buick Gran Sport
Chevrolet Camaro, Corvette, Chevelle, El Camino, Impala, Nova, Monte Carlo
Dodge Charger, Challenger, Dart
Ford Mustang, Ranger, Thunderbird
GMC Jimmy
Mercury Cougar, Montego, Cyclone
Olds 442, Cutlass
Plymouth Duster, Barracuda, GTX
Pontiac, Firebird, GTO, Tempest, Gran Prix
Tire Sizes
14″
P225/70R14 98T RWL
15″
P215/65R15 95T RWL
P215/70R15 97T RWL
P225/70R15 100T RWL
P235/60R15 98T RWL
P235/70R15 102T RWL
P245/60R15 100T RWL
P255/70R15 108T RWL
P275/60R15 107T RWL
P295/50R15 105S RWL
Price Range
Milestar Streetsteel prices range from approximately $91 and up. You may also find occasional rebates, discount prices, coupons and special offers on this tire.
Click Here To Find Current Prices On All Milestar Streetsteel Tire Sizes
Warranty
Milestar provides a 40,000 mile warranty on the Streetsteel.
---