Milestar SL369 Tire Review & Rating
The Milestar SL369 is built to deliver dependable all-season on road traction with competent all-terrain performance. The SL369 is designed for use on pickups and SUV's for drivers who are looking for good overall performance from an AT tire, for a more budget-friendly price.
A tougher all-season tread compound and asymmetric tread design combine with alarger contact patch for increased dry, wet and snow traction, as well as improved handling off-road in lightterrain.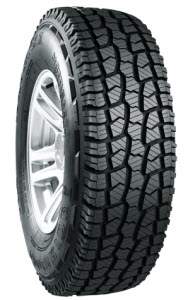 The tire's circumferential grooves evacuate water from under the tire and increase hydroplane resistance, while added siping on the tread blocks provide more bite, especially on snow, slush and ice. A variable pitch tread sequence reduces outside road noise for a more comfortable ride quality.
Inside the tire you'll find two steel belts for added strength and durability. The SL369 is available in 15-16 inch sizes.
Pros
Good dry and wet traction

Winter weather handling

Competent off-road performance

Smooth and more quiet ride
Cons
Treadlife could be a little better
Overall Thoughts
While not many have ever heard of the SL369, or Milestar Tires for that matter, this new model delivers more than capable performance for the most part. Dry, wet and snow traction is good on this tire. The ride is comfortable and not as noisy as you might think for a lower priced tire like this.
Tread life is ok, but we would like to see a few more miles out of it. We'd say to expect to see 40K miles out of this tire on average. Overall, for the lower cost and performance, this tire is a pretty good value.
What Vehicles Will The SL369 Fit?
(This is not a complete list of ALL vehicles this tire will fit)

Chevrolet Suburban, Avalanche, Tahoe, Silverado

Dodge Ram, Durango, Nitro

Ford F-150, Explorer, Expedition, Bronco

GMC K2500, Sierra

Hummer H3

Jeep Wrangler, Grand Cherokee

Land Rover Discovery, Range Rover

Lexus GX

Nissan Armada, Titan

Toyota Landcruiser, 4Runner, Tacoma, Tundra
Tire Sizes
15″
31X10.50R15LT
235/75R15 104/101Q
16″
245/75R16 120/116Q
235/85R16 120/116Q
Price Range
Milestar SL369 prices range from approximately $128 and up. You may also find occasional rebates, discount prices, coupons and special offers on this tire.
Click Here To Find The Current Prices On All Milestar SL369 Sizes
Warranty
Warranty information not available at this time.
---