Milestar Patagonia A/T Tire Review & Rating
The Milestar Patagonia A/T tire is engineered to deliver more than capable off-road light-duty traction with the kind of dependability you expect when driving on the street. Built for drivers of all types of pickups, jeeps and SUV's, the Patagonia AT also features a much lower price than many of the big name all-terrain tires in its class.
A tougher tread compound combines with a more aggressive and deeper tread pattern and integrated tread block design that are created to deliver increased traction and better treadwear on rugged off-road terrain. It's a combination that works pretty well for this model in all but the most difficult of conditions.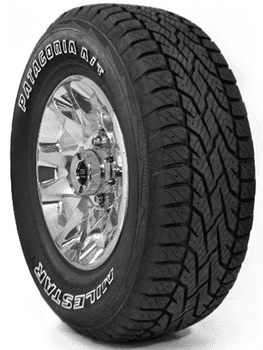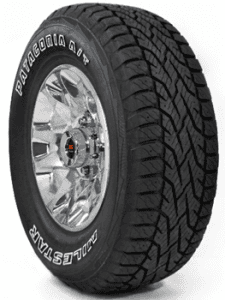 The tire's open shoulder design and variable sipes around the tread provide enhanced wet pavement traction and handling. They further help in reducing the risk of hydroplaning. Wet grip is an area that this tire excels in and one often mentioned by other driver reviews as well.
Traction in snow and on ice is very good for this model, and the tire is pinned for adding studs if you need them. Ribbed tie-bars aid in reducing the heat while adding to improved higher speed handling.
Milestar offers LT and non-LT sizes that range from 15-17 in the Patagonia A/T. A 50K mile tread warranty is also included.
Pros
Light off-road performance
Wet and snow traction
Ride comfort
Value for the money
Cons
A little noise at higher speeds
Overall Thoughts
The Milestar Patagonia AT is primarily focused towards the budget-minded driver. While it is definitely another in a line of cheaper all-terrain tires, it does provide some solid performance in many key areas. Traction off-road is decent for the most part. No, it doesn't tackle rock climbing with the best of them, or go through deep mud and muck like many AT tires will. But it does holds its own in light-duty action.
Where this tire excels is driving on wet pavement and on snow. We've heard this from numerous drivers who have had high praise for its traction and added confidence. In addition, the ride is comfortable and tread life has shown to be very good.
Noise is a little more pronounced at higher speeds on the highway, but that's to be expected with a lower cost tire. If you're looking for a quiet AT tire you may want to go with the Michelin LTX AT2.
Overall, this Milestar A/T provides pretty good value and performance for the money. While not being close to the best tires in its class, if you are on a tight budget and only needing a light-duty AT tire, this is not a bad choice.
Click Here To Find Current Prices
What Vehicles Will The Milestar Patagonia A/T Fit?
(This is not a complete list of ALL vehicles this tire will fit)
Cadillac Escalade
Chevrolet Silverado, Avalanche
Dodge Ram, Dakota, Durango
Ford F-150, Ranger
GMC Sierra
Honda Pilot
Hummer H3
Hyundai Veracruz, Santa Fe
Isuzu Rodeo, Trooper
Jeep Wrangler, Grand Cherokee, Grand Wagoneer
Kia Sorento
Land Rover Defender 90, Discovery
Lexus GX470
Lincoln Navigator, Aviator
Nissan Frontier, Xterra, Titan
Toyota Tacoma, FJ Cruiser, Land Cruiser, Sequoia, 4Runner, Highlander, Tundra
Tire Sizes
15″
235/75R15 109T ROWL
16″
225/75R16 104T ROWL
245/75R16 111T ROWL
265/75R16 116T ROWL
235/70R16 106T ROWL
245/70R16 107T ROWL
265/70R16 112T ROWL
LT235/85R16 120/116S ROWL
LT225/75R16 115/112S ROWL
LT245/75R16 120/116S ROWL
LT265/75R16 123/120S ROWL
LT285/75R16 126/123Q ROWL
17″
245/70R17 110T ROWL
265/70R17 115T ROWL
245/65R17 107T ROWL
265/65R17 112T ROWL
LT235/80R17 120/117S ROWL
LT245/75R17 121/118S ROWL
LT245/70R17 119/116S ROWL
LT265/70R17 121/118S ROWL
LT285/70R17 121/118S ROWL
Price Range
Milestar Patagonia A/T prices range from approximately $117 and up. You may also find occasional rebates, discount prices, coupons and special offers on this tire.
Click Here To Find The Current Prices On All Milestar Patagonia A/T Sizes
Warranty
Milestar provides a 50,000 mile tread warranty on the Patagonia A/T.
---