Milestar MS932XP Tire Review & Rating
As the company's ultra-high performance model, the Milestar MS932XP features reliable traction and handling in addition to higher levels of grip and stability in the corners. Built for all types of sport coupes and performance sedans, the MS932XP sports a value-price compared to bigger name models.
Milestar takes an all-season tread compound and matches it up with an asymmetric tread pattern, angled and longitudinal sipes and larger outside shoulder blocks that combine to give this model solid dry and wet traction, as well as increased steering response and maximum cornering performance.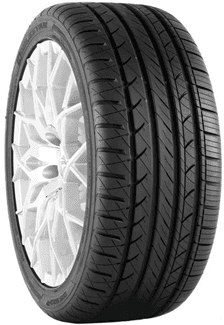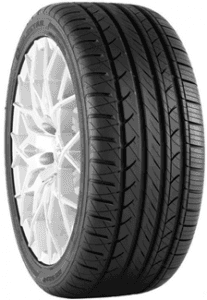 The tires' wide circumferential grooves and optimized tread pattern aid in evacuating water and reducing the risk of hydroplaning on wet road surfaces. This is a plus for this tire as we've heard many other drivers mention this in reviews as well. The added sipes not only help with wet traction, but they also provide some extra grip in light snow and slush.
The Milestar MS932XP is available in a range of 18-20 inch sizes, and all sizes feature a W-speed rating. Somewhat surprising for a lower priced tire in this category is the addition of a 30K mile tread warranty.
Pros
Very good dry and wet traction
Cornering stability is among the better tires in this class
Smooth and very quiet ride
Value for the money
Cons
Traction in anything more than light snow
Overall Thoughts
This ultra-high performance MS932XP may surprise you with its solid overall performance. Expect to find more than capable dry and wet traction, quicker steering response and better than average cornering grip.
One area that really stands out is how quiet and smooth the ride is. We've heard this from other drivers time after time. Treadlife has shown to be in the 30-40K mile range, which is evidenced by its 380 UTQG rating and 30K mile warranty.
Traction in winter weather conditions is where you'll likely encounter issues. Not surprising is the poor grip in deeper snow, hard pack and on the ice. It's an area that plagues most every high-performance tire, so it's pretty much expected.
Overall, Milestar has a winner in the MS932XP. It's similar to their MS932 Sport, which is a big seller as well, in that it simply does its job well and stays under the radar so to speak. For a lower-priced UHP AS tire, the MS932XP is one of the better options available today.
What Vehicles Will The Milestar MS932XP Fit?
(This is not a complete list of ALL vehicles this tire will fit)
Audi A4, A5, A6
BMW 535i, 740i, 650i, 530i, M5
Buick Regal, Lacrosse
Cadillac CTS, XTS
Chevy Impala, Malibu
Ford Mustang
Hyundai Equus, Azera, Genesis
Infiniti G37, M45
Lexus LS460, IS350, GS460, SC430
Lincoln MKC, MKZ
Nissan 370Z
Subaru Imprezza, WRX
Tire Sizes
18″
245/40ZR18 97W BSW
19″
245/45ZR19 102W BSW
275/45ZR19 108W BSW
245/40ZR19 98W BSW
275/40ZR19 105W BSW
20″
245/45ZR20 103W BSW
255/45ZR20 105W BSW
275/45ZR20 110W BSW
275/40ZR20 106W BSW
Price Range
Milestar MS932XP prices range from approximately $68 and up. You may also find occasional rebates, discount prices, coupons and special offers on this tire.
Warranty
Milestar provides a 30,000 mile tread warranty on the MS932XP.
---