Milestar MS775 Tire Review & Rating
The Milestar MS775 touring all-season tire offers dependable year-round traction with a lower price point that will appeal to budget-conscious drivers. Built for coupes, sedans, minivans and crossovers, the MS775 will definitely save you a substantial amount of money on new tires.
Milestar uses an all-season tread compound with a tread pattern that sports a modern look which is designed to enhance the looks of your vehicle. The MS775 is available with either a black sidewall, or a whitewall design. Finding a set of whitewall tires today is not as easy as it once was, so kudos to Milestar for offering this option.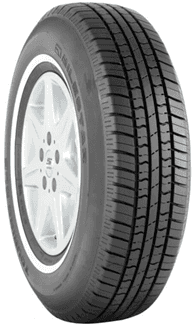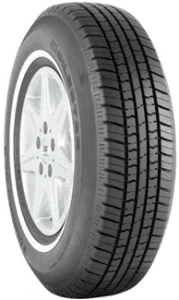 Interlocking tread blocks increase dry traction and add improved directional stability, which is very good on this particular model. Open shoulder tread blocks further increase response and cornering stability, while also maintaining traction on wet pavement.
Variable siping around the tread surface and the tires' four wide circumferential grooves allow this tire to travel on wet road surfaces more safely while reducing the risk of hydroplaning. These added sipes help with grip on light snow covered roads, although winter traction is typical for an all-season tire.
Milestar offers a range of 13-15 inch sizes in the MS775 with S-speed ratings on all sizes. This is ideals for vehicles that require smaller fitments. A 40K mile tread warranty is also included.
Pros
Dependable dry and wet traction
Smooth ride and good handling for a low-cost tire
Average treadlife
Value-priced
Cons
Some have reported whitewall discoloration problems
Deep snow, hardpack and ice traction is not the best
Overall Thoughts
Milestar's MS775 doesn't cost a lot and offers very good performance in a host of conditions. Milestar, which is owned by Tireco, has been producing quality tires since 1970. This model is not different. We've heard many owners of this tire speak highly of the traction, handling and ride comfort on this model. That speaks volumes to their overall quality.
Our biggest issue we could find with this tire has to do with the white sidewalls becoming discolored. In a few driver reviews, it seems people have been frustrated with how the white sidewall can become yellowed. We haven't seen this particular problem ourselves, but our recommendation would be to use a tire cleaner like Black Magic Bleche-Wite. (Click here to read more on Black Magic Bleche-Wite) It does a great job in keeping the sidewalls looking bright and white.
Overall, we give these budget touring all-season tires a rank in the upper half of the value-priced class. No, they are not on the performance level of a Pirelli Cinturato P7 All Season Plus or Michelin Premier A/S, but they do everything that they are supposed to do, without costing an arm and a leg.
Click Here To Find Current Prices
What Vehicles Will The Milestar MS775 Fit?
(This is not a complete list of ALL vehicles this tire will fit)
Buick Century
Buick LeSabre
Cadillac Fleetwood, DeVille, Eldorado, Seville
Chevrolet Impala, Malibu, Monte Carlo, Caprice
Chrysler Newport, LeBaron, E Class
Dodge Grand Caravan
Ford Mustang, Taurus, Crown Victoria
Hyundai Accent
Oldsmobile Cutlass
Pontiac Sunbird, Grand Am
Toyota Corolla, Camry
Volkswagen Rabbit
Tire Sizes
13″
P155/80R13 79S WSW
P175/80R13 86S WSW
14″
P185/75R14 89S WSW
P195/75R14 92S WSW
P205/75R14 95S WSW
P215/70R14 96S WSW
15″
P205/75R15 97S WSW
P215/75R15 100S WSW
P225/75R15 102S WSW
P235/75R15 105S WSW
P205/70R15 95S WSW
P215/70R15 97S WSW
Price Range
Milestar MS775 prices range from approximately $50 and up. You may also find occasional rebates, discount prices, coupons and special offers on this tire.
Click Here To Find The Current Prices On All Milestar MS775 Sizes
Warranty
Milestar provides a 40,000 mile tread warranty on the MS775.
---