Mickey Thompson Baja Radial STZ Tire Review & Rating
The Mickey Thompson Baja Radial STZ is an all-terrain SUV and truck tire that is designed to handle just about anything you want to throw its way. Shaped siping means that it can grip on ice and snow while serrated tie bars and shoulder scallops give it added traction in off-road settings.
For driving on gravel the multi-draft lug angles remove stones and other debris from the tires to ensure consistent and solid performance throughout.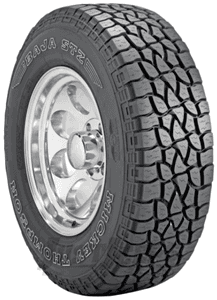 The Baja Radial STZ tires from Mickey Thompson do not have a mileage tread warranty. You'll find sizes available ranging from 15 to 20 inches that will fit a variety of vehicles.
Pros
Consistent and strong off-road performance

Handles well on wet or snow covered streets

Excellent treadlife
Cons
Overall Thoughts
We've come to expect excellent quality from Mickey Thompson and they certainly do not let you down with the Baja Radial STZ. This tire provides solid performance through a wide range of terrain. Gravel, dirt, grass, sand and light mud is no problem for this tire. The biggest issue would be driving in deep sticky mud. The narrow tread voids hold onto the mud and loses its grip.
Driving on-road is a pleasant experience as well. You'll find the tire to be very quiet due in part to the tighter tread pattern. There's no annoying hum that prevents you from talking to others in the cab. Traction and handling on wet, snow or ice is very good. Finally, treadlife is outstanding. We've heard from drivers getting 80K miles out of them.
Overall, this is a solid choice in an AT tire for anyone but the most hardcore off-roaders.
Click Here For Current Mickey Thompson Coupons
Click Here To Find Current Prices
Tire Sizes
15″
31X10.50R15LT 109R OWL C
16″
235/70R16 106T OWL
LT225/75R16 115R OWL E
LT245/70R16 118R OWL E
245/75R16 111T OWL
265/70R16 112T OWL
LT245/75R16 120R OWL E
LT265/70R16 121R OWL E
265/75R16 116T OWL
LT265/75R16 123R OWL E
LT285/75R16 126R OWL E
17″
245/65R17 107T OWL
LT265/65R17 120R OWL E
245/70R17 110T OWL
255/70R17 112T OWL
265/70R17 115T OWL
255/75R17 115T OWL
LT265/70R17 121S OWL E
LT275/70R17 121R OWL E
LT285/70R17 121S OWL E
LT315/70R17 121S OWL D
18″
265/60R18 110T OWL
LT275/70R18 125S OWL E
20″
275/55R20 117T BLK XL
275/60R20 115T BLK
LT275/65R20 126S BLK
Price Range
Mickey Thompson Baja Radial STZ prices range from approximately $117 and up. You may also find occasional rebates, discount prices, coupons and special offers on this tire.
Click Here To Find The Current Prices On All Mickey Thompson Baja Radial STZ Sizes
Warranty
Mickey Thompson provides a limited tread warranty on the Baja Radial STZ. Tire uniformity is guaranteed for the first 2/32 inch of wear. Materials and workmanship are warranted for 6-years and includes free replacement during the first 2/32 inch of wear. A prorated amount is given for the remaining time period or down to the final 2/32 inch of tread depth.
---