Mickey Thompson Baja ATZ Radial Tire Review & Rating
Coping with ragged and rugged terrains, all types of weather conditions and also performing on the open road is generally beyond most tires capabilities, however that is precisely what the Mickey Thompson Baja ATZ Radial has attempted to achieve.
Siped tread lugs and a self-cleaning tread design allow it to handle snow, ice, mud, sand, grass, and also on normal road surfaces as well as any tire on the market. If you need to head onto the path less traveled then these tires are well equipped to do so.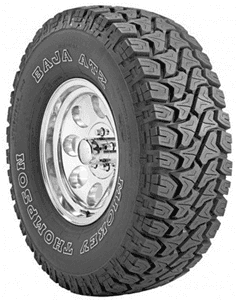 The Baja ATZ Radial also has rocky and gravel surfaces in mind and they feature an innovative stone ejector technology that ensures that rock and other debris is removed from the tire to maintain consistent traction and grip. A radial construction also provides even wear throughout its lifetime.
You can find the Mickey Thompson Baja ATZ Radial's in 18 to 20 inch sizes. A limited tread warranty is also provided.
Pros
Great for serious off road driving

Impressive technology to deal with all driving conditions and surfaces

Durable and can be used all year round
Cons
Sidewalls splitting for some drivers

Needs more available sizes
Overall Thoughts
Most all-terrain tires have their flaws, but you would be hard-pressed to seriously find many on this model. It performs to an extremely high standard regardless of the situation. It handles itself impressively on all terrains, while also playing nicely on the street.
Treadlife is better than expected, with most drivers getting over 50k out of them which is great for an off-road, truck and SUV tire. That said, our only concern with this tire is that we've heard from a few drivers who have stated they have had the sidewalls split from off-road use. It seems to be more of an issue with this tire more than others. Of course, it could be due to a variety of reasons. We can say that this has not been a problem for the majority of drivers though.
Overall, this is a very good tire that delivers in most all areas.
Click Here For Current Mickey Thompson Coupons
Click Here To Find Current Prices
Tire Sizes
18″
LT325/60R18/10 124Q BSW
37×13.50R18/8 124Q BSW
20″
35×13.50R20/10 122Q BSW
36×15.50R20/10 124N BSW
Price Range
Mickey Thompson Baja ATZ Radial prices range from approximately $262 and up. You may also find occasional rebates, discount prices, coupons and special offers on this tire.
Warranty
Mickey Thompson provides a limited tread warranty on the Baja ATZ Radial. Tire uniformity is guaranteed for the first 2/32 inch of wear. Materials and workmanship are warranted for 6-years and includes free replacement during the first 2/32 inch of wear. A prorated amount is given for the remaining time period or down to the final 2/32 inch of tread depth.
---