Mickey Thompson Baja ATZ Plus Radial Tire Review & Rating
Providing an all-round driving experience both on and off-road is difficult for most AT tires. However, with modern technology and a well-crafted design, Mickey Thompson Baja ATZ Plus Radial tires manage to do a pretty good job at it.
An advanced radial construction makes sure that tread wear is even and this also contributes to a smooth and comfortable ride. Aimed at trucks and SUV's, the tires are built to handle heavy loads while still maintaining their solid performance.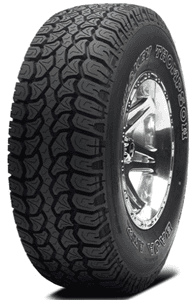 Siped tread lugs and a solid center rib provide a high level of traction and grip even in some of the worst conditions including ice and heavy snow. Handling is responsive and you feel confident when behind the wheel with the Baja ATZ Plus Radial tires on.
Off-road traction on rock beds, sand and hard-pack is impressive with the tires aired up. Aired down, the tire's wide contact patch helps on rocks, but seems to push sand and loose dirt in front of the tire and reduces performance. You'll find this tire available in a range of 15-20 sizes, and it comes with a limited tread warranty.

Pros
An all-round good tire with great technology

Provides a comfortable ride even on uneven surfaces

Great in dry and wet conditions

Responsive handling and very durable
Cons
Can be loud on the highway
Overall Thoughts
The Baja ATZ is nicely designed for an MT tire. It is primarily at home on the road, yet it will handle moderate off-roading with ease. You'll find a little hum on the highway, but that's common for this type of tire. Noise is not excessive though and is not a big drawback here.
All in all the Baja ATZ Plus Radial's from Mickey Thompson can handle just about anything. Comfortable in snow, mud, grass, sand, and also for just driving down to the store, they are an all-round solid tire that can suit every occasion.
Click Here For Current Mickey Thompson Coupons
Click Here To Find Current Prices
Tire Sizes
15″
31/10.50R15 109Q C1 BSW
32/11.50R15 113Q C1 RBL
33/12.50R15 108Q C2 RBL
16″
LT225/75R16 115Q E1 RBL
LT235/85R16 120Q E1 RBL
LT245/70R16 118Q E1 RBL
LT265/75R16 123Q E1 RBL
LT285/75R16 126Q E1 RBL
LT305/70R16 124Q E2 RBL
LT315/75R16 127Q E2 RBL
17″
LT245/70R17 119Q E1 RBL
LT265/70R17 121Q E1 RBL
LT285/70R17 121Q E1 RBL
LT295/70R17 121Q E1 RBL
LT305/65R17 121Q E2 RBL
LT315/70R17 121Q D2 RBL
37/12.50R17 124P D2 RBL
18″
LT275/70R18 125Q E1 RBL
LT305/60R18 121Q E2 RBL
LT305/70R18 126Q E2 RBL
20″
LT275/65R20 126Q E1 RBL
LT285/55R20 122Q E1 RBL
LT305/55R20 121Q E2 RBL
35/12.50R20 121Q E2 BSW
37/12.50R20 126P E2 RBL
Price Range
Mickey Thompson Baja ATZ Plus Radial prices range from approximately $155 and up. You may also find occasional rebates, discount prices, coupons and special offers on this tire.
Click Here To Find The Current Prices On All Mickey Thompson Baja ATZ Plus Radial Sizes
Warranty
Mickey Thompson provides a limited tread warranty on the Baja ATZ Plus Radial. Tire uniformity is guaranteed for the first 2/32 inch of wear. Materials and workmanship are warranted for 6-years and includes free replacement during the first 2/32 inch of wear. A prorated amount is given for the remaining time period or down to the final 2/32 inch of tread depth.
---