Michelin Primacy MXM4 Tire Review & Rating
The Primacy MXM4 from Michelin is the company's most popular touring all-season tire. Developed for drivers of high end coupes and luxury sedans, the MXM4 features the latest in tire technology for those who want only the best.
We say best because this Michelin model has everything in an all-season tire, starting with the tread compound. A sunflower oil Helio compound is a first for Michelin. This revolutionary compound is made to increase traction and reduce braking distance in colder temperatures. In fact, Michelin claims the tire will stop up to 19 feet shorter than a leading competitor tire.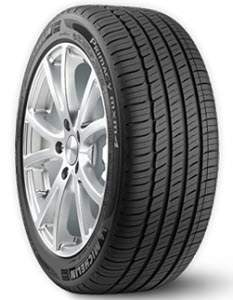 Rounded shoulders on the outside of the tire combine with an asymmetric tread pattern to provide improved dry traction and cornering abilities. When the roads turn wet, Michelin has added circumferential grooves and 3-D variable thickness sipes to provide enhanced grip in the rain, as well as more bite in the snow.
Comfort is an important part of this model and Michelin has added their unique Comfort Control Technology. This new technology utilizes a tire design that is computer optimized and virtually eliminates all road vibrations and noise.
It should be noted that the MXM4 uses Michelin's Green X technology for a lower rolling resistance and increased fuel efficiency. Another benefit to this technology is lower CO2 emissions for a cleaner environment.
Inside the tire you will find two steel belts and a spirally wrapped polyamide cord that adds strength and stability to the tread when driving at higher speeds. It also increases longevity and overall ride quality. Michelin warrants the tire for either 45,000 or 55,000 miles depending on speed rating.
Dry traction and cornering power is excellent

Wet grip and handling is very good

Outstanding ride comfort with no road noise

Treadlife is among best in class
Cons
This type of quality comes at a price
Overall Thoughts
The Primacy MXM4 is a big improvement over the Pilot MXM4 in every area. This new model just does everything right. From the grip and traction on either wet or dry road surfaces, to the outstanding ride comfort you'll have going down the road.
There is no distracting road noise and the treadlife is excellent for a performance tire like this one. You will be hard-pressed to find any faults with this Michelin tire.
Overall, this is one of Michelin's best touring all-season tires and one we can certainly recommend.
Click Here For Current Michelin Coupons
Click Here To Find Current Prices
Buy Used for 40 – 50% Less than Retail
What Vehicles Will The Michelin MXM4 Fit?
(This is not a complete list of ALL vehicles this tire will fit)

Acura TL, RL

Audi A4

BMW 3, 5 and 7 Series

Buick LaCrosse

Cadillac CTS, DTS

Chevrolet Equinox, Impala

Honda Accord, Civic

Lexus LS 460, RX, ES330

Mercedes Benz C, E and S Class

Nissan Altima, Maxima

Saab 9-3

Scion tC

Volvo S60

Volkswagen Passat
Tire Sizes
16″
205/55R-16 91H BSW
215/55R16 XL 97H BSW
17″
P215/45R17 87V LEX B
215/45R-17 87W BSW
P215/50R17XL 93V BSW
215/50R17XL95V VOL B
215/55R17 94V BSW
225/45R17 91H BSW
225/45R-17 91W BSW
225/50R-17 94W BSW
225/50R17XL 98V BSW
225/55R17 97V BSW
235/45R-17 94W BSW
235/45R17 94H MBZ B
235/45R17 XL 97H BSW
245/40R-17 91W BSW
245/45R-17 95W BSW
245/45R17 XL 99H MBZ
P245/50R17 98H BUI B
255/40R17 94H MBZ BW
18″
P225/45R18 91V LEX B
225/50R-18 95W BSW
225/50R-18 95V BSW
235/40R18 91H MBZ BW
P235/45R18 94V BSW
235/60R18 102V BSW
P245/50R18 99V MBZ B
245/50R18 100H BSW
255/35R18 XL 94H MBZ
19″
245/40R-19 94W BSW
245/45R-19 98W BSW
20″
245/45R20 99V BSW
Price Range
Prices on the Primacy MXM4 range from approximately $135 and up. You may also find occasional rebates, discounts, coupons and special offers on this tire.
Click Here To Find The Current Prices On All Michelin Primacy MXM4 Sizes
Warranty
The Primacy MXM4 comes with two different mileage warranties depending on speed ratings. A 6-year or 55,000 mile warranty is standard on H and V speed rated tires. W, Y and Z-speed rated tires come with a 6-year or 45,000 mile treadlife warranty. Both also include a one-year or first 2/32 inch of wear on tire uniformity.
Materials and workmanship are warranted for 6-years and come with first year free or first 2/32 inch of wear replacement. Michelin prorates the amount for the remaining time period down to the final 2/32 inch of tread depth.
A 30-day customer satisfaction guarantee is included, as well as a 3-year flat tire changing service.
---