Michelin Primacy 4: Review & Rating
The Primacy 4 by Michelin is a Premium Touring Summer tire engineered for passenger cars. The word Primacy defines the state of being the first, whether in order, rank, or importance, and the world's largest tire manufacturer intends to live up to this definition through its premium range of passenger car tires.
The model was first unwrapped at the 2017 IAA International Motor Show and is the successor to the widely popular Primacy 3. Michelin claims that the Primacy 4 delivers enduring safety and remarkable performance in new as well as worn states, throughout its functional life cycle. Additionally, it also advocates silent tires that render the ultimate driving experience and comfort.
A tire's braking and grip performance, particularly on wet surfaces,is of paramount importance. Therefore, motorists purchase their tires based on these aspects when the product is new. However, what happens to the braking and grip performance after, say 30,000 miles, or a few years? It's pertinent to mention that the tire industry typically tests performance on new products. Here, Michelin is a level ahead!
The global tire giant exhibited the Primacy 4's claim of excellent performance and lasting safety in new as well as worn states at a wet-braking test center. A Honda Accord was equipped with two sets of Michelin Primacy 4s (one new with a tread depth of 8 millimeters and a worn out set with merely 2 millimeters of tread depth intact. Moreover, two more vehicles were fitted with equally-sized new and frayed tires of two other leading brands.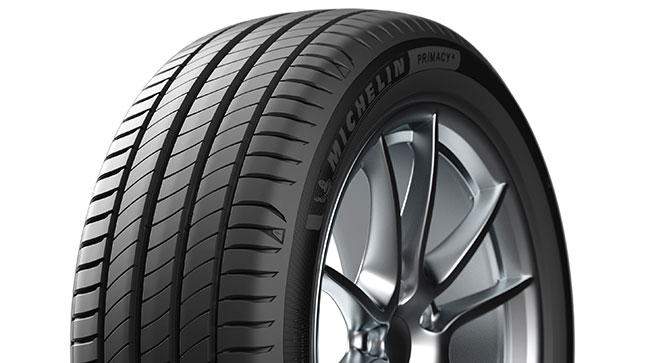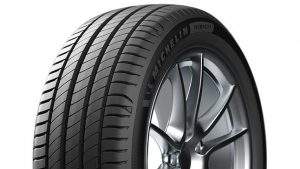 The Accord laced with Primacy 4s braked hard from 80 km/h, and stopped 2.5 millimeters shorter when new, and 5.1 millimeters shorter when frayed, compared to the competition. More critically, even the worn out Primacy 4s can brake 1.8 millimeters shorter than the factory-delivered competitive brands. This astounding ability can be attributed to Michelin's EverGrip Technology, which features less tapered and squarer grooves, which enhances water evacuation capacity by 50%.
Pros
Unparalleled wet-braking performances with new and worn out states
The industry leader regarding longevity by offering 11,000 more miles on average than its leading competitors
The tires are remarkably quiet and offer fantastic road grip
Cons
Few users have complained about the feeling of a slight slide when driving on highways
These tires are significantly pricier than the majority of other brands
Performance
As stated earlier, the Michelin Primacy 4 offers a new benchmark for safety. It took three years to engineer this product, which's ultra-resilient on wet roads, from the first use until worn. This latest offering by the global tire giant addresses the performance issues of worn out tires by typically lasting 18,000 kilometers more than its competitors.
The Primacy 4 is a visible demonstration of the Michelin's strategy to continue to deliver safe products that consumers can trust right down to the authorized wear indicator of 1.6 millimeters. This model has replaced the Primacy 3, which gained popularity due to its shortest braking distance, high grip on slippery surfaces, and safe journey on dry roads.
Nonetheless, courtesy of a safety driven new pattern design, the Primacy 4 maintains a high level of water evacuation even when worn. Specifically, the new sculpture offers 22% more space to evacuate water. Moreover, by using the latest generation high-performance rubber compound, Primacy 4 delivers a marvelous wet braking performance, when new and when worn, without jeopardizing tire longevity.
Lastly, to further alleviate your Primacy 4 experience, the tire comes stocked with a treadwear indicator to assist you to key out when your tires need changing.
Sizes Available
16″ Tires
195/55 R16
205/55 R16
215/55 R16
205/60 R16
215/60 R16
195/65 R16
17″ Tires
215/45 R17
225/45 R17
235/45 R17
245/45 R17
205/50 R17
215/50 R17
225/50 R17
205/55 R17
215/55 R17
225/55 R17
235/55 R17
215/60 R17
225/60 R17
18″ Tires
225/40 R18
225/45 R18
235/45 R18
245/45 R18
255/45 R18
225/50 R18
235/50 R18
225/55 R18
235/55
Warranty
All Michelin Passenger Car tires, used in normal conditions and inline with the safety warnings and maintenance recommendations of the company are insured by a warranty against faults in workmanship, design, and materials. The warranty is for 6 years from the manufacturing date, or the functional life of the original usable tread pattern, whichever comes first.
Customer Reviews
The tire has fetched a global rating of 4.5 out 5 from about 200 customer reviews at the manufacturer's website, and 96% of the buyers recommend using Michelin Primacy 4.
Conclusion
Industry professionals have rated the product as follows:
Comfort 84%
Dry Grip 83%
Wet Grip 83%
Handling 79%
Wear 90%
Road Feedback 84%
The Primacy 4 by Michelin addresses two key pain points of motorists – continuous safety, due to rain-related accidents and untoward road conditions; and comfort, because of challenging traffic and road conditions.
Moreover, the Primacy 4 typically lasts 18,000 kilometers more than its competitors. The product is a visible demonstration of the Michelin's strategy to continue to deliver safe products that consumers can trust right down to the authorized wear indicator of 1.6 millimeters.