Michelin Pilot Sport PS2 Tire Review & Rating
With high performance traction, handling and cornering power, the Pilot Sport PS2 is one of Michelin's most popular ultra-high performance tires in their lineup. Used as original equipment on many of today's sports cars and sedans, the PS2 is built to deliver maximum grip and stability on dry or wet pavement.
Michelin utilizes two uniquely different rubber tread compounds to go with an asymmetric tread design on this tire. The first compound is a hybrid silica and carbon black compound that covers the outer shoulder of the tire and contact patch. It then joins a high silica compound that reaches over to the inside shoulder of the tire. All of this is made to create the highest level of dry and wet traction possible, as well as provide increased cornering grip and high speed capabilities without being compromised.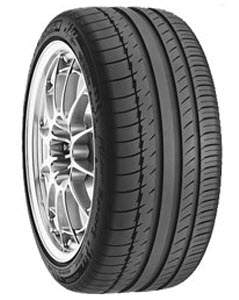 Dry traction and cornering grip is where this tire truly excels in. The tire's larger outside shoulder blocks and continuous center rib provide enhanced cornering grip as well as added steering feel and response. You'll find excellent feedback while driving on these tires, and the grip in the corners this tire provides is nothing short of amazing.
Wet handling is enhanced through circumferential grooves and added lateral grooves that help the tire evacuate water from under the tread and maintain its grip, while reducing the risk of hydroplaning on rain soaked roads.
Inside the tire you will find two high-tensile steel belts with an aramid and nylon filament reinforcement that adds strength and durability when driving at higher speeds. They also improve ride comfort and give the tire a bit more steering response. Michelin has 17-22 inch sizes available, and includes a rare for this class 6-year or 20,000 mile tread guarantee.
Pros
Outstanding dry traction and cornering performance

Wet handling is very good

Ride is surprisingly comfortable and quiet

20,000 mile tread warranty
Cons
Would like to see just a little longer treadlife
Overall Thoughts
If you enjoy more spirited driving and are looking for a set of tires that will match your desires, the Pilot Sport PS2 should not disappoint. Expect to find some of the best dry and wet traction in this class, as well as a very comfortable ride quality. Steering is crisp and responsive as you might expect, and the tire remains stable throughout the speed range.
Treadlife is pretty good for this tire and Michelin includes a 20,000 mile tread warranty which is outstanding, but we would like to see it run for a few more miles. That said, driving habits will play a big factor in tread life on high performance tires like this.
Overall, the PS2 ranks near the top of its class. It provides awesome performance and gives you the feeling of being in complete control. When you have a tire that is used as original equipment on vehicles like the Chevy Corvette ZR1 and Porsche 911 among others, then you know this is a serious high performance tire.
Click Here To Find Current Prices
What Vehicles Will The Michelin PS2 Fit?
(This is not a complete list of ALL vehicles this tire will fit)

Acura TL, RL

Audi S4, TT 3.2 Quattro, S6, RS4

BMW 330Ci, 128i, M3, 335i, 540i, 740iL, M6, Z4

Cadillac CTS

Chevrolet Camaro SS, Corvette, Impala SS, Cobalt

Chrysler Crossfire

Dodge Viper, Caliber SRT4

Ford Mustang GT

Honda Accord, S2000

Infiniti G35, Q45

Mazda RX-8, MazdaSpeed3, RX-7

Mercedes-Benz C230, SL55, SLK350, E63 AMG, CLK430

Nissan 350Z, 370Z, GT-R, Maxima SE

Pontiac G8, GTO, Trans Am

Porsche Boxster, 911, Cayman

Subaru Impreza WRX

Volkswagen R32, GTi, Jetta GLS

Volvo V70, S70
Tire Sizes
17″
335/35ZR17 106Y BSW
235/40ZR17 90Y BSW
255/40ZR17 94Y BSW
265/40ZR17 96Y BSW
275/40ZR17 98Y BSW
225/45ZR17 91Y BSW
245/45ZR17 95Y BSW
205/50ZR17 89Y BSW
235/50ZR17 96Y BSW
205/55ZR17 91Y BSW
18″
285/30ZR18 93Y BSW
295/30ZR18XL 98Y BSW
315/30ZR18 98Y BSW
335/30ZR18 102Y BSW
245/35ZR18XL 92Y BSW
255/35ZR18 90Y BSW
255/35ZR18 90W BSW
265/35ZR18 93Y BSW
265/35ZR18XL 97Y BSW
P275/35ZR18LL 87Y BSW
275/35ZR18 95Y BSW
295/35ZR18 99Y BSW
225/40ZR18 88Y BSW
225/40ZR18 88W BSW
225/40ZR18XL 92Y BSW
235/40ZR18 91Y BSW
245/40ZR18 93Y BSW
255/40ZR18XL 99Y BSW
265/40ZR18 97Y BSW
265/40ZR18XL 101Y BSW
275/40ZR18 99Y BSW
225/45ZR18XL 95Y BSW
235/50ZR18 97Y BSW
19″
315/25ZR19XL 98Y BSW
P285/30ZR19LL 87Y BSW
P325/30ZR19LL 94Y BSW
295/30ZR19XL 100Y BSW
305/30ZR19XL 102Y BSW
345/30ZR19 105Y BSW
225/35ZR19XL 88Y BSW
235/35ZR19 87Y BSW
245/35ZR19XL 93Y BSW
255/35ZR19XL 96Y BSW
255/35R19XL 96Y BSW
265/35ZR19 94Y BSW
265/35R19XL 98Y BSW
275/35ZR19XL 100Y BSW
285/35ZR19 99Y BSW
285/35ZR19 99Z BSW
285/35ZR19 99Y BSW
225/40ZR19XL 93Y BSW
245/40ZR19 94Y BSW
255/40ZR19 96Y BSW
255/40ZR19XL 100Y BSW
275/40R19 101Y BSW
285/40ZR19 103Y
255/45R19 100Y BSW
20″
305/25ZR20XL 97Y BSW
P335/25ZR20LL 94Y BSW
255/30ZR20XL 92Y BSW
265/30ZR20XL 94Y BSW
285/30ZR20XL 99Y BSW
335/30ZR20 104Y BSW
295/35ZR20XL 105Y BSW
305/35ZR20 104Y BSW
255/40ZR20XL 101Y BSW
275/45R20XL 110Y BSW
21″
285/30ZR21XL 100Y BSW
305/30ZR21XL 104Y BSW
245/35ZR21XL 96Y BSW
265/35ZR21XL 101Y BSW
22″
295/25ZR22XL 97Y BSW
255/30ZR22XL 95Y BSW
Price Range
Michelin Pilot Sport PS2 prices range from approximately $175 and up. You may also find occasional rebates, discount prices, coupons and special offers on this tire.
Click Here To Find The Current Prices On All Michelin Pilot Sport PS2 Sizes
Warranty
The PS2 comes with a 6-year or 20,000 mile tread warranty. Mileage is reduced by one-half on the rear tires if they are sized differently than the front. Tire uniformity is guaranteed for one-year or the first 2/32 inch of wear.
Materials and workmanship are warranted for 6-years and includes free replacement during the first year or first 2/32 inch of wear. A prorated amount is given for the remaining time period or down to the final 2/32 inch of tread depth.
Michelin also provides a 3-year flat tire changing service, as well as their 30-day customer satisfaction guarantee.
---