Michelin Pilot Sport A/S Plus Tire Review & Rating
With an aggressive low-profile tread design, the Pilot Sport A/S Plus from Michelin is engineered to take high performance all-season driving to a higher level. Built for drivers of sports cars, as well as coupes and sedans, the A/S Plus features some of Michelin's most advanced tire technology to enhance driving in all weather conditions.
The tire utilizes a unique TriFusion Tread Compound that combines three distinct compounds side by side in a process not found with other tire makers. Dry surface straight line traction and cornering powering are increased due to the directional tread pattern and a continuous center rib that provide more stability and steering response. High angled tread blocks add to more performance style handling.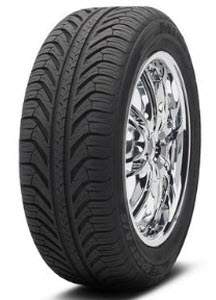 The silica compound, along with circumferential and lateral grooves, increase grip and overall handling on wet road surfaces, including light snow and ice. It also reduces the risk of hydroplaning and fuels driver confidence.
Inside the tire you will find two high tensile steel belts that use Michelin's Filament At Zero technology to give the Pilot Sport A/S Plus the highest level of strength and durability possible. Another benefit is that this technology creates a longer lasting tread and provides better ride comfort at higher speeds. Michelin includes a 45,000 mile tread warranty on this Pilot Plus tire.
Pros
Dry surface traction and steering response is excellent

Cornering is fun on this tire

Ride comfort is above average compared to others in this class

Tread life is very good
Cons
Wet traction could be better
Overall Thoughts
With the Pilot Sport Plus, just by looking at it you can get a good feel of what to expect of it before you even drive on it. The tire sports aggressive good looks and dry pavement traction and cornering grip are awesome as you would expect. Steering is crisp and responsive, and the tire provides excellent stability throughout the speed range.
Although this tire has been around a few years and wet traction could be improved upon, it still remains a good option in new tires.
Click Here For Current Michelin Coupons
Click Here To Find Current Prices
What Vehicles Will The Pilot Sport A/S Plus Fit?
(This is not a complete list of ALL vehicles this tire will fit)

Acura TL, RL, RSX, TT

Audi A6, A4, A8L

BMW 135i, 545i, 550i, 750Li, M5, M3, 330i

Buick Regal, Lucerne

Chevrolet Corvette, Impala, Monte Carlo SS, Camaro, Cobalt

Ford Mustang GT, Fusion, Focus, Explorer, Contour

Honda Civic, Odyssey

Hyundai Sonata

Jaguar XKR, XK8

Lexus GS350, GS430, IS300, LS460L

Lincoln LS

Mazda3, RX-8, Miata

Mercedes-Benz E550, SL55, SL500, SLK320, CLK430

Mercury Milan

Pontiac GTO, G8, G6, Grand Prix

Scion tC

Subaru Legacy, Outback, Impreza
Tire Sizes
16″
205/55ZR-16 91Y BSW
225/50ZR-16 92Y BSW
225/55ZR-16 95W BSW
225/60ZR-16 98W BSW
245/50ZR-16 97W BSW
17″
205/45ZR17XL 88Y BSW
205/50ZR-17 89Y BSW
215/45ZR17XL 91W BSW
225/45ZR-17 91Y BSW
225/50ZR-17 94W BSW
225/55ZR-17 97W BSW
235/45ZR-17 94Y BSW
235/50ZR-17 96W BSW
235/55ZR-17 99W BSW
245/40ZR-17 91Y BSW
245/45ZR-17 95Y BSW
245/50ZR-17 99W BSW
255/40ZR-17 94Y BSW
255/45ZR-17 98Y BSW
275/40ZR-17 98Y BSW
285/40ZR-17 100Y BSW
18″
225/40R18 XL 92Y BSW
225/45R18 XL 95Y BSW
235/40ZR-18 91Y BSW
235/45R18 XL 98Y BSW
235/50ZR-18 97Y BSW
245/40ZR-18 93Y BSW
245/45ZR-18 96Y BSW
255/35R18 XL 94Y BSW
255/40ZR-18 95Y BSW
255/45ZR-18 99Y BSW
265/35R18 XL 97Y BSW
275/35ZR-18 95Y BSW
275/40ZR-18 99Y BSW
285/30R18 XL 97Y BSW
285/35ZR-18 97Y BSW
19″
225/40ZR-19 XL 93Y B
235/35ZR19XL 91Y BSW
245/35ZR19XL 93Y BSW
245/40ZR-19 94Y BSW
245/45ZR-19 98Y BSW
255/35ZR-19 XL 96Y B
255/40ZR-19 96Y BSW
275/30ZR19XL 96Y BSW
275/35ZR-19 96Y BSW
275/40ZR-19 101Y BSW
285/30ZR19XL 98Y BSW
20″
255/30ZR20XL 92Y BSW
255/35ZR20XL 97Y BSW
275/35ZR20XL102Y BSW
285/30ZR20XL 99Y BSW
22″
265/30ZR22XL 97Y BSW
Price Range
Prices on the Pilot Sport Plus range from approximately $156 and up. You may also find occasional rebates, discounts, coupons and special offers on this tire.
Click Here To Find The Current Prices On All Michelin Pilot Sport A/S Sizes
Warranty
The Pilot Sport A/S Plus has a 6-year or 45,000 mile tread life warranty. The mileage portion for the rear is reduced by half if you run different sizes than the front. There is also a 1-year or first 2/32 inch of wear guarantee on the tire's uniformity.
Materials and workmanship are backed for 6-years and include free replacement during the first year or first 2/32 inch of wear. Michelin prorates the amount for the remaining time period or until there is 2/32 inch of tread depth left on the tire.
---