Michelin Pilot Sport A/S 3 Tire Review & Rating
The Pilot Sport A/S 3 from Michelin is an ultra-high performance tire that was made available in July 2013. Built for drivers of high-end sports cars, coupes, sedans and sport SUV's and crossovers, the A/S3 includes all of the newest tire technology available today.
New extreme silica technology and sunflower oil tread compound are molded into an asymmetric tread with variable thickness sipes that are designed to provide a true high performance all-season tire, including light snow.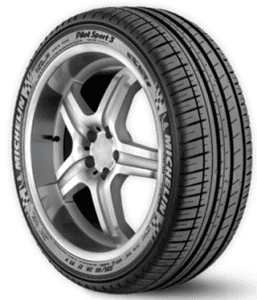 This new Variable Contact Patch 2.0 tread design is claimed by Michelin to provide more dry grip than leading maximum performance summer tires, which we feel is a true statement. It also shortens wet and dry braking distances than those of other leading UHP all-season tires.
The tire's outer shoulders sport added rubber and more rigid tread blocks for enhanced cornering and lateral grip, while wider circumferential grooves increase wet traction and channel away water from under the tread for reduced hydroplane risks. 3-D sipes and the tire's biting edges in the tread grooves add more grip in winter weather road conditions.
Inside the tire you'll find two steel cord belts that are polyamide reinforced for added strength and durability, as well as increased handling and ride comfort. Michelin offers a massive array of sizes ranging from 15-20 inches, and H, V, W and Y-speed ratings. Also included is a 45,000 mile tread guarantee.
Pros
Dry and wet traction

Cornering grip

Ride quality

Size availability
Cons
Booost in treadlife
Traction on snow and ice
Overall Thoughts
Michelin has done it again with the Pilot Sport A/S 3. This is a great looking tread design that is full of impressive high performance features. Dry and wet traction is among the best we've seen in this class. Cornering grip is excellent throughout the speed range, and tire stability is excellent.
Ride quality is what you would expect from Michelin; smooth and comfortable without a lot of excessive road noise. Winter traction is not among the best in class, but this is definitely not a winter tire and it shows. Then again, if grip on snow and ice is a big concern for you, purchase a winter tire and not an ultra-high performance model such as this one.
Perhaps the bigger concern deals with treadlife issues. We've heard a few drivers mention in reviews of this tire that the tread had worn faster than expected. However, we've also heard from many others who have said that tire wore very well.
Overall, if you are considering putting on a new set of UHP all-season tires, or you are looking at replacing those worn out summer tires, we would strongly recommend the new A/S 3. While arguably not up to the likes of the BFG Comp-2 A/S or Pirelli P Zero All Season Plus, this model is a solid choice.
Click Here For Current Minchelin Coupons
Click Here To Find Current Prices
What Vehicles Will The Michelin A/S 3 Fit?
(This is not a complete list of ALL vehicles this tire will fit)

Acura TL, RL, RSX, TT

Audi A6, A4, A8L

BMW 135i, 545i, 550i, 750Li, M5, M3, 330i

Buick Regal, Lucerne

Chevrolet Corvette, Impala, Monte Carlo SS, Camaro, Cobalt

Ford Mustang GT, Fusion, Focus, Explorer, Contour

Honda Civic, Odyssey

Hyundai Sonata

Jaguar XKR, XK8

Lexus GS350, GS430, IS300, LS460L

Lincoln LS

Mazda3, RX-8, Miata

Mercedes-Benz E550, SL55, SL500, SLK320, CLK430

Mercury Milan

Pontiac GTO, G8, G6, Grand Prix

Scion tC

Subaru Legacy, Outback, Impreza
Tire Sizes
16″
195/45R16/XL 84V BSW
205/50R16 87V BSW
225/50ZR16 92Y BSW
195/55R16 87V BSW
205/55R16 91H BSW
205/55R16 91V BSW
205/55ZR16 91Y BSW
215/55R16/XL 97V BSW
17″
205/40R17/XL 84V BSW
245/40ZR17 91Y BSW
245/40R17 91V BSW
255/40R17 94V BSW
255/40ZR17 94Y BSW
205/45ZR17 84W BSW
205/45R17 84V BSW
215/45ZR17/XL 91W BSW
215/45R17 87V BSW
225/45ZR17 91Y BSW
225/45R17 91V BSW
235/45R17 94V BSW
235/45ZR17 94Y BSW
245/45R17/XL 99V BSW
245/45ZR17/XL 99Y BSW
205/50ZR17/XL 93Y BSW
205/50R17/XL 93V BSW
225/50R17 94V BSW
225/50ZR17 94W BSW
235/50ZR17 96Y BSW
225/55R17 97V BSW
235/55ZR17 99W BSW
18″
245/35ZR18/XL 92Y BSW
255/35ZR18/XL 94Y BSW
265/35ZR18/XL 97Y BSW
275/35ZR18 95Y BSW
285/35ZR18 97Y BSW
205/40ZR18/XL 86W BSW
215/40ZR18 85Y BSW
225/40R18/XL 92H BSW
225/40ZR18/XL 92Y BSW
235/40R18/XL 95H BSW
235/40ZR18/XL 95Y BSW
245/40R18/XL 97H BSW
245/40ZR18/XL 97Y BSW
245/40R18/XL 97V BSW
255/40ZR18 95Y BSW
275/40ZR18 99Y BSW
285/40ZR18 101Y BSW
215/45ZR18/XL 93Y BSW
215/45R18/XL 93V BSW
225/45ZR18/XL 95Y BSW
225/45R18 91V BSW
235/45R18 94V BSW
245/45R18 96V BSW
245/45ZR18/XL 100Y BSW
255/45ZR18 99Y BSW
225/50R18 95V BSW
225/50ZR18 95W BSW
235/50R18 97V BSW
235/50ZR18 97Y BSW
235/55R18 100V BSW
19″
275/30ZR19/XL 96Y BSW
285/30ZR19/XL 98Y BSW
225/35ZR19/XL 88Y BSW
245/35ZR19/XL 93Y BSW
255/35ZR19/XL 96Y BSW
265/35ZR19/XL 98Y BSW
275/35ZR19 96Y BSW
285/35ZR19/XL 103Y BSW
225/40ZR19/XL 93Y BSW
245/40R19 94V BSW
245/40ZR19/XL 98Y BSW
255/40ZR19/XL 100Y BSW
265/40ZR19 98W BSW
275/40ZR19 101Y BSW
285/40ZR19 103Y BSW
225/45ZR19/XL 96W BSW
245/45ZR19 98Y BSW
255/45ZR19 100Y BSW
245/50ZR19/XL 105W BSW
20″
285/30ZR20/XL 99Y BSW
255/35ZR20/XL 97Y BSW
275/35ZR20/XL 102Y BSW
285/35ZR20 100W BSW
245/45ZR20/XL 103Y BSW
245/45R20 99V BSW
255/45ZR20 101Y BSW
Price Range
Michelin Pilot Sport A/S 3 prices range from approximately $152 and up. You may also find occasional rebates, discount prices, coupons and special offers on this tire.
Click Here To Find The Current Prices On All Michelin Pilot Sport A/S 3 Sizes
Warranty
Michelin provides a 6-year or 45,000 mile tread warranty on the A/S 3. Mileage portion is reduced by half if different size is used in rear than front. Tire uniformity is guaranteed for one-year or the first 2/32 inch of wear.
Materials and workmanship are warranted for 6-years and include free replacement during the first year or first 2/32 inch of wear. A prorated amount is given for the remaining time period or down to the final 2/32 inch of tread depth.
Michelin also includes a 3-year flat tire changing service and a 30-day customer satisfaction guarantee.
---