Michelin Pilot Exalto A/S Tire Review & Rating
Combining European style handling with all-season traction, the Michelin Pilot Exalto A/S (All-Season) is built to offer serious performance for drivers of all types of sport coupes, sedans and other vehicles.
The tire sports a directional tread design with what Michelin calls its "Life Maximized All-Season Adherence Compounding". This new technology gives the tread's silica compound increased dryand wet surface grip, as well as a longer tread life.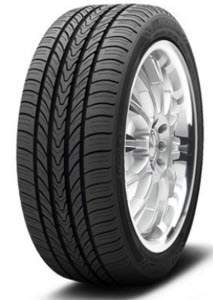 Wet and snow surface traction is enhanced through unique V-shaped HydroChutes, circumferential grooves and lateral grooves that evacuate water from under the tire and reduce the risk of hydroplaning. The result is exceptional handling on wet pavement and added driving confidence.
The rounded shoulders of the tread design and independent tread blocks give the Pilot Exalto A/S a more European cornering profile which results in a sticky grip in the corners and added enjoyment behind the wheel.
Inside the tread you will find two steel belts to go with Michelin's Banded At Zero technology that increases strength and stability at higher speeds, as well as improving overall ride comfort.
Pros
One of the better performance all-season tires on the market

Superior dry pavement cornering and handling

Wet road surface traction is among best in its class

Very comfortable and quiet ride
Cons
Some road noise towards the end of its tread life
Overall Thoughts
Note: Since our review was published, Michelin discontinued making the Pilot Exalto A/S in late 2013. We would recommend going with the newer Pilot Sport A/S3.
Driving on the Michelin Exalto AS can be exhilarating at times. The tire handles and grips the road like a high performance summer tire, yet provides excellent all-season traction on wet, slushy or even snow covered roads.
About the only issue with this tire, if you want to call it that, is that it tends to get a little more road noise at the end of its treadlife. To be fair though, this is common to most every all-season tire. Riding comfort is about as good as you'll find in an all-season tire. We've put this tire in the top tier of all-season tires.
Click Here For Current Michelin Coupons
Click Here To Find Current Prices
What Vehicles Will The Exalto A/S Fit?
(This is not a complete list of ALL vehicles this tire will fit)

Audi A6, A4

BMW 525i, 323i

Chrysler Sebring, PT Cruiser

Ford Taurus, Focus, Probe

Honda Accord, Civic, Prelude, Fit, CR-V

Hyundai Elantra, Sonata

Kia Spectra, Optima

Lexus ES300, LS400, ES330

Mazda Miata, 626, Protege, Mazda3, Mazda6, MPV

Mini Cooper

Nissan Maxima, Altima

Pontiac Grand Am

Saab 9-3, 9-5

Saturn SC2

Subaru Forester, Impreza WRX, Legacy

Suzuki Aerio, Forenza

Toyota Camry, Corolla, Supra, Prius, Solara, Avalon, Celica

Volkswagen Passat, Jetta, Golf
Tire Sizes
14″
185/60R-14 82H RRBL
195/60R-14 86H RRBL
15″
195/50R-15 82V RRBL
195/55R-15 85V RRBL
195/60R-15 88H RRBL
195/65R-15 91H RRBL
205/60R-15 91H RRBL
205/65R-15 94H RRBL
215/65R-15 96H RRBL
225/60R-15 96V RRBL
16″
195/50R-16 84V RRBL
205/50R-16 87V RRBL
205/55R-16 91V RRBL
205/55R-16 91H RRBL
215/55R-16 93V RRBL
215/60R-16 95V RRBL
215/60R-16 95H RRBL
225/50R-16 92H RRBL
225/50R-16 92V RRBL
225/55R-16 95H RRBL
17″
205/50R-17 89V RRBL
215/50R-17 91H RRBL
235/45R-17 94H RRBL
Price Range
Prices on the Exalto A/S range from approximately $105 and up. You may also find occasional rebates, discounts, coupons and special offers on this tire.
Click Here To Find The Current Prices On All Michelin Pilot Exalto A/S Sizes
Warranty
The Pilot Exalto AS carries a 6-year or 45,000 mile tread warranty. Note: The warranty period is cut in half if the rear tire size is different than the front tires. Tire uniformity is guaranteed for one-year or the first 2/32 inch of wear.
Materials and workmanship are warranted for 6-years and include free tire replacement during the first year or first 25% of wear. Michelin then prorates out the amount for the remaining time period or until there is 2/32 inch of tread depth left on the tire.
There is also a 30-day customer satisfaction guarantee and a 3-year flat tire changing service that comes with this tire as well.
---