Michelin LTX M/S 2 Tire Review & Rating
Michelin has been making quality all-season tires for trucks, vans and SUV's for many years now, and this new LTX M/S 2 may arguably be their best yet. This new generation M/S2 offers the latest in tread design and tire technology to provide for years of trouble-free use. It is a night and day difference from the original LTX M/S model, which has been a best-seller in their lineup for years as well.
The all-season tread compound is silica enhanced and designed to prolong treadlife, while also shortening braking distance. Featuring a symmetric tread design, the tire sports 3-D Active Sipes that deliver better handling and performance on dry road surfaces, as well as on rain soaked roads.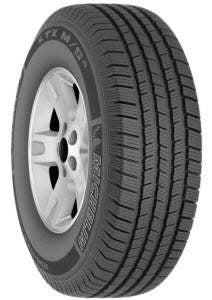 Whether the road is wet, snow or slush covered, the four wide circumferential grooves around the tread combine with lateral grooves and shoulder slots to expel water from under the tire and enhance traction and grip. Many drivers have commented that this model makes driving in the rain or on the snow feel just like driving on dry pavement. That's the kind of added confidence Michelin was wanting to provide.
Michelin's Max-Touch Technology gives the tire a wider tread contact patch and distributes the forces of acceleration, braking and cornering more evenly for better steering control and response. It is also responsible for increasing ride comfort by eliminating road noise and giving a more smooth ride quality.
Inside the tire you will find two high-tensile steel belts reinforced with spirally wrapped nylon for added strength and durability. For those needing to haul heavy loads, there are three steel belts on Load Range D and E sized tires. A 70,000 mile treadwear warranty is also included with this tire.
Dry and wet surface traction and handling are among best in class

Steering response and control are sure and precise

Ride comfort is superb

Excellent treadlife and a 70,000 mile warranty
Cons
Hard to find any on this tire
Overall Thoughts
This Michelin tire is not only fun to drive on, but it gets our vote as the best in class all-season truck/SUV tire for city/highway use. Everything about this tire is quality, safety and performance. The handling and traction on dry, wet and snow covered roads is superb. Steering response is excellent, and the ride is as you would expect from a Michelin tire; smooth, quiet and comfortable.
Yes, the tire is not cheap by any means, but with the safety, higher quality and longer tread life you receive, the value for the money is outstanding. There is a reason why you see review after review from other tire owners all saying how happy they are with this Michelin tire…because it really is that good. If you're looking for one of the best tires in this class, this is one to get.

Click Here For Current Michelin Coupons
Click Here To Find Current Prices
What Vehicles Will The LTX M/S 2 Fit?
(This is not a complete list of ALL vehicles this tire will fit)

Chevrolet Silverado, Tahoe, Avalanche, Suburban, Traverse

Dodge Durango, Ram, Dakota

Ford Expedition, F-150, F-250, F-350, Explorer

GMC Yukon, Sierra

Honda Pilot

Hyundai Veracruz, Santa Fe

Isuzu Rodeo, Trooper

Jeep Grand Cherokee

Mercedes-Benz Sprinter

Nissan Murano, Titan, Pathfinder, Armada, Xterra

Toyota Sequoia, Tundra, 4Runner, Tacoma
Tire Sizes
15″
P235/75R15 108T XL W
16″
LT215/85R16E1 115R B
P225/70R16 101T ORWL
P235/70R16 104T ORWL
P235/75R16 109T XL W
LT235/85R16E1 120R B
LT235/85R16E1 120R W
P245/70R16 106T ORWL
P245/75R16 109T ORWL
LT245/75R16E1 120R W
P255/65R16 106T BSW
P255/70R16 109T ORWL
P265/70R16 111T ORWL
P265/75R16 114T ORWL
LT265/75R16E1 123R W
LT265/75R16E1 123R B
LT285/75R16E1 126R W
17″
P235/70R17 108T XL B
P235/75R17 108T BSW
LT235/80R17E1 120R W
LT235/80R17E1CHV120R
P245/70R17 108T ORWL
LT245/70R17E1 119R B
LT245/75R17E1 121R B
P255/65R17 108T ORWL
P255/70R17 110T ORWL
P265/65R17 110T ORWL
LT265/70R17E1 121R W
P265/70R17 113T ORWL
LT265/70R17E1 121R B
LT285/70R17D1 121R W
18″
P265/60R18 109T ORWL
P265/65R18 112T BSW
P265/70R18 114T ORWL
LT275/65R18E1 123R W
P275/65R18 114T ORWL
LT275/70R18E1 125R W
20″
P275/55R20 111T BSW
P275/60R20 114T BSW
Price Range
Prices on the LTX 2 range from approximately $118 and up. You may also find occasional rebates, discounts, coupons and special offers on this tire.
Click Here To Find The Current Prices On All Michelin LTX M/S 2 Sizes
Warranty
The LTX MS2 has a 6-year or 70,000 mile treadlife warranty. There is also a one-year or first 2/32 inch of wear guarantee on the tire's uniformity.
Materials and workmanship are warranted for 6-years and include first year or first 2/32 inch of wear free tire replacement. A prorated amount is applied for the remaining time period or down to the final 2/32 inch of tread depth.
---