Michelin LTX A/T 2 Tire Review & Rating
The Michelin LTX A/T 2 is the company's premium all-terrain tire that is built to provide superior off-road performance without sacrificing on-road traction and driving comfort. Michelin has designed the LTX A/T 2 for drivers of all types of pickups, SUV's and vans who need a tire that meets demanding road conditions.
A stronger truck tread compound combines with Michelin Biting Edges technology that adds notched blocks in the tread pattern to give the tire increased traction on gravel, dirt, mud, snow and other light terrain. With load range options of D and E available, the tire has up to three steel belts for added strength and puncture resistance during off-road use.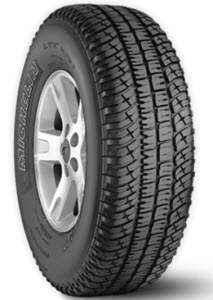 The A/T 2 features a larger tread contact patch to enhance grip and stability during highway driving. Ride comfort is increased through Michelin's Comfort Control Technology, which uses a computer-optimized tread design to dramatically reduce road noise and increase ride comfort. It's a combination that is very effective on this model as ride comfort is among the best in class.
Inside the tire you will find two high-tensile steel belts for added strength and durability. Michelin's exclusive Max-Touch Construction promotes more even treadwear and a longer overall treadlife. This is something that many tire owners have mentioned as being exceptional with this tire. The A/T 2 is available in 15-20 inch sizes, and has a black sidewall or optional raised white letters.
Pros
Light terrain traction and handling is excellent

Very good snow performance

Ride is more comfortable than you might expect

Exceptional tread life
Cons
A little extra road noise on the highway
Overall Thoughts
Michelin has put together an excellent all-terrain tire in the A/T2. Off-road traction is more than capable on a variety of different terrains, although it arguably lacks the brute strength of a tire like the BFGoodrich T/A KO2 and a few others. However, while it may not be an off-road beast so to speak… it more than makes up for it with its all-around traction and handling on or off the beaten path.
Sure, there is a little road noise on the highway, but nothing that would force you to crank up the radio. It more than holds its own on wet or snow covered road surfaces, and the ride is surprisingly good for an A/T tire. These traits are among the best in class.
One area that is simply outstanding for this tire is its longer treadlife. Many reviews from other owners mention seeing up to 100K miles out of the tread. In fact, we've heard a few drivers speak to seeing 150K miles from the tread. In addition, this tire is one of the best models you'll find for driving on gravel roads.
Overall, you can't go wrong with putting this tire on your truck, van or SUV. We rank it among the top tires in this class. It simply does not disappoint.
Click Here For Current Michelin Coupons
Click Here To Find Current Prices
What Vehicles Will The Michelin A/T 2 Fit?
(This is not a complete list of ALL vehicles this tire will fit)

Chevrolet Tahoe, Silverado, Suburban, Colorado, Express 1500, Express G10, Blazer

Dodge Ram, Dakota, Durango, B250 Van

Ford Explorer, Ranger, Bronco, F-150, E-150, E-350 Econoline, Expedition

GMC Sierran, Canyon, Jimmy, Yukon, Savana 1500, S15, Envoy

Honda Passport, Ridgeline

Infiniti QX56

Isuzu Hombre S, Amigo S, Trooper, Ascender

Jeep Grand Cherokee, Wrangler, Liberty

Kia Sorento

Lincoln Navigator

Mazda B4000

Mercury Mountaineer

Nissan Frontier, Pathfinder, Titan, Armada, Xterra

Toyota Land Cruiser, Highlander, Tundra, Sequoia, 4Runner
Tire Sizes
16″
P235/70R16 104S OWL
P265/70R16 111S OWL
P245/75R16 109S OWL
LT245/75R16/E 120/116R BSW
LT245/75R16/E 120/116R OWL
LT265/75R16/E 123/120R OWL
LT265/75R16/E 123/120R BSW
17″
245/65R17 107S OWL
265/65R17 112S OWL
LT265/70R17/E 121/118R OWL
P265/70R17 113S OWL
LT285/70R17/D 121/118R OWL
LT245/75R17/E 121/118R OWL
LT235/80R17/E 120/117R BSW
18″
LT275/65R18/E 123/120R OWL
P275/65R18 114T BSW
LT285/65R18/E 125/122R OWL
LT265/70R18/E 124/121R BSW
LT275/70R18/E 125/122R BSW
LT275/70R18/E 125/122R OWL
20″
275/55R20 113T BSW
LT285/55R20/E 122/119R BSW
P275/60R20 114S BSW
LT275/65R20/E 126/123R OWL
Price Range
Michelin LTX A/T 2 prices range from approximately $177 and up. You may also find occasional rebates, discounts, coupons and special offers on this tire.
Click Here To Find The Current Prices On All Michelin LTX A/T 2 Sizes
Warranty
The A/T 2 comes with a 6-year or 60,000 mile tread warranty. The mileage warranty is reduced by 50% if the rear size does not match the front. A one-year or first 2/32 inch of wear guarantee on the tire's uniformity is also included.
Materials and workmanship are warranted for 6-years and provide for free replacement during the first year or first 2/32 inch of wear. A prorated amount is given for the remaining time period or down to the final 2/32 inch of tread depth.
Michelin adds in a 3-year flat tire changing service on this model, as well as their 30-day customer satisfaction guarantee.
---