Michelin Latitude Tour HP Tire Review & Rating
The Latitude Tour HP from Michelin is engineered for all-season driving use for owners of all types of SUV's, crossovers and pickup trucks. Used as original equipment on luxury vehicles from Porsche, Lexus, Infiniti, BMW and others, the Latitude HP is designed with high performance in mind.
The all-season tread compound features two different compounds in one to give this tire a better balance of traction on all types of road surfaces, increased braking performance, as well as a lower rolling resistance for better fuel efficiency.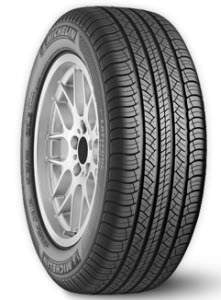 Michelin has utilized a new design feature in the form of Secure Lock Tread Blocks. This technology allows the tread blocks to stay open under normal driving, but close and lock under acceleration, harder braking and during higher speed cornering for added performance. The optimized footprint and continuous center rib provide increased steering response and enhanced stability at higher speeds.
2-D Active Sipes and wider circumferential grooves increase wet traction and grip on rain or slush covered road surfaces.
Inside the tire you will find two steel belts and Michelin's FAZ technology that add more strength and durability through spirally wrapped aramid and polyester cords. The result is increased ride comfort and crisp steering response and feel. A 55,000 mile or 45,000 mile tread guarantee is included depending on the tire's speed rating. Michelin has a wide range of 16-22 inch sizes available, and all sizes carry either an H or V-speed rating.

Pros
Solid performance on dry and wet roads

Excellent steering response and stability

Lower rolling resistance provides added fuel economy

Ride comfort is what you would expect from Michelin

Tires are among the most quiet in this class
Cons
Not the best in snow and ice

Some have mentioned tread life could be better
Overall Thoughts
Michelin has developed a very nice all-season highway touring tire for SUV's ,trucks and crossovers in the Latitude Tour HP. The steering response and all-around stability is very impressive with this model, regardless of whether you're driving around town or on the Interstate. You really feel in control at all times when going straight down the road or taking a corner with a little more speed than normal. Naturally, ride quality is excellent, which is what you would expect from Michelin to begin with.
Of course, this is not a perfect tire by any means. We would like to see better traction and handling on snow and ice. It's lacking behind the leaders in this class and has been an area mentioned by several drivers as an issue. Treadlife issues are another problem spoken of by a few drivers in reviews of this model. That said, we've heard many other drivers speak highly of treadwear and state that they have gotten upwards of 70,000 miles out of the tires.
Overall, if you're looking for one of the better touring highway tires in this class, the Latitude Tour HP is a solid choice.
Click Here For Current Michelin Coupons
Click Here To Find Current Prices
Buy Used for 40 – 50% Less than Retail
What Vehicles Will The Latitude Tour HP Fit?
(This is not a complete list of ALL vehicles this tire will fit)

Acura MDX, ZDX

Audi Q5 2.0T

BMW X3, X5

Buick Enclave

Chevrolet Equinox, Suburban, Silverado, Tahoe

Dodge Nitro, Dakota, Durango

Ford Explorer, F-150, Flex, Escape

GMC Sierra, Envoy

Honda CRV, Pilot

Hyundai Santa Fe

Jeep Grand Cherokee

Infiniti QX56, FX35

Lexus RX 350, RX 450H, LX 570

Mercury Mountaineer

Nissan Murano, Armada, Frontier, Titan

Toyota Land Cruiser, Venza, Tundra, 4Runner

Volkswagen Touareg

Volvo XC90
Tire Sizes
16″
215/65R16 98H VW BSW
235/60R-16 100H BSW
255/65R-16 109H BSW
17″
225/60R-17 98V INF B
235/55R-17 99H VW B
235/65R-17 104H MBZ
235/65R17 104H BSW
235/65R-17 104V MB B
245/65R-17 107H BSW
255/60R17 106V BSW
275/55R17 109V BSW
275/55R-17 109V RBL
18″
225/60R18 100H HON B
235/50R18 97V VOL BW
P235/60R-18 102V LEX
235/60R18 103H AUD B
P235/65R18 104H GM B
P245/60R18 104H FRD
P245/60R-18 104H FRD
255/55R18 105H ACU B
255/55R-18 105V MB B
255/55R18XL 109V POR
255/55R18 105H MBZ B
255/55R-18 104H ACU
255/55R18XL 109V BSW
255/55R18 105H BSW
265/60R-18 110H MBZ
P265/60R-18 109H LEX
P275/60R18 111H BSW
P275/60R18 113H BSW
P275/65R18 114H BSW
285/60R18XL 120V BSW
285/60R18 116V LEX B
P285/60R-18 114V LEX
19″
235/50R-19 99H MBZ
235/55R19 101V VOL B
P235/55R19 101V LEX
235/55R-19 101H LR B
235/55R19 101H AUD B
255/50R19XL 107H MBZ
255/50R19XL 107V VOL
255/50R19 XL 107V BW
P255/50R-19 103H ACU
255/55R19 XL 111V LR
265/50R19XL 110V POR
275/45VR19XL 108V NO
285/45R-19 107V RBL
20″
P235/55R-20 102H CAD
P235/55R20 102H BSW
245/50R-20 102H TOY
255/50R-20 109V XL B
265/50R20 107V BSW
275/40ZR20XL 106W B
275/45R20 XL 110V BW
275/45R20 110V XL BW
P275/60R-20 114H NIS
285/50R20 112V ACU B
P285/50R-20 111V LEX
305/50R-20 120H XL B
315/35R-20 106W RBL
22″
295/40R-22 112V XL B
Price Range
Prices on the Latitude Tour HP range from approximately $137 and up. You may also find occasional rebates, discounts, coupons and special offers on this tire.
Click Here To Find The Current Prices On All Michelin Latitude Tour HP Sizes
Warranty
Michelin has a 6-year or 55,000 mile guarantee on H and V-speed rated tires, and a 6-year or 45,000 mile warranty on W, Y and Z-speed rated models. All tires have a one-year or first 2/32 inch of wear warranty on tire uniformity.
Materials and workmanship are covered for 6-years and include first year or first 2/32 inch of wear free replacement. A prorated amount is given for the remaining time period or down to the last 2/32 inch of tread depth.
Michelin also includes their 30-day customer satisfaction guarantee and a 3-year flat tire changing service, making this an excellent overall warranty.
---