Michelin Latitude Sport 3 Tire Review & Rating
The Michelin Latitude Sport 3 ultra-high performance summer tire is built to offer more spirited drivers the kind of traction, handling and cornering performance you look for in a UHP model. Designed to fit a wide range of SUV's and crossover vehicles, Michelin has produced a tire that doesn't disappoint for the most part.
With a new asymmetric tread design and unique tread compound, the Latitude Sport 3 aims to improve on the capabilities of the original Latitude Sport tire, which is an excellent tire in its own right. However, Michelin has bumped up the traction, braking and cornering grip on this latest model. It's one reason why you'll find it as OE on vehicles like the Porsche Macan S.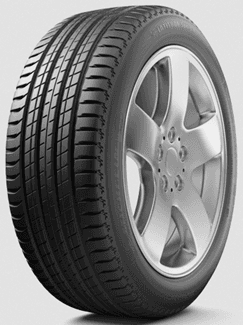 Thanks to the varied thickness of this tires siping, there is a reduction in rolling resistance. It's tread design and three wide circumferential grooves provides exceptional wet traction and reduces the risk of hydroplaning. We've heard drivers state that this tire handles wet road surfaces as well as many competitor tires do on dry pavement.
Michelin offers 17 to 21-inch sizes, with speed ratings of V, W and Y available. A 20K mile treadwear warranty is also included on all sizes.
Pros
Excellent dry and wet grip, traction and braking
Cornering grip and stability is outstanding
Road feedback
Cons
Treadwear
Price
Overall Thoughts
Simply stated, the Michelin Latitude Sport 3 is one of the better ultra-high performance summer tires available on the market today. There are many satisfied owners of these tires who trust them because they deliver excellent feedback and response, are predictable, smooth and well-balanced, and offer the grip, traction and handling you want when you're driving a high performance SUV or crossover.
Time and again we've heard drivers of these tires comment on how they instantly notice their superior grip on dry and wet surfaces.
On the negative side, some owners of the Latitude Sport 3 have found that this tire does not last as long as they had hoped it would. However, this is not a touring tire and can be expected in a UHP summer tire. In addition, the price is not what you might find on a cheap tire.
Overall, the Michelin Latitude Sport is among the best in class ultra-high-performance summer tires. If you're an SUV or crossover owner who wants a tire that predictable and performs exceptionally well on dry and wet surfaces, this is the tire for you.
Click Here For Current Michelin Coupons
Click Here To Find Current Prices
What Vehicles Will The Michelin Latitude Sport 3 Fit?
(Please note that this is not a complete list of all vehicles this tire will fit.)
Acura MDX, ZDX
Audi Q5, Q7
BMW X3, X5
Buick Enclave
Chevrolet Equinox, Suburban, Silverado, Tahoe
Dodge Nitro, Dakota, Durango
Ford Explorer, F-150, Flex, Escape
GMC Sierra, Envoy, Terrain
Honda CRV, Pilot
Hyundai Santa Fe
Jeep Grand Cherokee
Infiniti QX56, FX35
Lexus RX350, RX450H, LX570
Mercedes-Benz GL450
Mercury Mountaineer
Nissan Murano, Armada, Frontier, Titan
Porsche Cayenne
Toyota Land Cruiser, Venza, Tundra, 4Runner
Volvo XC90
Tire Sizes
17″
235/65R17 104W BSW
18″
235/60R18 103W BSW
255/55R18 105W BSW
255/55R18/XL 109V BSW
19″
235/55R19 101V BSW
235/55R19 101Y BSW
245/50R19/XL 105W BSW
255/50R19 103Y BSW
265/50R19/XL 110Y BSW
20″
245/45R20/XL 103W BSW
255/45R20 101W BSW
255/45R20 101W BSW
255/45R20/XL 105Y BSW
255/45ZR20/XL 105Y BSW
265/45R20 104Y BSW
275/40R20/XL 106W BSW
275/45R20/XL 110Y BSW
285/40ZR20/XL 108Y BSW
295/40R20 106Y BSW
21″
265/40R21 101Y BSW
295/35R21 103Y BSW
295/35R21/XL 107Y BSW
295/35ZR21/XL 107Y BSW
Price Range
Michelin Latitude Sport 3 prices range from approximately $194 and up. You may also find occasional rebates, discount prices, coupons and special offers on this tire.
Click Here To Find The Current Prices On All Michelin Latitude Sport 3 Sizes
Warranty
Michelin provides a 6-year or 20,000 mile tread warranty on the Latitude Sport 3 tire. Mileage is reduced by one-half on the rear tires if they are sized differently than the front. Tire uniformity is guaranteed for one-year or the first 2/32 inch of wear.
Materials and workmanship are warranted for 6-years and includes free replacement during the first year or first 2/32 inch of wear. A prorated amount is given for the remaining time period or down to the final 2/32 inch of tread depth.
Michelin also provides a 3-year flat tire changing service, as well as their 30-day customer satisfaction guarantee.
---