Michelin Latitude Diamaris Tire Review & Rating
The Latitude Diamaris from Michelin is designed to provide ultra-high performance traction, cornering and braking for today's demanding drivers. Engineered for luxury SUV's, crossovers and sport truck owners, the Diamaris has also been used as original equipment on some of the world's best performing vehicles such as the BMW X5 and Land Rover Range Rover HSE among others.
A silica enhanced high performance tread compound and asymmetric tread pattern provide enhanced dry and wet surface grip. Larger outside shoulder blocks and a continuous center rib around the tread increase cornering performance and steering response, which is an area that drivers frequently mention as being a real plus in online reviews. Even by SUV standards, this tire has some of the best cornering we've seen.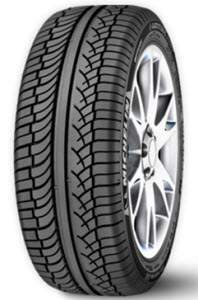 Circumferential grooves, along with the tire's lateral grooves, provide added wet pavement traction and handling by expelling water from under the tread and reducing the risk of hydroplaning. Braking on both wet and dry road surfaces is outstanding due to the tread compound Michelin has developed for this tire.
Inside the tire you will find two high tensile steel belts that utilize Michelin's exclusive BAZ technology to strengthen and stabilize the tire at higher speeds. This also enhances the overall ride you can expect on the tire. Michelin includes a 25,000 mile tread guarantee on the Diamaris, which is not often found on tires in this class.
Pros
Dry traction and cornering grip are exceptional

Outstanding steering response

Ride is comfortable for tires in this class
Cons
Would like to see just a bit more treadlife

Not for winter driving
Overall Thoughts
The Michelin Diamaris is a very capable high-performance summer tire. The traction, grip and ride it provides on dry pavement is among the best of any SUV/Truck tire on the market. The steering response exudes confidence behind the wheel and makes driving more enjoyable than you can imagine. That said, we still have a few issues that you should keep in mind.
Wet handling is acceptable, but could be improved upon. Use caution when driving on wet surfaces so you do not hydroplane. Naturally, this is not a winter tire and should not be driven in snow or ice. The other thing to expect is a shorter tread life. Tires in this high performance category tend to have a shorter tread life for obvious reasons, and the Diamaris is no different. We've heard from several drivers who have complained about a shorter than expected treadlife. That said, we've also heard other drivers speak highly of the treadwear.
Overall, despite a few issues, this model remains a nice choice. Arguably not at the top of this class, it is still a very good tire.
Click Here For Current Michelin Coupons
Click Here To Find Current Prices
What Vehicles Will The Michelin Diamaris Fit?
(This is not a complete list of ALL vehicles this tire will fit)

Acura MDX, ZDX

BMW X5, X6

Cadillac SRX

Chrysler Pacifica

Dodgen Nitro

Ford Edge

Honda Odyssey, Pilot

Hyundai Santa Fe, Veracruz

Isuzu Axiom

Jeep Liberty, Grand Cherokee

Kia Sorento

Land Rover Range Rover

Mercedes Benz R350, ML550, R500

Mitsubishi Endeavor

Porsche Cayenne

Toyota RAV4

Volvo XC90, XC60
Tire Sizes
17″
235/55 R17 99H VW BW
235/65R17 104W AUD B
19″
255/50R19 103V BMW B
285/45R19 107V BMW B
20″
255/50R20 XL 109Y LR
275/40R20 XL 106Y LR
275/40R20 102W BMW B
315/35R20 106W BMW B
Price Range
Prices on the Diamaris range from approximately $228 and up. You may also find occasional rebates, discounts, coupons and special offers on this tire.
Click Here To Find The Current Prices On All Michelin Latitude Diamaris Sizes
Warranty
The Diamaris comes with a 6-year or 25,000 mile tread warranty, which is rare on an ultra-high performance tire like this model. Mileage is reduced 50% if rear size is different than front. There is also a one-year or first 2/32 inch of wear on the tire's uniformity.
Materials and workmanship are guaranteed for 6-years and call for free replacement during the first year or first 2/32 inch of wear. A prorated amount is given for the remaining time period or down to the final 2/32 inch of tread depth.
Michelin provides a 3-year flat tire changing warranty, as well as their 30-day customer satisfaction guarantee.
---