Michelin Energy Saver A/S Tire Review & Rating
Engineered to save you money at the gas pump, the Energy Saver A/S from Michelin is the company's newest fuel efficient all-season radial designed for drivers of small and mid-sized coupes and sedans.
The Energy Saver A/S uses a specially formulated silica based tread compound that gives the tire its all-season traction and lower rolling resistance. An asymmetrical tread design features independent tread blocks that enhance handling, and Michelin claims it also provides up to 8 feet shorter braking distance than other comparable tires.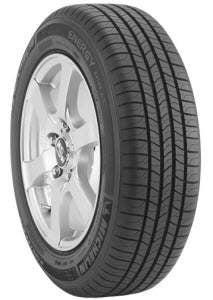 Wet traction is increased through the multiple sipes around the tread, as well as circumferential and lateral grooves. These grooves help evacuate water away from the tire and increase hydroplane resistance.
Delivering a comfortable and quiet ride is an area that Michelin has attempted to excel in with this model. Their unique Comfort Control Technology utilizes a computer-optimized design process that works to minimize outside road noise and road vibrations. The result is supposed to be a smoother and more enjoyable ride on the highway or around town. More on this in our overall thoughts.

Inside the tire you'll find two steel belts that are reinforced with a spirally wrapped polyamide that adds strength and durability to the tire. It also creates more even treadwear and enhances overall ride quality. Michelin provides either a 55,000 or 65,000 mile tread warranty depending on the tire's speed rating.
Pros
Wet traction is excellent

Comfortable ride

Very good treadlife
Cons
Lacks crisp cornering and handling for more spirited driving

Road noise on grooved pavement is unbearable at times
Winter traction
Overall Thoughts
Although one of the main benefits of this tire is a lower rolling resistance and better fuel economy, it is the comfort that the Energy Saver A/S offers that we like equally as well. It rides as comfortably as many of the better all-season tires you'll find. A small uptick in fuel economy can also be expected.
Despite some good points there are a few glaring negatives that got our attention. One of the biggest is excessive road noise on certain types of pavement. These tires were on our Chevy Suburban and the noise over grooved pavement was almost unbearable. It was like a roar that certainly was not welcome and is very disappointing.
This tire is also not the best for drivers who enjoy more "spirited" driving. It simply is not designed for high performance cornering, but then again it is not advertised as such. In addition, we've heard from a few drivers speaking of a shorter treadlife, although we've also heard from many who state this is not an issue.
Overall, this is not one of Michelin's top models. Although it does perform well in many areas, its weaknesses make it a mid to lower tire in its class. We would recommend going with the Michelin Premier A/S or Premier LTX on a truck or SUV.

Click Here For Current Michelin Coupons
Click Here To Find Current Prices
Buy Used for 40 – 50% Less than Retail
What Vehicles Will The Michelin Energy Saver AS Fit?
(This is not a complete list of ALL vehicles this tire will fit)

Chevrolet Cobalt, Malibu

Chrysler 300, Town and Country

Ford Fusion, Freestyle, Focus

Honda Civic, Insight, Accord, CRV

Hyundai Elantra, Genesis, Sonata

Infiniti Q45

Lexus LS460

Lincoln MKZ

Pontiac G6, Grand Am

Saturn Ion, LS200

Subaru Forester

Toyota Corolla, Prius, RAV4, Camry
Tire Sizes
15″
175/65R15 84H BSW
195/65R15 91T BSW
16″
215/55R16/XL 97T BSW
P205/60R16 91V BSW
205/65R16 95H BSW
P205/65R16 94S BSW
17″
215/50R17 91H BSW
P215/50R17 90V BSW
P225/50R17 93V BSW
225/50R17 94V BSW
235/50R17 96H BSW
P235/50R17 95T BSW
235/55R17 99H BSW
P215/65R17 98T BSW
P225/65R17 100T BSW
18″
P235/50R18 97V BSW
Price Range
Prices on the Energy Saver range from approximately $107 and up. You may also find occasional rebates, discounts, coupons and special offers on this tire.
Click Here To Find The Current Prices On All Michelin Energy Saver A/S Sizes
Warranty
This tire has two different tread mileage warranties depending on the speed rating. A 6-year or 65,000 mile warranty is included for S, T and H speed rated tires, while a 6-year or 55,000mile warranty comes with V speed rated tires. A one-year or first 2/32 inch of wear tire uniformity guarantee is standard with any tire.
Materials and workmanship are warranted for 6-years and include free replacement during the first year or first 2/32 inch of wear. Michelin prorates the amount for the remaining time or down to the final 2/32 inch of tread depth.
There is also a 30-day customer satisfaction guarantee and a 3-year flat tire changing service as well.
---